One of the major components of a member-based website is that you reward badges and ranks to your users. This improves the interactivity of your profile. Through Ultimate Member, you can only setup a member-based site, but its functionality doesn't allow you to reward your users. To cater this issue, the team at UM (Ultimate Member) offers an extension, whose purpose is to integrate the features of the myCred plugin with the Ultimate Member. The myCred plugin is a point management system which award points to the members of your site. But now you can enjoy its functionality within your member-based site as well. Therefore, this extension of UM is named after the myCred plugin.
The myCred extension of Ultimate Member
The myCred extension can add or deduct points in your profile. As the points increases, your ranks and badges will change accordingly. Doesn't it sound exciting? It assigns badges and ranks to the users of your member-based site. To get started, you need to install the myCred extension as well as the plugin. You might be thinking why to install the free plugin while you are working with UM's myCred extension? The emphatic answer is, it is a pre-requisite plugin. 🙂
Before talking about its details, let's go through some of its features.
Features of myCred Extension
Following are the different characteristics of this plugin:
Rewards: It rewards you for the following actions:

When you update your profile.
When you update your profile photo.
When you sign-up or log-in to your site.

Charges: It charges you for removing your profile photo.
Limits: It restricts the number of rewards or charges on a particular action.
Logs: It logs the credits and charges made via UM in myCRED.
Sharing: It allows the specific user roles to send the balance to other users from UM account page. (And afterwards transfer points to other members).
Record: It displays balance, badges, or ranks on your profile as a record.
Progress bar: It also displays your progress bar.
Getting Started

Like other extensions of UM, this one is available at an affordable price starting from $25 up to $65. Once it gets installed you can manage, reward, use, trade and log points on your WordPress site. Without any delay, you can get going.
You'll find an additional menu in your WordPress panel named against myCred with some sub-menus because every plugin or extension do require some settings to be configured. You can configure the settings of myCred extension in its submenu of Settings (myCred > Settings). I'm sharing few of the settings available in myCred.
Core Settings
Following is the list of options which yo can configure in this tab:
Name
Decimals
Presentation
Security
Exclude users from editing
User Deletion
Management
You can edit the settings of this extension, but I prefer the default ones. In case you want to configure them then following are the options you'll find here:
The Log
Points
Allow Remote Access
Point Types
Now this one is interesting. This tab allows you to add different labels to your points. And if you want to create your label you can create it here. You'll find the following options:
Default Point Type
Add New Type
Log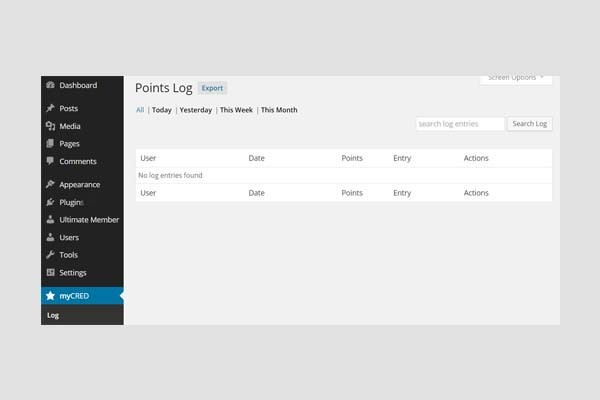 Logs (myCred > Logs) includes the list of users who are rewarded points. In my case, initially, the list was empty because I haven't started rewarding my members yet. But once you started rewarding points, the list will be filled with the details of your members. Else you can also export the list of points to your other sites as well.
Hooks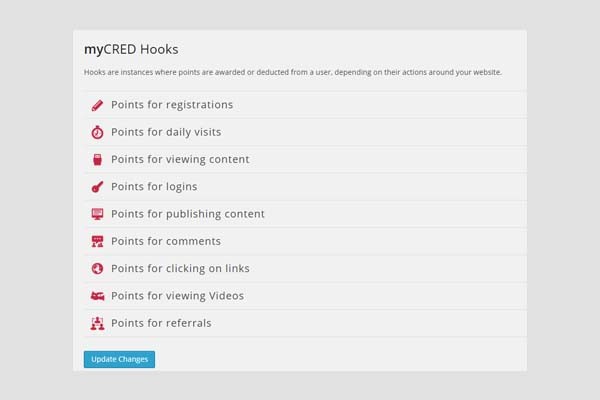 And the fun begins here! You'll find a list of Hooks (myCred > Hooks), through which points are awarded or deducted from a user's account. In the above screenshot, you can see the list of different hooks. Well, I'm listing them here as well:
Points for registrations
Points for daily visits
Points for reviewing content
Points for logins
Points for publishing content
Points for comments
Points for clicking on links
Points for viewing videos
Points for referrals
bbPress
Add-ons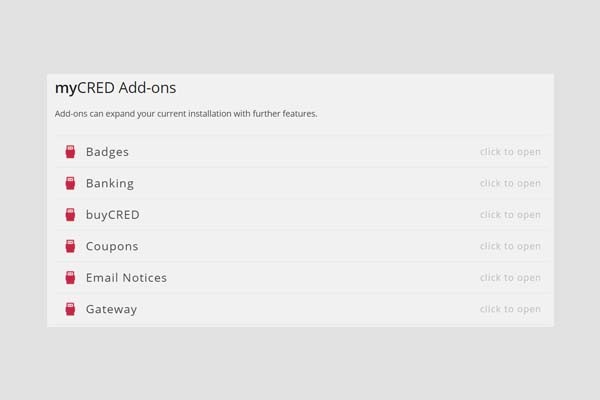 With this extension you can enjoy different add-ons, here is the list:
Badges
Banking
myCred
Coupons
Email Notices
Gateway
Notifications
Ranks
Sell Content
Statistics
Transfers
Helping links
Following links might help you with the details of this extension:
Concluding Remarks!
In my opinion, myCRED is an ideal point management system for your WordPress member-based site. It gives you full control to gain, use, trade, manage, log or present points to the members of your site. However there are other options, but I prefer this one.