Gravity Forms is a premium but a robust and competitive WordPress form plugin. Since its launch, it has managed to reach and maintain a position where it is considered to be one of the best choices for building advanced forms despite being an all-paid solution.
However, one question which may arise while making a pick among several WordPress form plugins — out of which many are free — "Is Gravity Forms still preferable in 2018 and the coming years?". Well, the answer is a big YES!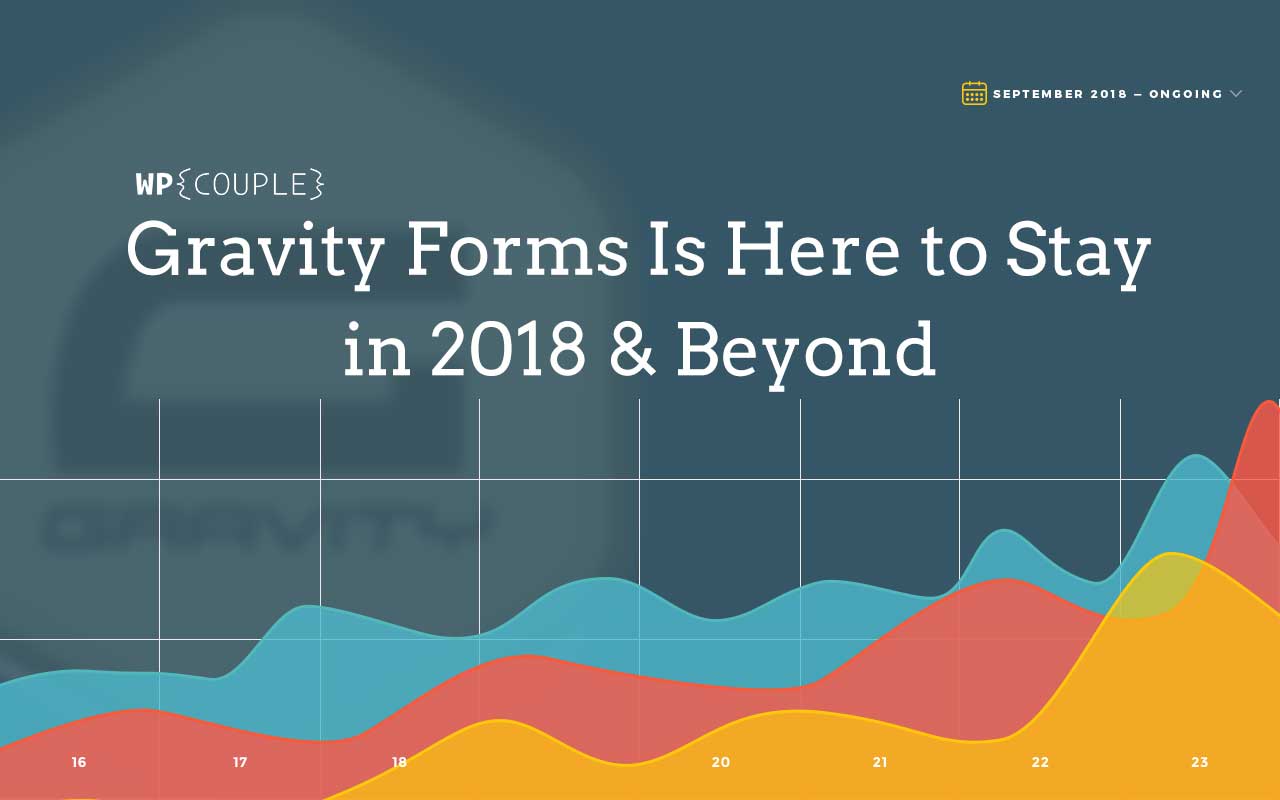 Its up-to-date features, diverse form functionality, and compatibility with Gutenberg are all the crisp points one can bet on.
Gravity Forms delivers beyond the concern of just creating a basic level contact forms for your websites. There are plenty of form options which you can choose ranging from order forms to surveys, polls, quizzes, questionnaires, file uploads and what not.
Furthermore, Gravity Forms' Gutenberg add-on is the adaptive step of their developers to meet the compatibility needs with the changing WordPress ecosystem.
Being a huge supporter of this necessary change, the Gravity Forms team have started to align the features and possibilities of this plugin with Gutenberg which will indeed help them to maintain the standard as the best forms builder plugin for WordPress.
Today's piece features everything that makes Gravity Forms an advanced and adaptive WordPress form plugin which totally worths your money.
Let's get started!
🎯 Gravity Forms
Gravity Forms' popularity is owed to the untiring efforts of its incredible team which include some very prolific folks like Carl Hancock and Jeff Matson. They have worked hard in providing a user-friendly form building experience. They have always kept pace with changing trends, and that's why they've never stopped updating their products.
🔰 Gravity Forms (core) version v2.3.3.6 | ✅ Gravity Forms Gutenberg Add-On version v1.0 Beta | 🌟 Gravity Rest API v2 version v2.0 RC1 | 👊 Gravity Forms CLI version v1.0.3 | are the latest releases of Gravity Forms.
You can access all these products once you complete the checkout process of purchasing Gravity Forms. These versioned products appear as shown in the screenshot below: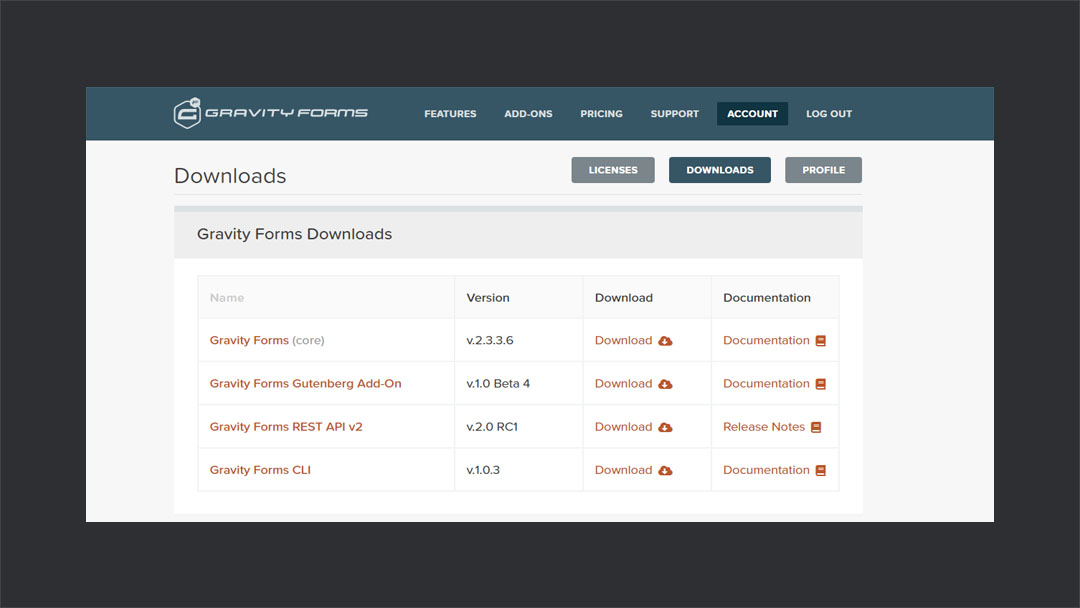 While going through this extensive review, you'll first find some essential form building features which make it the best plugin in this niche. Towards the end, I'll discuss in detail its Gutenberg add-on which I believe is its key highlight right now since WordPress plugins are still in the phase of adopting Gutenberg and Gravity Forms has successfully passed this benchmark. 👊
👌 Features Which Make Gravity Forms the Best WordPress Form Plugin
All the latest stable versions of Gravity Forms which I've mentioned shortly have maintained the highlighted position among the other free or premium WordPress plugins for a long time. After, going through the details of the core features, you will get to know why this incredible plugin is still the best forms building plugin. Let's get through them.
🚥 Conditional Logic
Conditional logic is the key to online forms and the good news is that Gravity Forms offer the following pre-built feature-set for it.
📜 Page Conditional Logic: It can show or hide an entire page on your site form.
🎗 Field Conditional Logic: Based on a previously made user selection it shows or hides a form field.
🗄 Section Conditional Logic: Considering on user's selection it adds a break to show or hide an entire form section.
🙌 Submit Button Conditional Logic: Adds a conditional logic to the Submit button and holds it until a user fills out specific fields.
Hence, all these provide a straightforward way of collecting specific information as well offers a user-friendly interface.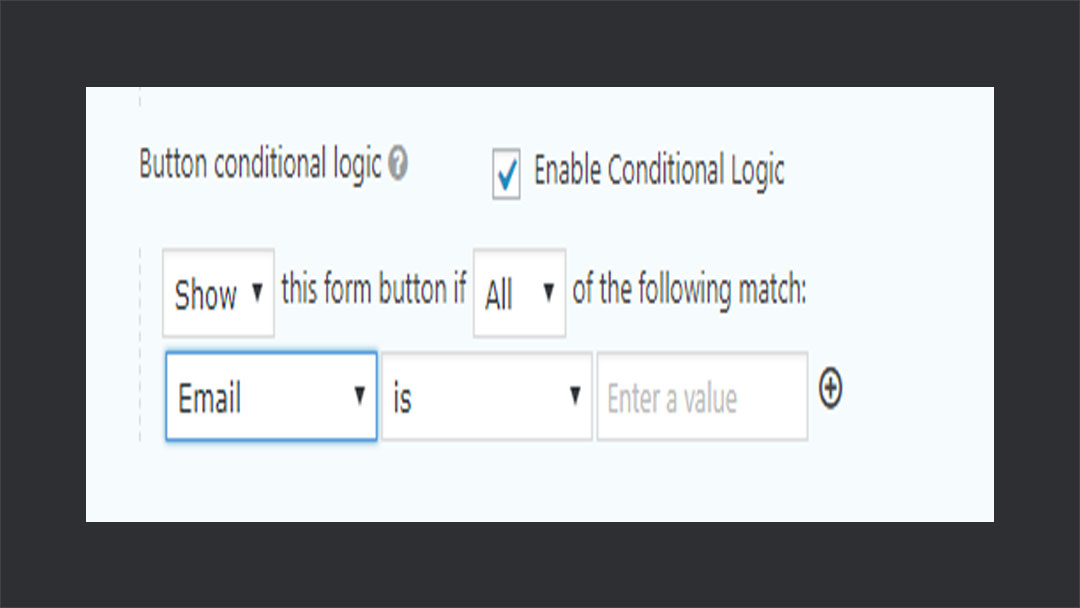 🕰 Controlling Form Availability
One of the exceptional features is limiting the number of entries to your forms. You can set your form's availability for a specific date range. This feature is helpful when you want to conduct annual surveys, limit the entries for job applications, etc. You can all use the restriction setting to add notifications for users about the form status to keep them updated.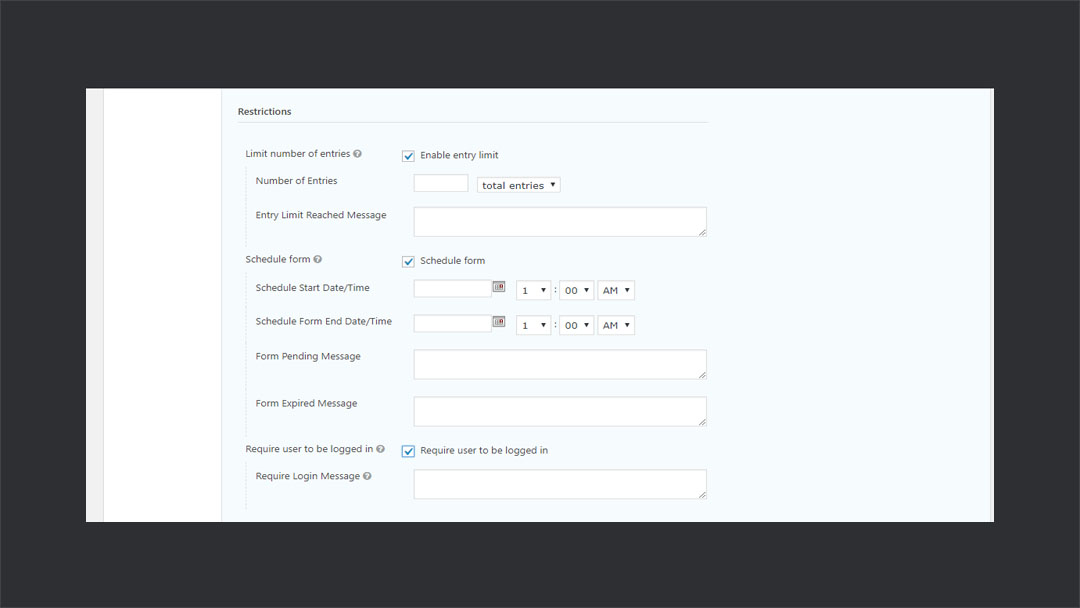 🎡 Field Types
If you want to build an order form for your eCommerce website or you want to conduct surveys, quizzes, questionnaires, etc., you are provided with a huge variety of form fields in the Gravity Forms editor. Pick the required field and drag & drop it wherever you want.
Gravity Forms have 30+ ready to use form fields. These fields are categorized as:
🔰 Standard
🛡 Advanced
🗄 Post
🤑 Pricing
You can customize and configure all these fields in a variety of ways. It depends upon the field type you are working with, i.e., whether you define it to be a required field or you want to add placeholders etc.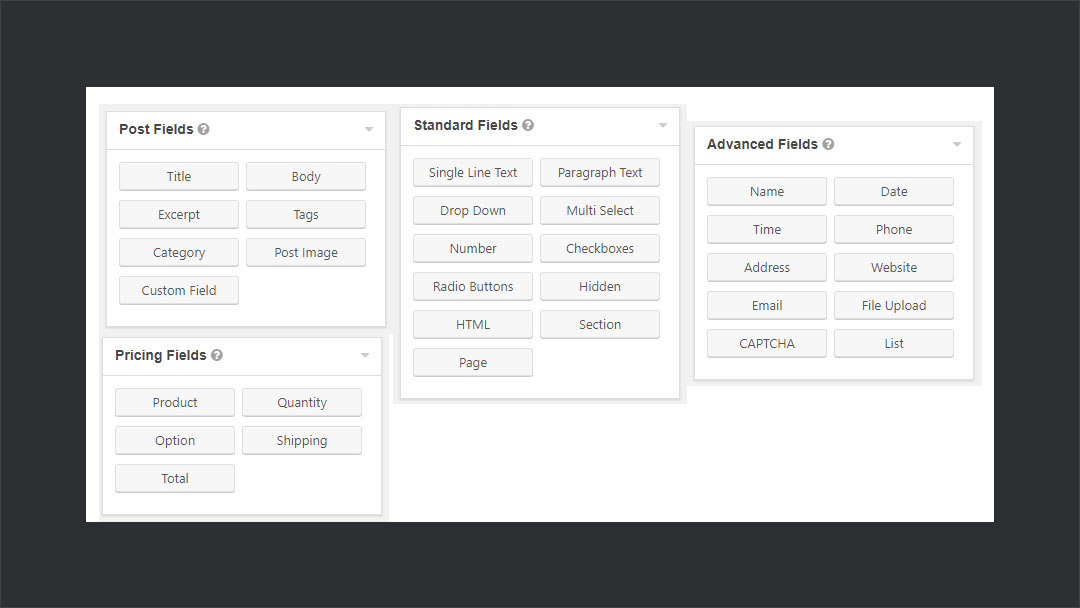 ✅ Easy Creation & Embedding of Forms
Creating online forms with this intuitive plugin is no less than a breeze. After a successful installation of the plugin, you need to activate the plugin by adding your license information. A new option named Forms gets added to your WordPress dashboard.
We have already written an extensive review of the working and setting up things with Gravity Forms. You can read it here →.
To get started, select the Add New option from the Forms sub-menu to add a new form. You are asked to enter the form Name and Description in the pop-up window which appears. Clicking, the Create Form option directs you to a new screen having an outline indicating how to start up with the form setup.
Now pick your desired field from the built-in field type and drag & drop them wherever you want by using the incredible form editor.
🙃 Save and Continue
While creating multi-page elaborative forms, you can facilitate your users by allowing them to save the partial details and continue with these pages later on. Users can side by side view the form's progress in the progress bar on the top of the page. Save and continue feature of Gravity Forms makes it a user-friendly product.
🚩 WordPress Post Creation
To keep connected with users and clients you can use this feature of WordPress post creation of Gravity Forms. You can allow your users to give feedback, extensive reviews about your products or pursue them share their thoughts by creating the posts from user-side. Another possibility with this feature is that you can set custom forms and can add your ideas to your websites without logging in to the WordPress dashboard.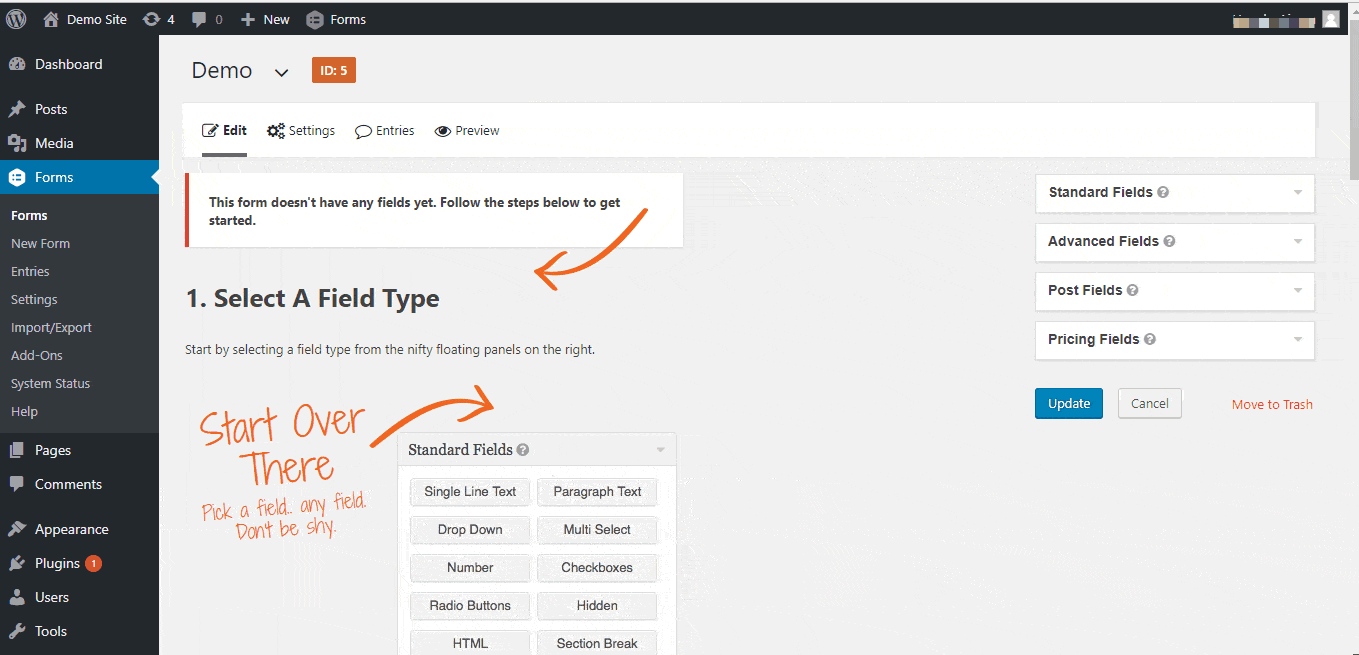 🙅‍♂️ Fighting Spams
If you are running a site, then you must know sometimes it gets very hectic to deal with the spam emails. It is nothing more than a waste of time and efforts to scan through such emails.
Gravity Forms provide three rich options to deal with spams, i.e.,
😈 Akismet
🤖 Google reCaptcha
👻 Really Simple Captcha
These options with Gravity Forms are a big relief from the junk of emails in your inbox.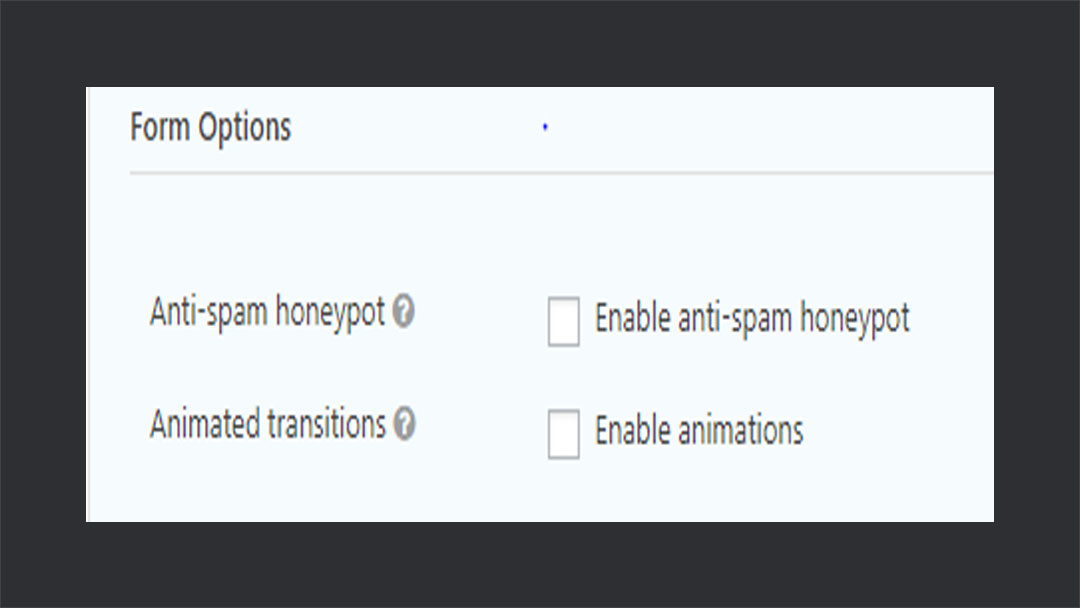 🗳 File Uploads
You often want your users to attach some additional files or documents depending upon the nature of your forms. Gravity Forms facilitates you by providing with built-in file upload fields. Users can upload files which are then stored on your servers.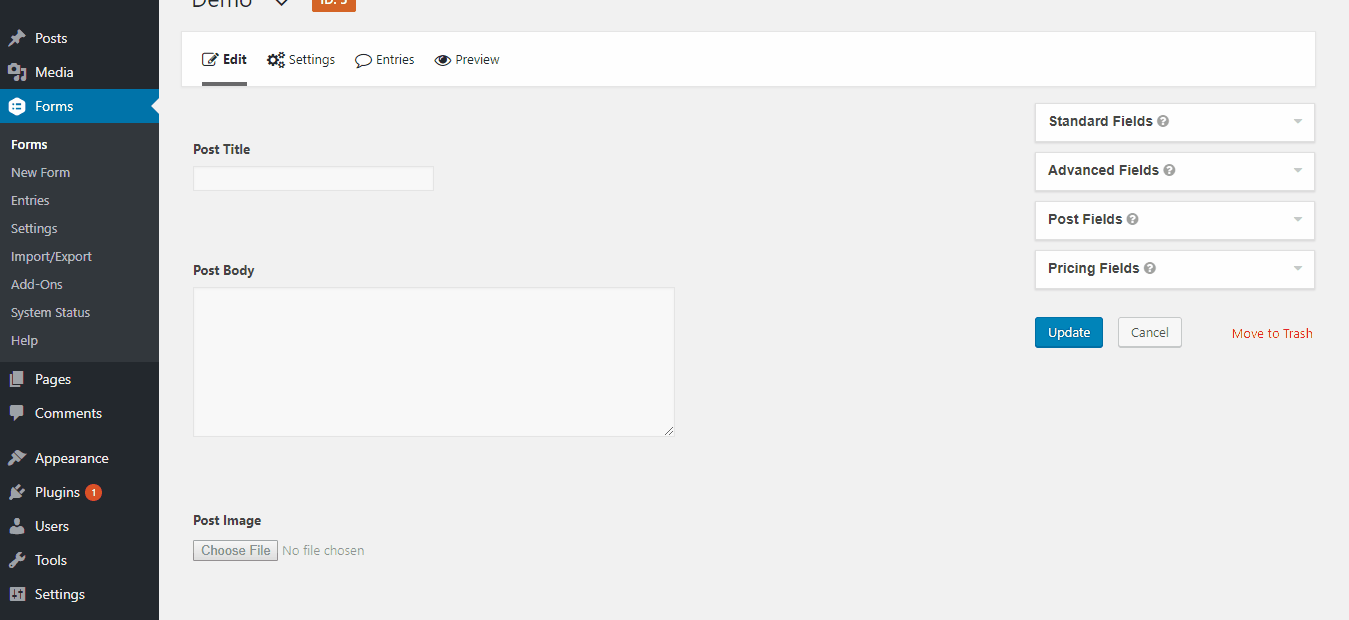 📧 Email Notifications
To remain updated whenever a user submits a form, the email notification feature of Gravity Forms is beneficial and the best thing is that you can easily configure these notifications. So, instead of checking it yourself Gravity Forms takes care of all this hassle and sends you a message each time you get a form submission.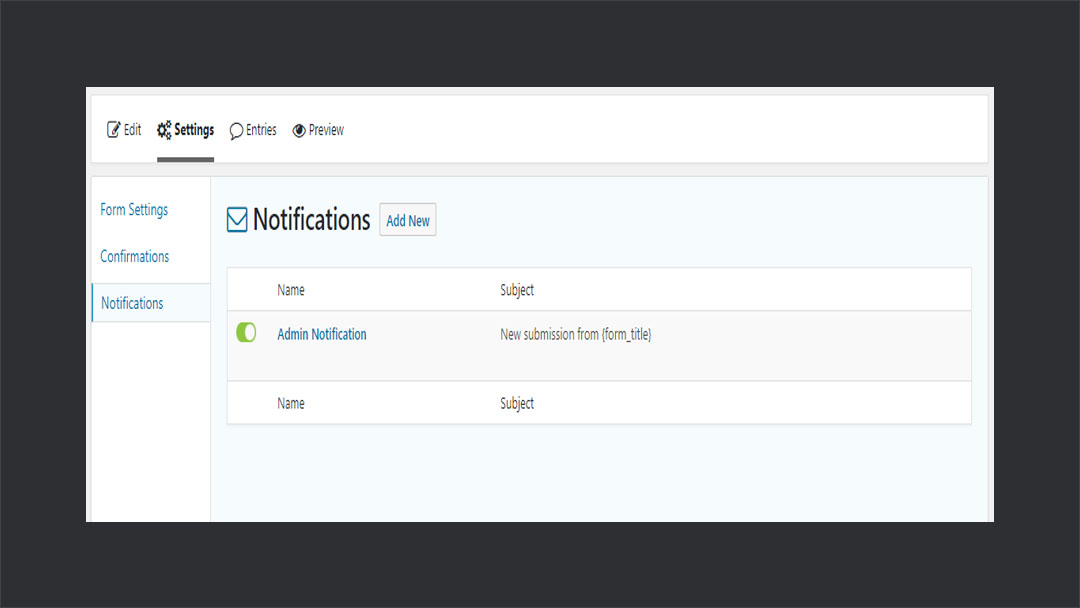 👏Gravity Forms Add-ons
To extend your site functionality, Gravity Forms provides a plethora of Add-ons which you can integrate with your websites. These help you get connected with a variety of web applications, WordPress plugins, and online services.
The list of add-ons can also be classified as follows:
🍭 Basic Add-ons: This category covers the email marketing services including MailChimp, GetResponse, AWeber, Campaign Monitor, etc.
🎯 Advanced Add-ons: It includes other services like Dropbox, Fresh Books, PayPal, Slack, etc.
🤝 Third Party Add-ons: Also, with the official Gravity Forms add-ons other third-party integrations are also available. Gravity Perks, Gravity Views, etc. are the examples of such third party integrations.
As a demo, we've discussed the working of their Dropbox add-on in our extensive review which we published some time back. Read it here for details →.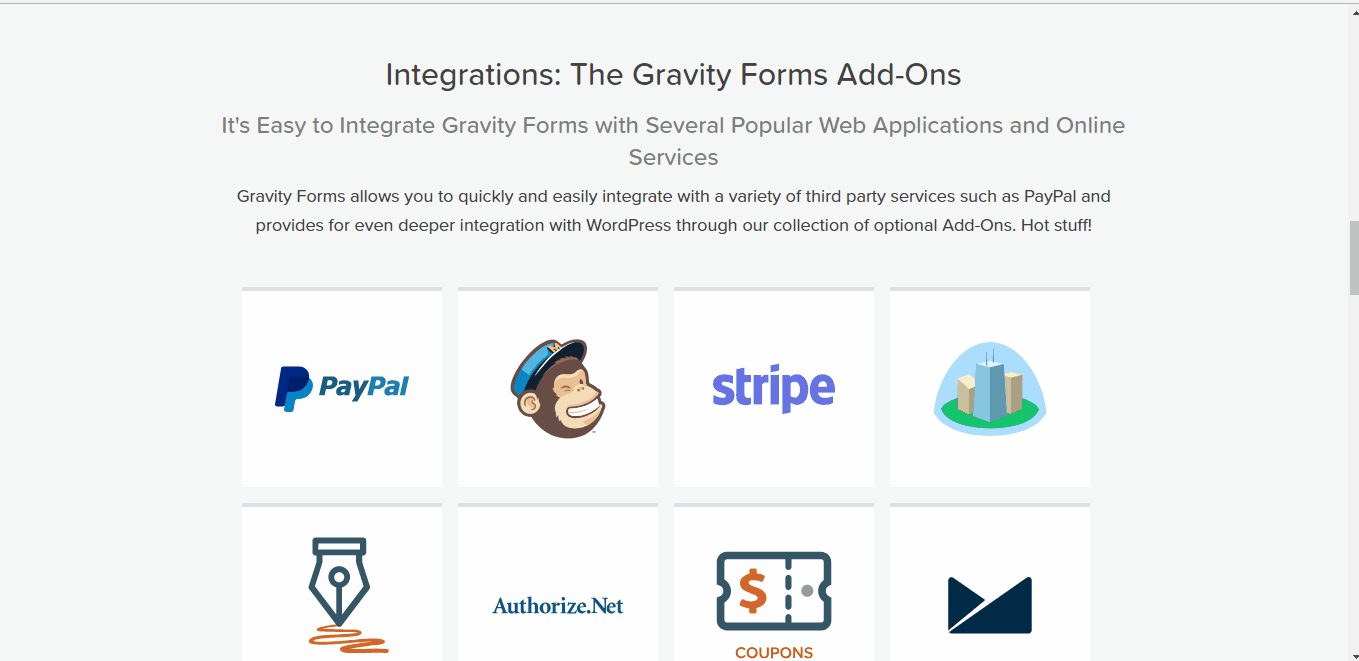 🙀 Some Additional Features
You can do calculations with Gravity Forms on number fields to derive useful conclusions. However, a point worth mentioning is that the plugin has a handy and responsive design which can be properly displayed on a variety of Mobile devices.
👑 Gravity Forms Gutenberg Add-on
While discussing the factors which make Gravity Forms still the best form builder plugin, I believe it'll be highly unfair if I don't mention their add-on for Gutenberg compatibility. Gutenberg is the hot topic, and a lot is being discussed and done at a greater level. So, I am not going into its details.
However, just a couple of weeks ago we published an insightful case study featuring how WordPress plugins are adopting the Gutenberg compatibility. So, that would be quite a relevant piece to recommend here →.
Anywho moving on, I'm delighted to share that Gravity Forms is one of the early adopters of Gutenberg in the WordPress community. Their Gutenberg add-on is a true reflection of Carl Hancock — the Co-Founder of Gravity Forms — support for it. For me, this one particular milestone is a sufficient reason to call Gravity Forms a consolidated name in the form builder plugins niche.
At present, it is quite likely that the add-on might go through some changes until the official release of Gutenberg. But this early initiative by Gravity Forms will undoubtedly add much to the skills of its developers. It will help them to get used to with the Gravity Forms Gutenberg blocks. I'm sure that they will come up with a mature product until the release of Gutenberg.
Currently, Gravity Forms Gutenberg add-on is available in version v.1.0 Beta 4. 👈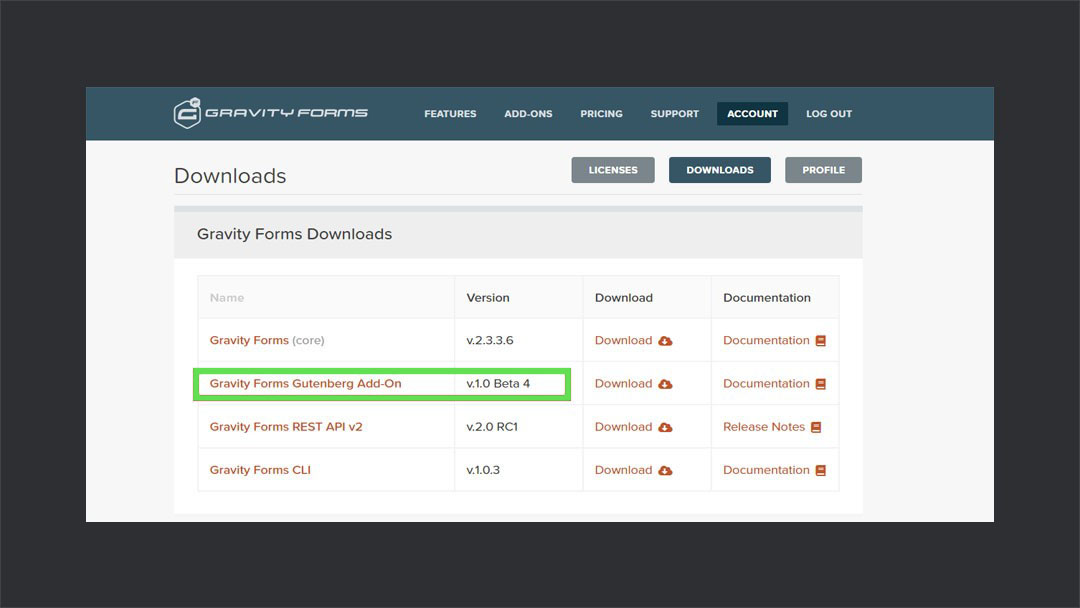 🆕 Gravity Forms Gutenberg Blocks
Integration of Gutenberg blocks with Gravity Forms in the WordPress Gutenberg editor allows you to Save forms as content blocks in your WordPress website. You can use these blocks just like other built-in blocks in Gutenberg.
You can select the Gravity Form Block from the Gutenberg blocks panel by clicking on the Add New Block option in the Gutenberg editor. From the drop-down options in the Gravity Form Block placeholder, select your desired saved form. For creating and editing the Gravity Forms, you still have to use the standard Gravity Forms editor.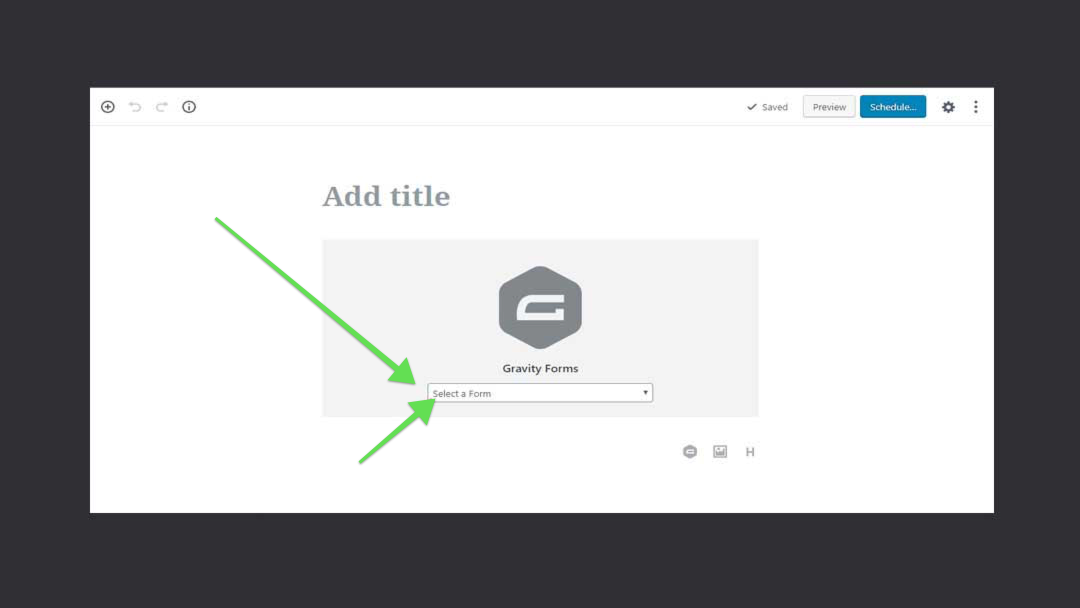 ✍ Gravity Forms Documentation and User-Guides
Gravity Forms provides proper documentation, release notes, and user guidelines along with its products. Hence it facilitates the users to get to know about the features and functionalities right in time.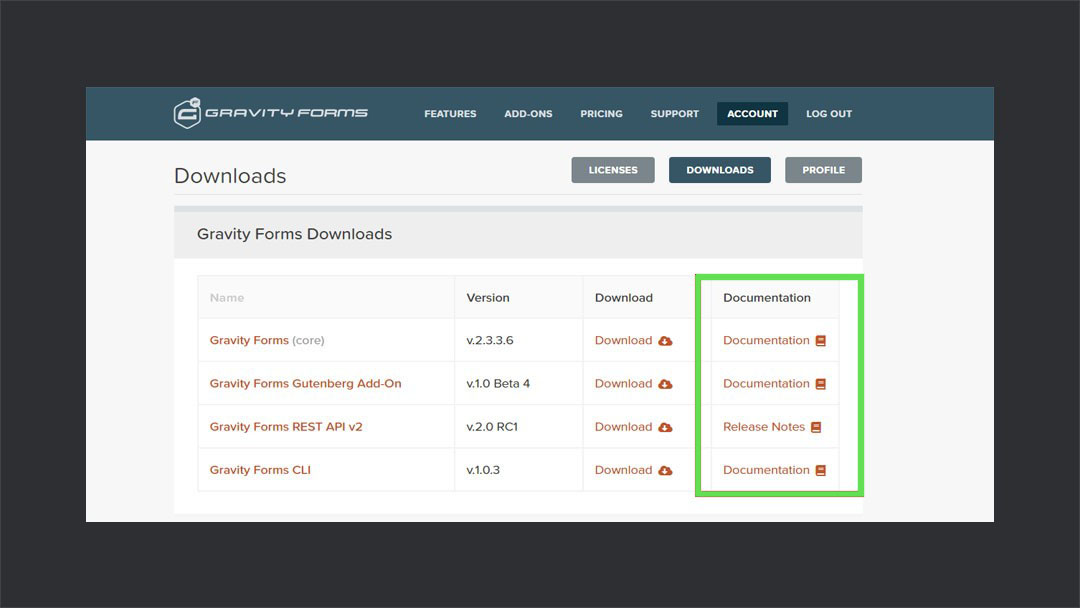 🤔 Wrap up!
When I started writing this article, I straightaway narrated a tough question, i.e., 'Is Gravity Forms plugin still preferable in 2018 and the coming years when there are several other free options available?'.
Now, after reading this piece, I'm sure that my answer was making more sense to you when I expressed it as a BIG YES!
I believe that Gravity Forms have undoubtedly ranked at the top few positions when you are asked to name the popular form building solutions out there. The reason is straightforward that all their products are not only feature-rich but are also up to date.
Their Gutenberg blocks add-on has provided them with a great boom and has helped them rise to leave behind quite a good deal of their competitors.
Lastly, there is no free version of this plugin but the deal you are getting in return is totally worth the price you pay. To increase the sales, leads, and conversions on your sites, you need to provide straightforward and user-friendly forms. You can add standard as well as very responsive and unique forms on your websites using the Gravity Forms plugin.
Hence, the incredible features and standards which Gravity Forms is still maintaining are satisfactory to call that "Gravity Forms is still the best form builder plugin in the WordPress ecosystem."
What are your thoughts on this piece? Have you decided to start using Gravity Forms? Let me know your feedback in the comments below!
Peace!