WordPress is powering 35% of the Internet right now. With one open-source software handling such a huge percentage, it needs other tools to work. The website based on WordPress has different architecture and simple hosting providers can not provide all the specs they need.
The Managed WordPress Hosting companies solely exist to deal with it. They provide speed, performance, and security, and many other important and incredible components that are required for hosting a WordPress website. All of these features are good enough but I, for once, saw two other things when choosing my hosting provider. And they are a great support and detailed documentation.
Over time, I have tried many hosting companies for my projects. And after switching between companies to companies, I landed on WP Engine. WP Engine which is one of the leading WordPress Managed Hosting companies provides amazing developer experience on a proven, reliable architecture. This architecture delivers unparalleled speed, scalability, and security for our websites.
Today, I am going to shed some light on their agency partnership program. We will also talk about how it is helping other businesses that are both from small to large scale. So, without any further ado, let's jump in!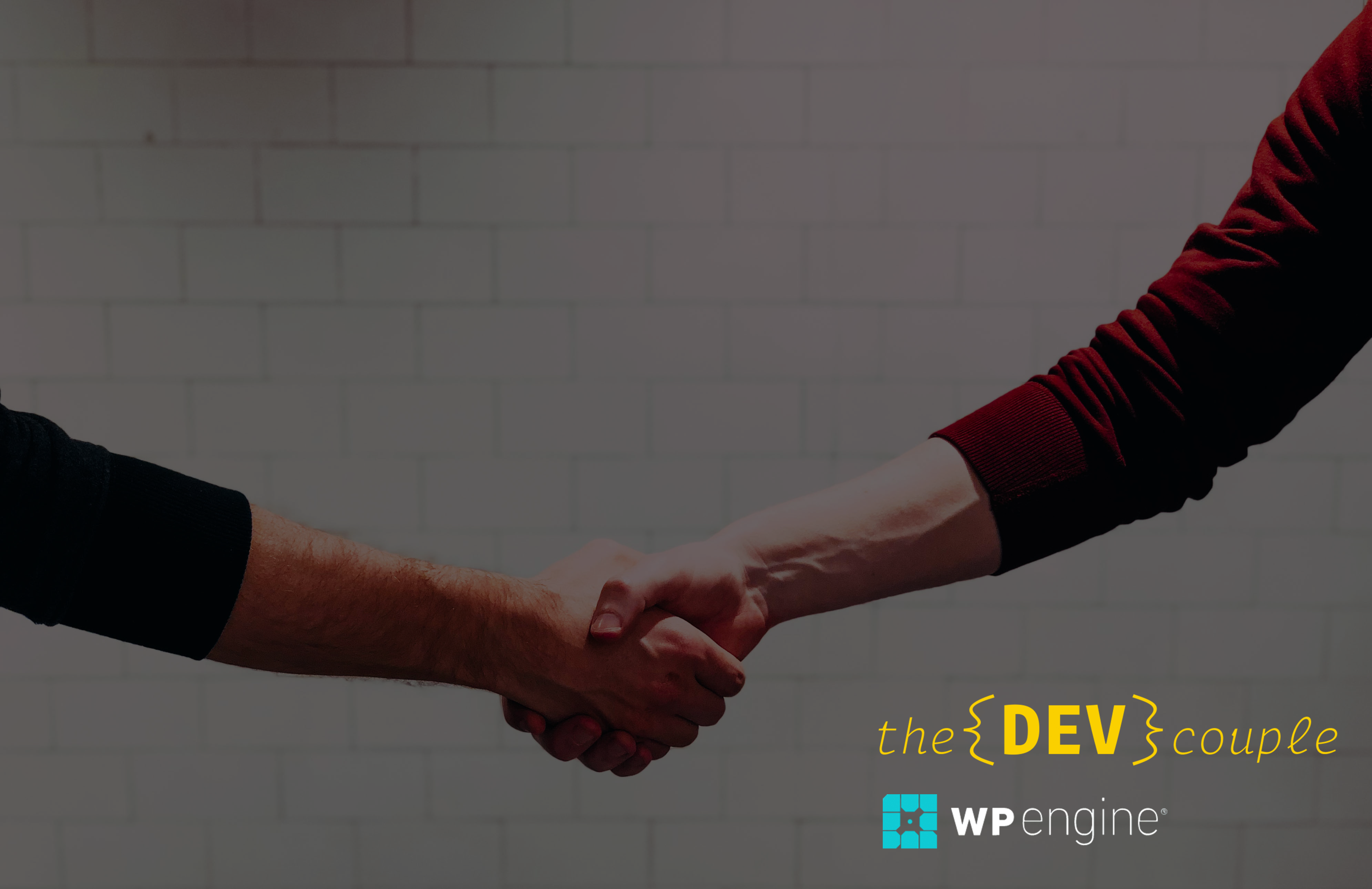 🚀 WP Engine – Perfect Hosting For Your WordPress Sites
The company was founded by Jason Cohan in 2010 and has grown into a huge success in a decade. It equips you with an amazing hosting service and with that it provides you a platform that powers you with a suite of site-building and management tools to drive more creative agility. It gives you cloud hosting and security solutions to enable enterprise performance. This list goes on and on.
In 2017, WP Engine launched their agency partnership program. Since then it has become another great success for the company.
🎲 WP Engine Agency Partnership Program
Let's discuss first what actually the program and how it is helping other businesses. It is an infrastructure that WP Engine is providing to agencies/businesses to deal with their technological needs with WordPress. This platform ensures that everything is up to mark when it comes to their WordPress infrastructure and the businesses only need to deal with their client. 
Once you have become a part of it, the infrastructure WP Engine will deliver a high-performance digital experience to your customers. This makes your customers happy and in return makes you happy. And you did not even have to deal with a big chunk of this entire system, i.e, WordPress based foundation.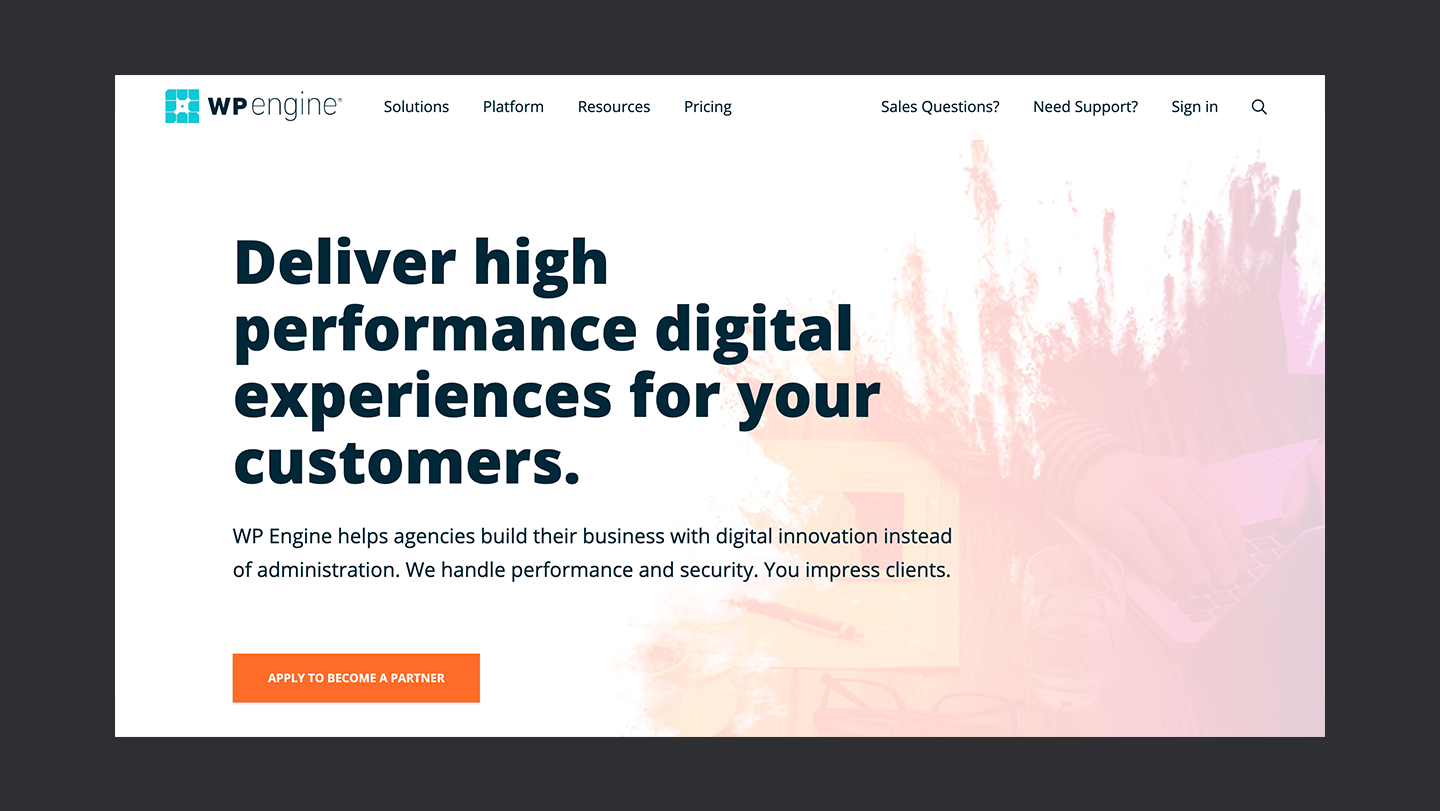 ⚠️ Problems That Agencies Face
There is whole research behind WP Engine Agency Partnership (APP) program. The new or small agencies do not have all the manpower to meet all their needs. So instead of hiring more people to develop their technological infrastructure, their main course of action can be to hire a company that can provide all this in an affordable package.
But for the purpose of discussion, let's see some of the many problems that new or small agencies face. 
⚡️ Agility
The first one we have on the list is agility. Small agencies require a lot of proactiveness to grow into something big. They need the ability to move and understand quickly to build a satisfied clientele. As many of these agencies are technology-enabled, and if their system is down at the time of work then they can lose money.
WP Engine APP handles this for you. It gives you the ability to stay on the bleeding edge and deliver innovative solutions one step ahead of a constantly evolving digital landscape. This makes your technological infrastructure stay up to mark.
🎩 Performance
There can be a scenario where your agency has a technological structure that is working poorly. It lacks performance. This is obviously a bad sign for your company. And it can affect the product you provide your clients. To help you with these kinds of problems, WP Engine launched this program.
WP Engine has over 480+ employees. They are WordPress experts. They know what they are doing. In the Agency Partnership program, they act as an extension to your team and deliver directly to your clients. Thus making your business to bloom without any technological downfall.
👨🏻‍💻 Intelligence
If you do not have a WordPress expert and your client needs someone that can help him with WordPress then the Agency Partnership program will again come into the picture for you. Since the people at WP Engine are one of the talented and experts in WordPress out there, they can help you with this. They can communicate with your client and provide them with the best solution possible, with great recommendations. 
📦 WP Engine APP Levels
WP Engine provides you the best available services in the market. They equip you with a scalable platform that includes an integrated set of tools, bullet-proof security, services, and site performance analytics together with blazing-fast managed hosting. WP Engine is with you every step of the way from pitching to signing new accounts to retaining clients and growing your business.
They provide three different partnership levels to the agencies and the agencies can pick the level of their need. The first one is the Member. Then they have Advanced and last but not the least they offer a Strategic level. Let's shed some light on the benefits you get in each of these packages.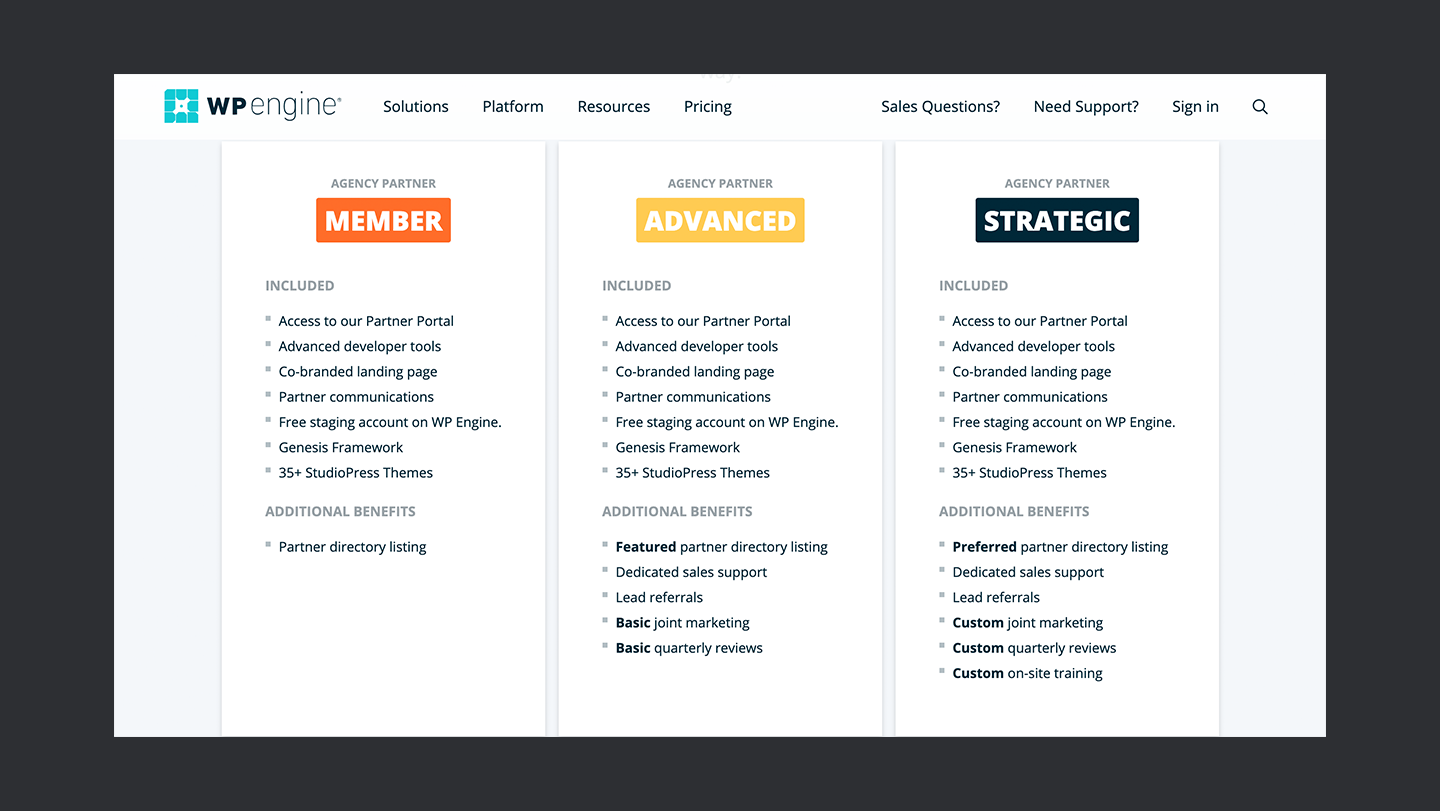 🥇 Member level
This is a beginner level. You get access to the WP Engine Partner portal where you can sort everything out related to WP Engine APP. Then they give you access to advanced developer tools that you can use in your development. Then you get a co-branded landing page and partner communications, free staging accounts on WP Engine, Genesis Framework, and last but not the least 35+ premium StudioPress themes.
All of these features make the Member level. You get another additional feature as well in this type of membership, i.e., Partner directory listing. 
🎖 Advanced Level
The Advanced partnership level gets you a lot of additional features over the Member level. You get all the features of Member features and on top of that you get featured partner directory listing, dedicated sales support, lead referrals, basic joint marketing, and even basic quarterly reviews.
You get a lot of premium features in the Advanced level. You should definitely give this level a shot if your agency is still in the small to medium scale phase.
🏅 Strategic Level
WP Engine APP's strategic level is everything you can ask for in this kind of service. It gets you everything from the access to partner panel to 35+ StudioPress themes to lead referrals. You also get custom joint marketing and quarterly reviews and cherry on top, they also provide you with custom on-site training.
This is just incredible thinking that such kind of help from a company like WP Engine can make your company grow exponentially. You are getting infrastructure, premium services, security, performance, and whatnot. 
🎯 Benefits Of Partnering With WP Engine
Becoming a member of the WP Engine and their APP has so many benefits. They provide you with the best of care, WordPress technology infrastructure, great support, etc.
👨🏻‍💻 Focusing On Your Vision
You can focus on your company's vision by trusting the WP Engine. Building on WP Engine frees you up to focus your time and technical resources on creating your end-user experience instead of systems to host and manage it. Thus helping you grow as a company.
WP Engine accelerates the time to production. Normal environments aren't specifically made for WordPress installs, which is a downside. WP Engine provides increased site speed and easy setup. We're able to provide exceptional execution in a very short period of time. That's why we go with WP Engine - they're equipped to handle that.

— Chris Laguna, Enterprise Systems Supervisor GSD&M
"WP Engine accelerates the time to production. Normal environments aren't specifically made for WordPress installs, which is a downside. WP Engine provides increased site speed and easy setup. We're able to provide exceptional execution in a very short period of time. That's why we go with WP Engine – they're equipped to handle that" – Chris Laguna, Enterprise Systems Supervisor GSD&M
⚡️ Cloud Services
WP Engine uses Amazon Web Services and Google Cloud Platform to provide us the same architecture that these big tech companies use for their own digital experiences. These cloud services are responsible for making your website latency time as low as possible. These global data centers and cloud coverage ensure that your website is fast no matter where your visitors are coming from in the world.
🚀 Improved WordPress Experience
WP Engine makes sure that your hosting is properly configured for your business. They also provide you with the top-notch security that makes your website safe from intrusions. Along with this, they also manage your WordPress patches and updates. So you can always stay up-to-date with the latest releases. 
🙌 Wrapping Up
WP Engine has marked its name in the Managed WordPress hosting ecosystem by its blazing fast services, amazing customer support, and now with its Agency Partnership Program (APP). All of these services are WordPress related and helping a great number of people and now with its Agency Partnership Program, they are helping businesses to grow.
WP Engine APP has grown exponentially, enrolling more than 5000 agency partners till the last quarter of 2019. Such kind of growth is all because of their extensive thought leadership, content resources, their digital experience platform, etc. It is definitely worth trying if you also have an agency that has a WordPress infrastructure. 
Are you a part of the WP Engine Agency Partnership Program or used a similar service? Which service did you use and how was your experience? Let us know your thoughts in the comments section below. 
Peace! 🤞