The evolution of technology and rapid adoption of the internet has changed the way we approach things. From paper maps and guides, we have moved to Google Maps and Navigation. We have got Airbnb, Zomato, FourSquare, and Yelp to get the best listings based on humans reviews.
In WordPress community also, we observed developers pouncing on the opportunity and creating tons of listing products. WordPress community rocks a wide variety of plugins and themes to help you create your next listings site. Even there are multi-million dollar companies which flourished around such products.
A couple of days back, I encountered one of such newly launched powerful plugin which helps you create a restaurant listing sites in a couple of clicks. This plugin is called WP Restaurant Listings – free, lightweight and super fast. I decided to play around with it for a while to check out where it stands. And after using it for a while, I found it to be a solid base plugin to get started. 💯
I am much excited to share my experience of using WP Restaurant Listing with you folks. I will be taking a deep dive into its functionalities and sharing how easy it is to get started. So, let's get on it!
⚡ WP Restaurant Listings by WPdrift
WP Restaurant Listings is a free, very lightweight, and pretty swift WordPress plugin for Restaurant Listings by WPdrift. WPdrift is a group of highly passionate WordPress folks like Kishore Sahoo and Mithun Biswas, who curate pretty awesome WordPress plugins and themes. Their catalog includes both premium and freemium products to make your WordPress experience better. WPdrift is registered under Uprunn Technologies, which is another venture of its founder Kishore Sahoo.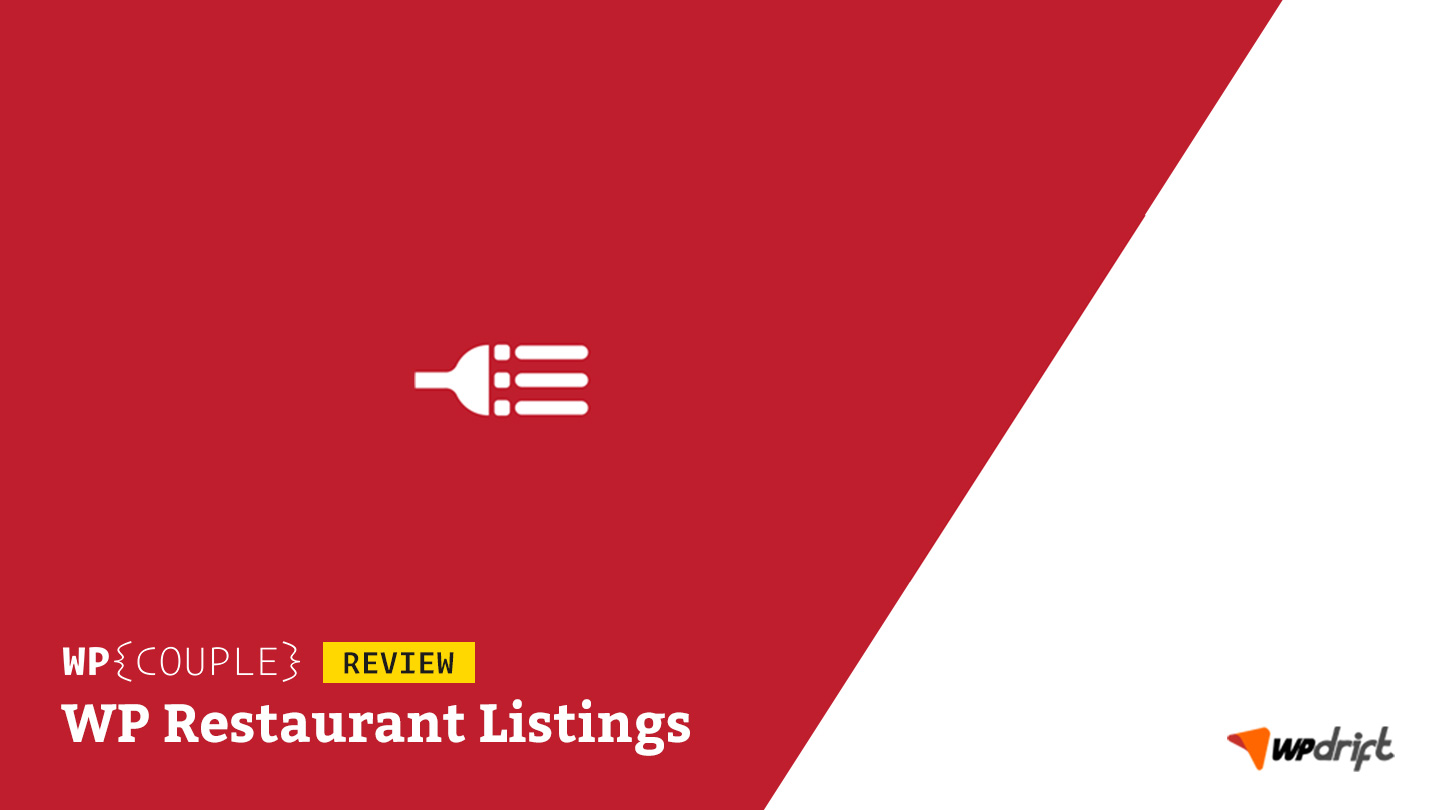 Talking about WP Restaurants Listings, it allows you to add restaurants listings functionality on your WordPress site in just a couple of clicks.
🎯
WP Restaurant Listing is a shortcodes based plugin which means it can work perfectly fine with any theme. You only need to add some CSS to match your theme, and you're good to go. Also, it comes with a bunch of functions and action hooks to allow the developers to add custom functionality.
Apart from the WP Restaurant Listings, the product line of WPdrift includes:
🎯 Getting Started With WP Restaurant Listings
WP Restaurant Listings is completely free and you can grab it from WordPress plugins repository or the plugins section of your WordPress dashboard. Rest is pretty simple and straightforward. So, let's jump into it.
→ Step #1
Log in to your WordPress dashboard and navigate to Plugins>Add New. In the search box, search for WP Restaurant Listings plugin. In the results, hit on the install button and activate it.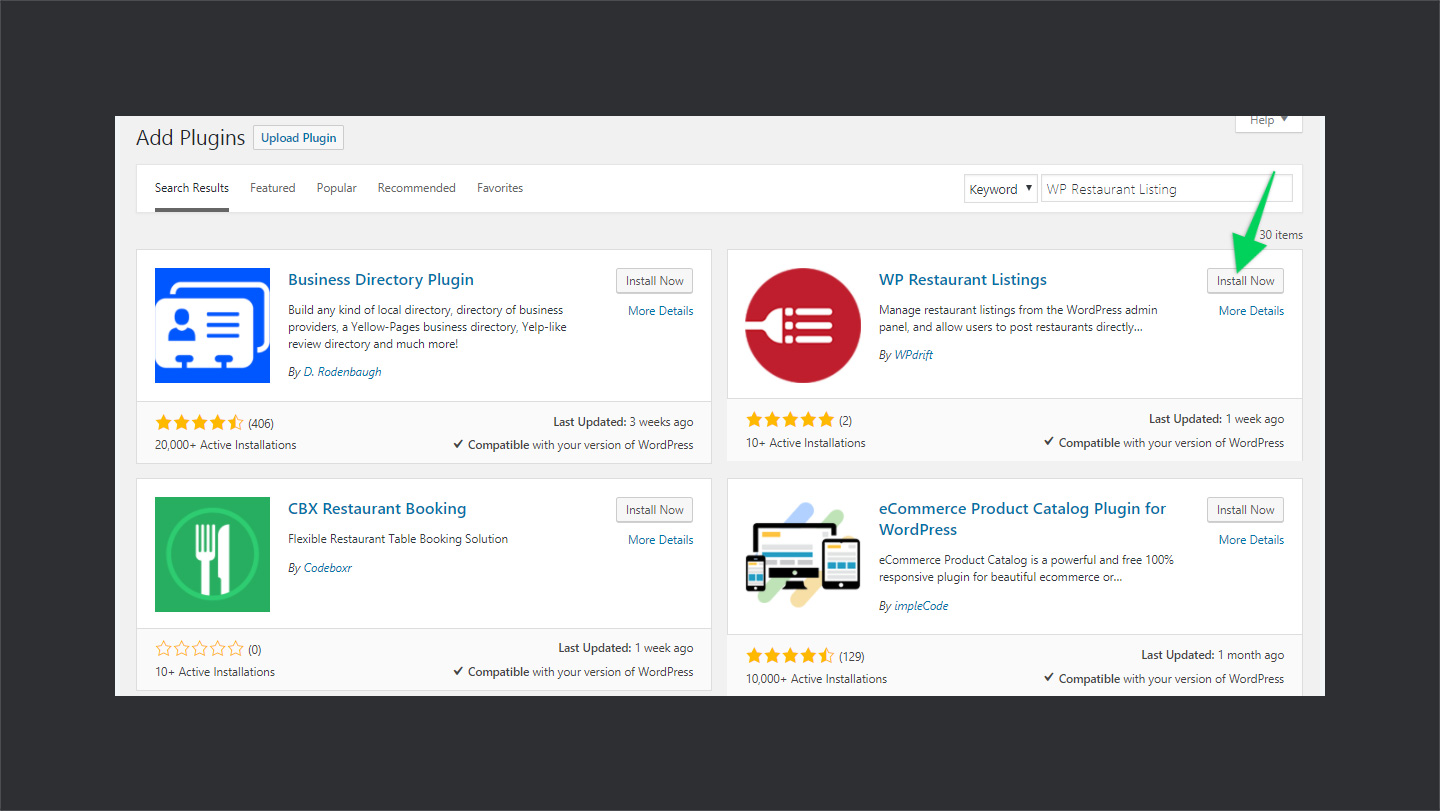 → Step #2
Once you have installed and activated WP Restaurant Listings plugin, it will take you to the setup wizard. Here, you can configure the basic settings about the plugins. At the very first page, it asks you to either continue the setup or manually set it up. Hit on the continue setup button right away.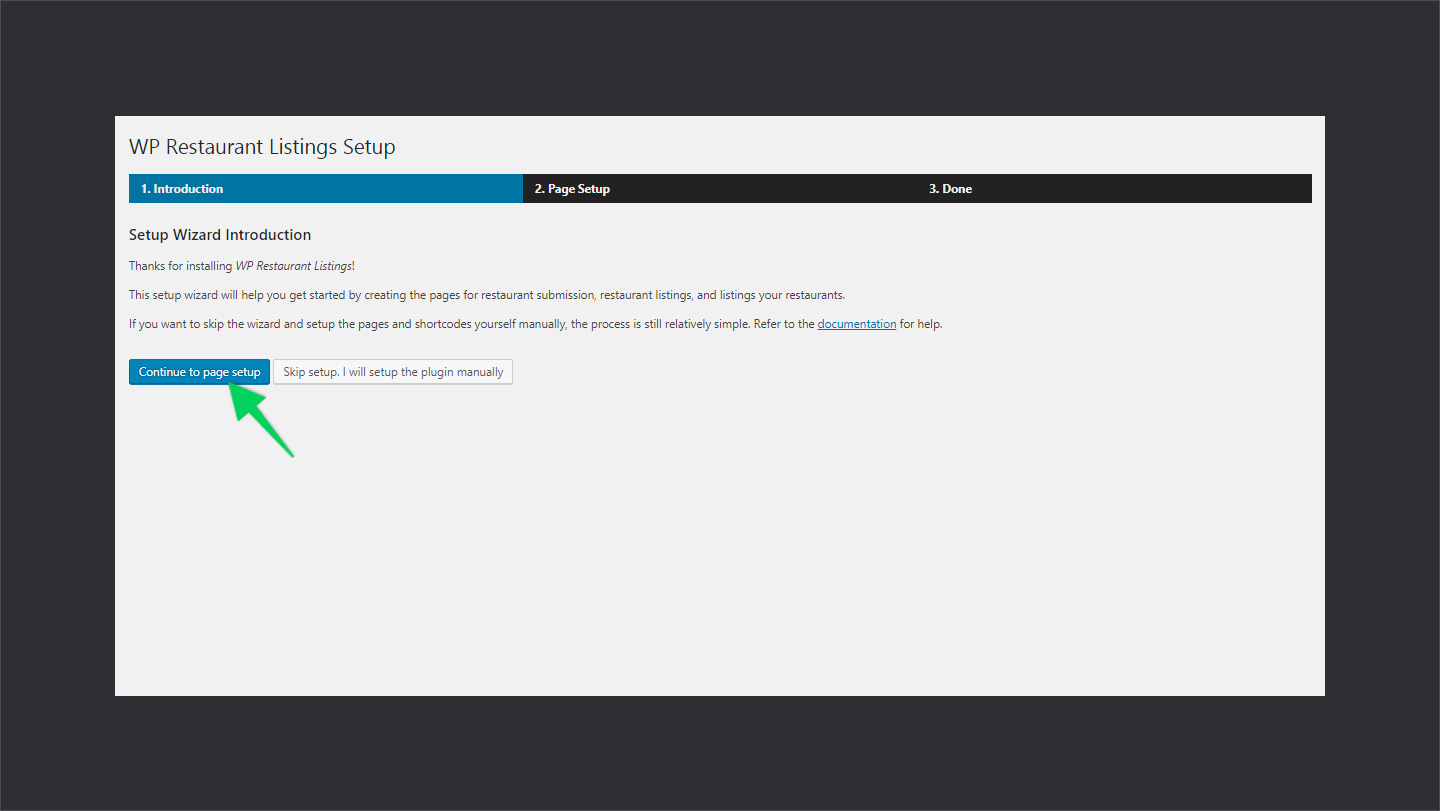 → Step #3
On the next screen, it will ask you to configure basic pages regarding restaurant listings. These pages come with the plugin and have shortcodes, so you can use them wherever needed. It contains the following four pages:
🏨 Post a Restaurant — Allows the visitors/registered users to submit a new listing from the front end. In case if you plan to submit from the back end only, you can skip it.
💼 Restaurant Dashboard — Allows the registered users to manage their listings from the front end. Again, if you plan to submit the entries from the back end only, you can skip it.
🍱 Restaurants — The page which lists all the restaurants submitted. It allows the visitors to filter and search for particular restaurants.
🗺 Restaurant Locator — Allows the user to locate the nearby restaurants based on their current location.
By default, they are all selected, so you can select according to your needs and hit Create selected pages.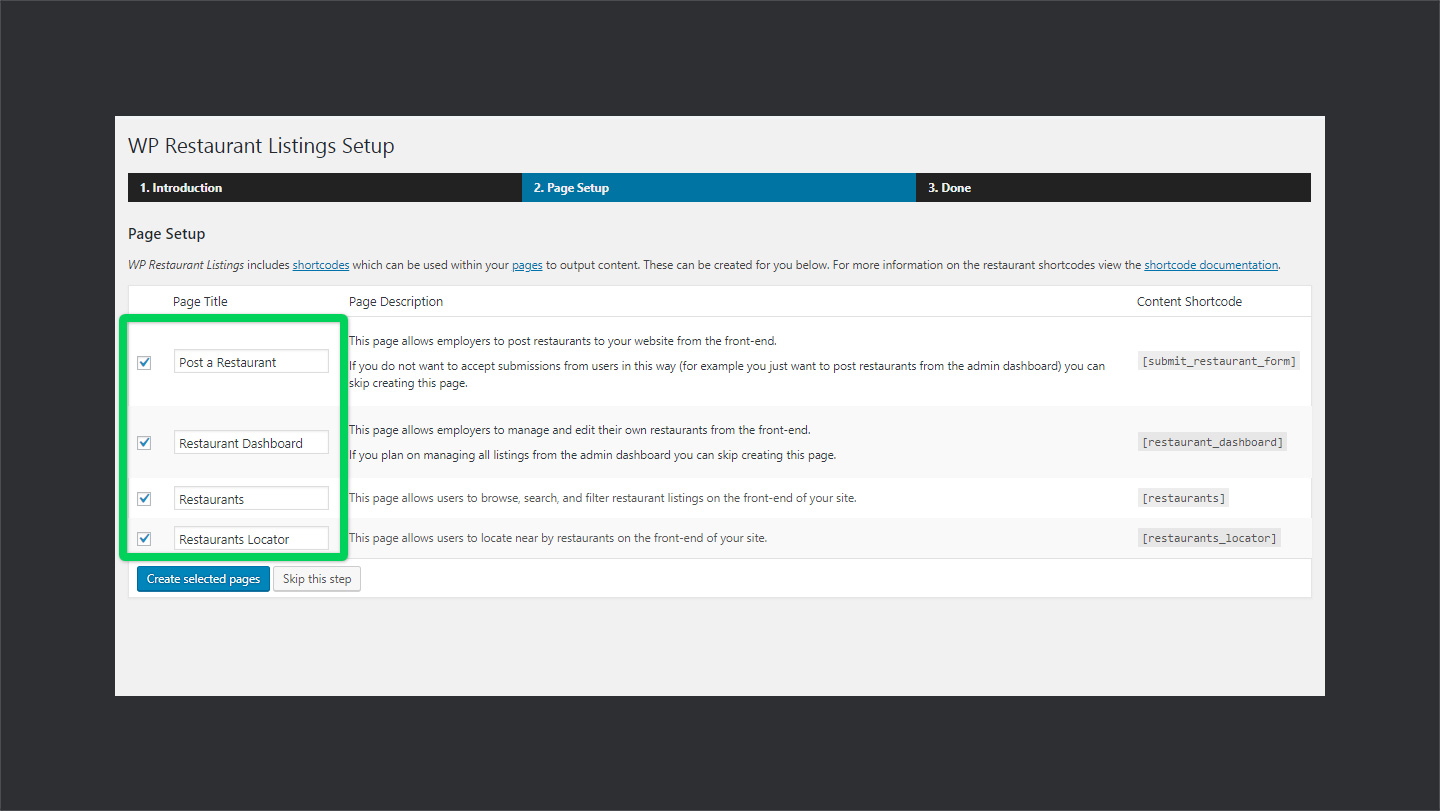 → Step #4
Once you have created the pages, you're done. The next page will display the success message and couple of useful link to set up further things and start adding listings.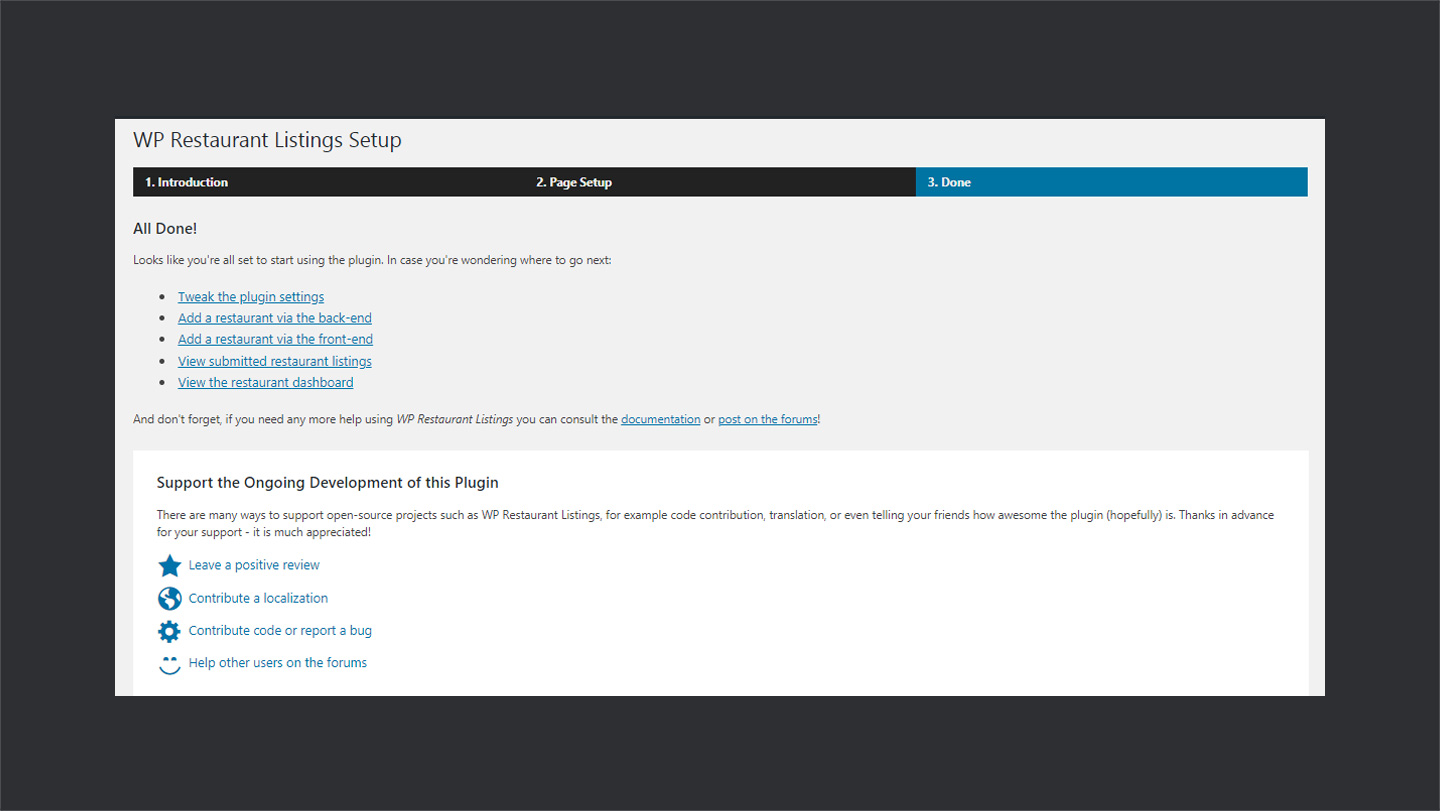 Also, in your WordPress dashboard, you'll notice a newly added section of Restaurants in the sidebar. Hover over it to see further subsections. Now two great things here are:
🛡 Use of default WordPress sidebar icons color.
✅ A structure similar to that of Posts and Pages – you get All Restaurants, Add New, Categories, and Types submenu.
💯 These both aspects add up to a consistent UI and better user experience. It's easy to get started and use to with a similar structure than a new one.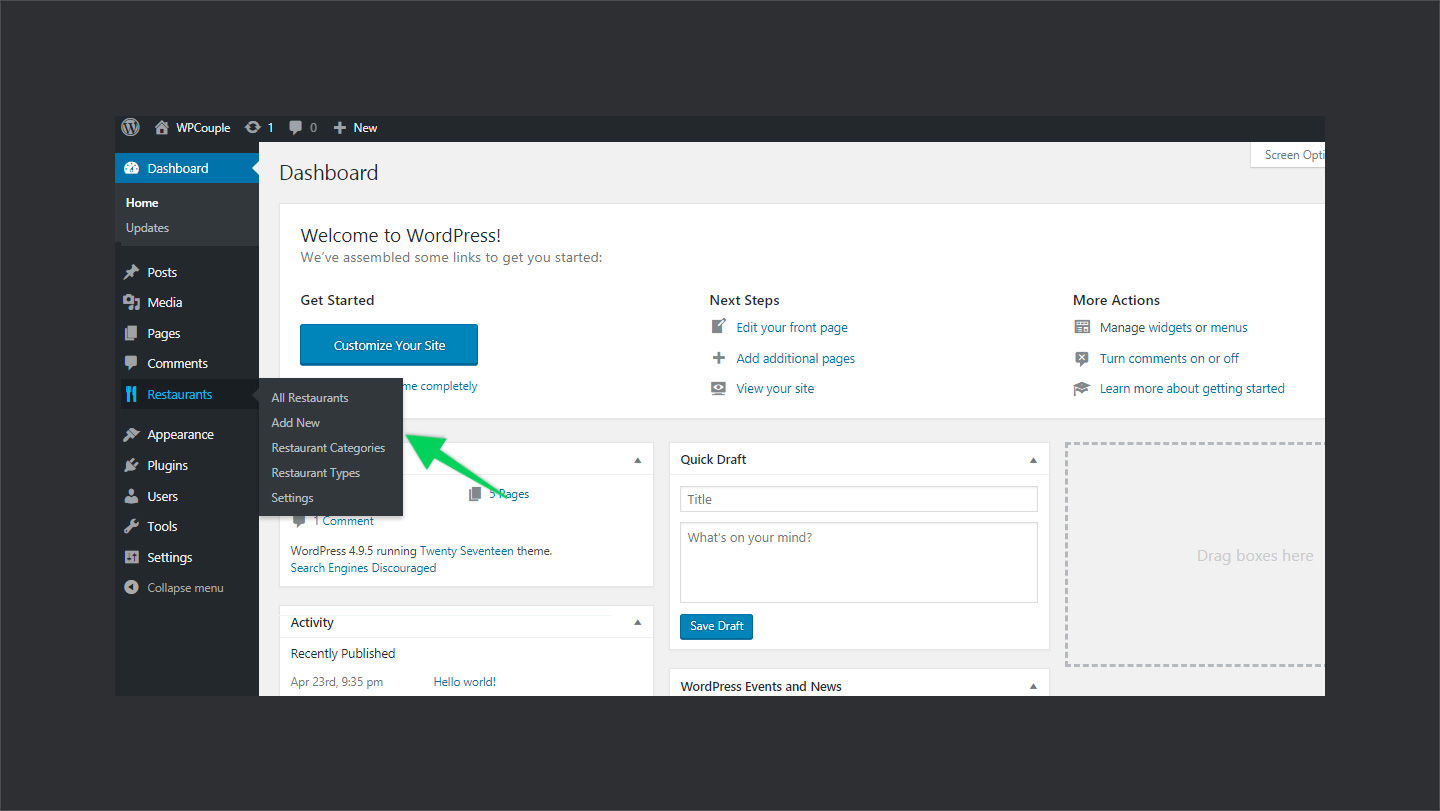 🍕 Adding A Restaurant Listing
After configuring a few basic things, now you can easily start adding the listings. To add a listing, you have two options – front end, or back end. The back end listing option is only limited to the users having the access to the back end. However, at the front end, users can submit listing without registration or register while the submit depending upon your settings.
→ 🐥 Listing Through Frontend
You can add a listing using the frontend via Post A Restaurant page, which you'd created while setting up the plugin. For easy access, I have created a menu and added the all the pages link in it and displayed on top of the site. This way, all the users can also easily access the pages.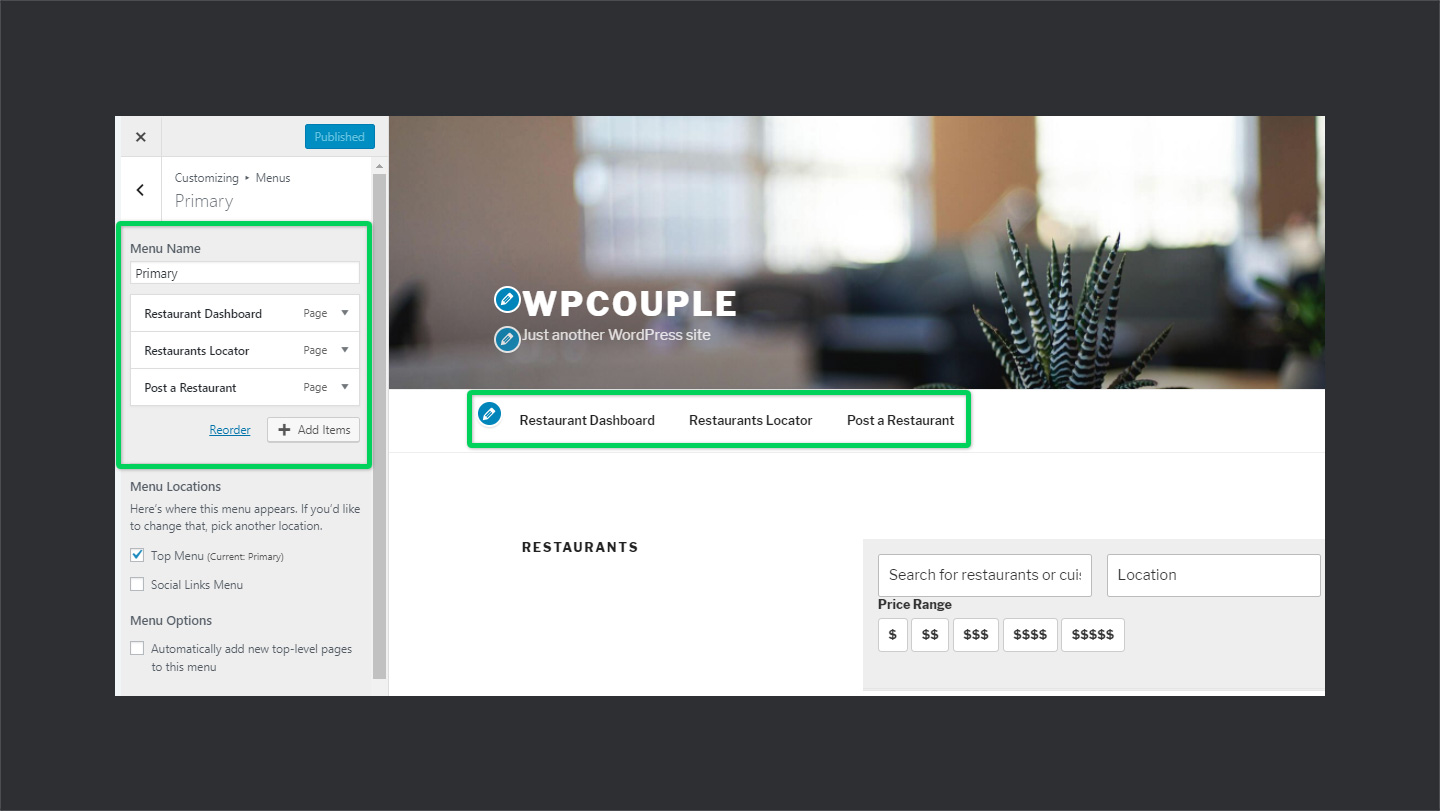 After adding the page, head towards Post A Restaurant page and fill in all the details. It includes almost all the info regarding your restaurant. That's name, description, address, contact, logo, menu, gallery, video, and so on.
Once you've filled out all the details, hit Preview button to view the results before actually posting it live. In the preview mode, you can either proceed and Submit it or Edit it if something does not look right. Once you're ready, hit Submit and your listing will be added.
→ 🎒 Listing Through Backend
If you have an access to the backend you can create a listing from here as well. To submit a listing from the backend, go to WordPress dashboard and navigate to Restaurants > Add New. Just like the front end, add all the details here and once you're done either preview it or simple hit Publish.
After adding a listing, either through backend or front end, head towards the Restaurants listings page to see all the listings. If you have added it to the menu, access it from there.
In my case, I have set it as the homepage for easy access. However, whatever the case is, navigate to the restaurant page and you'll find your listing along with filters and other options.
You can filter the restaurants based on their price category, search by location, or by name. Click on your listing to get the details. The details page is laid out in a great way. Every detail is displayed right in front of you.🎯
🎖 Features
So far we have covered the working, functionalities, and major features of the WP Restaurants Listings. Now, let's look at some other aspects of WP Restaurants Listings and how they can be helpful.
→ 🔥 Restaurant Dashboard
If you are logged in your WordPress site, you can head to Restaurants Dashboard page to simply manage your listings. In the dashboard, you can see all of your listings, edit, delete, or duplicate them. Duplication feature can be handy while creating multiple listings and simply editing the changed part in them.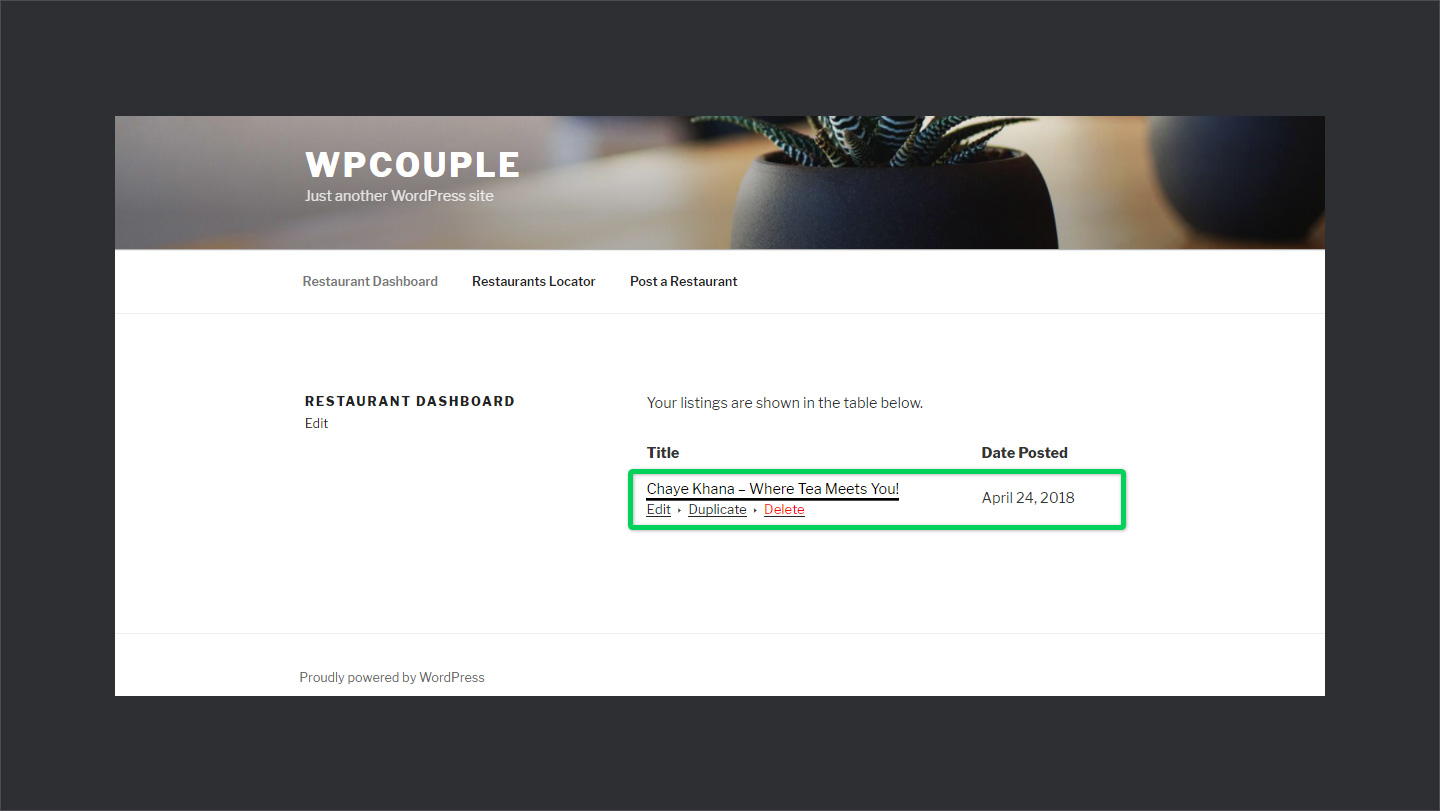 → 🎧 Easy to Use
I'm sure till now it is clear that WP Restaurants plugin is super easy to use and get started. It adopts the native structure and UI of WordPress which makes it pretty easy to get up and running for anyone who is using it for the first time. This also makes it incredibly fast. You don't notice any lag or delay with the newly added functionality on your WordPress site.
→ 🦄 Developers Friendly
One thing that I always love to explore while reviewing a plugin is its coding style, tooling, and structure. It gives you a pretty good idea of how easily it can be extended and customized. On the other hand, modern tooling is preferred by many developers and having it already setup helps a lot.
WP Restaurant Listings makes use of npm, NodeJs, and Grunt. The code is overall very organised and properly documented. Also, it contains the .pot file, so you can go ahead and even translate it into your local language. 💯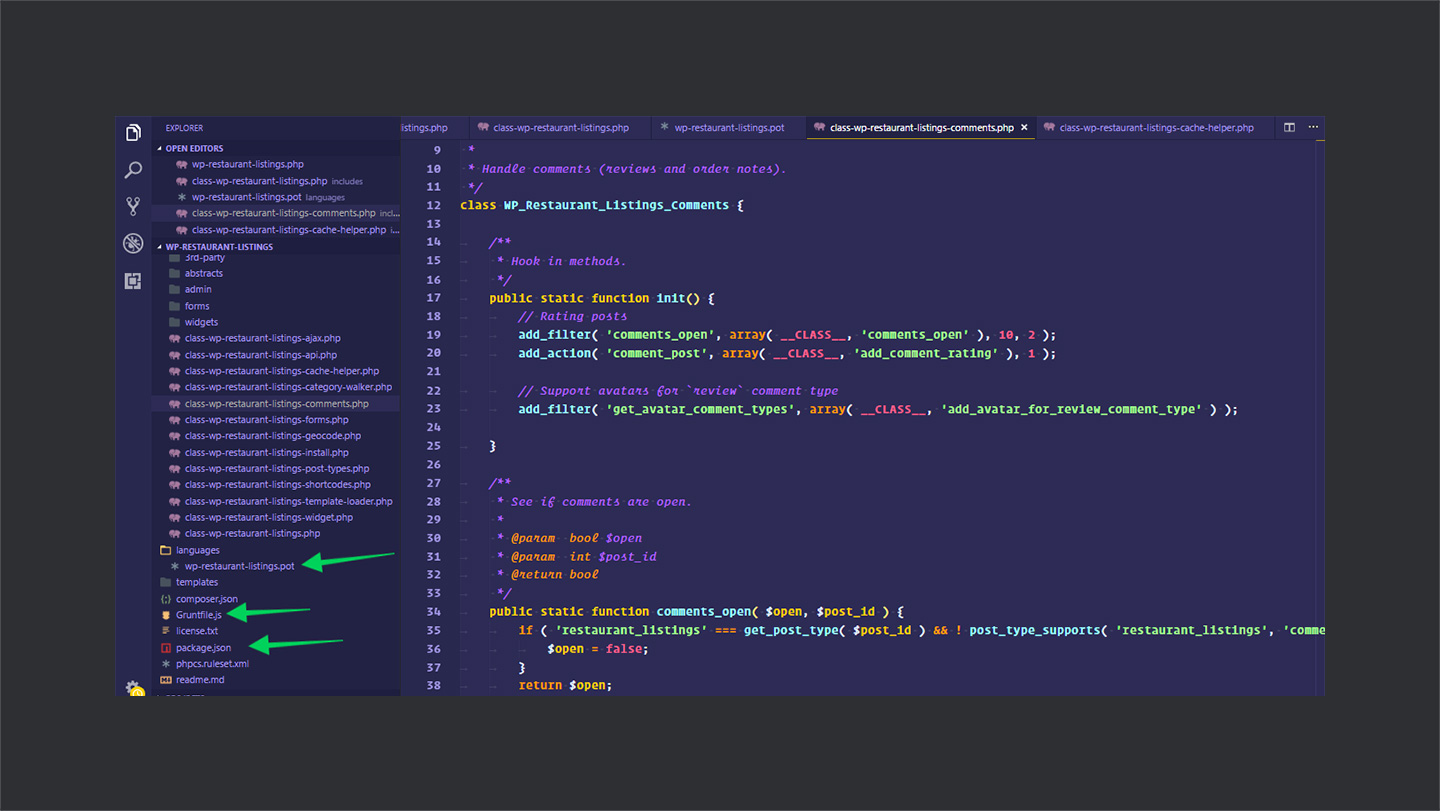 → 📖 Documentation
WP Restaurant Listings was launched in March 2018 and follows a freemium model. Considering the fact that the plugin is quite new, it's great to see a pretty decent amount of documentation on their site. Which is a positive sign from the developers and one can easily presume that WP Restaurants Listings is here to stay and not going anywhere any time soon.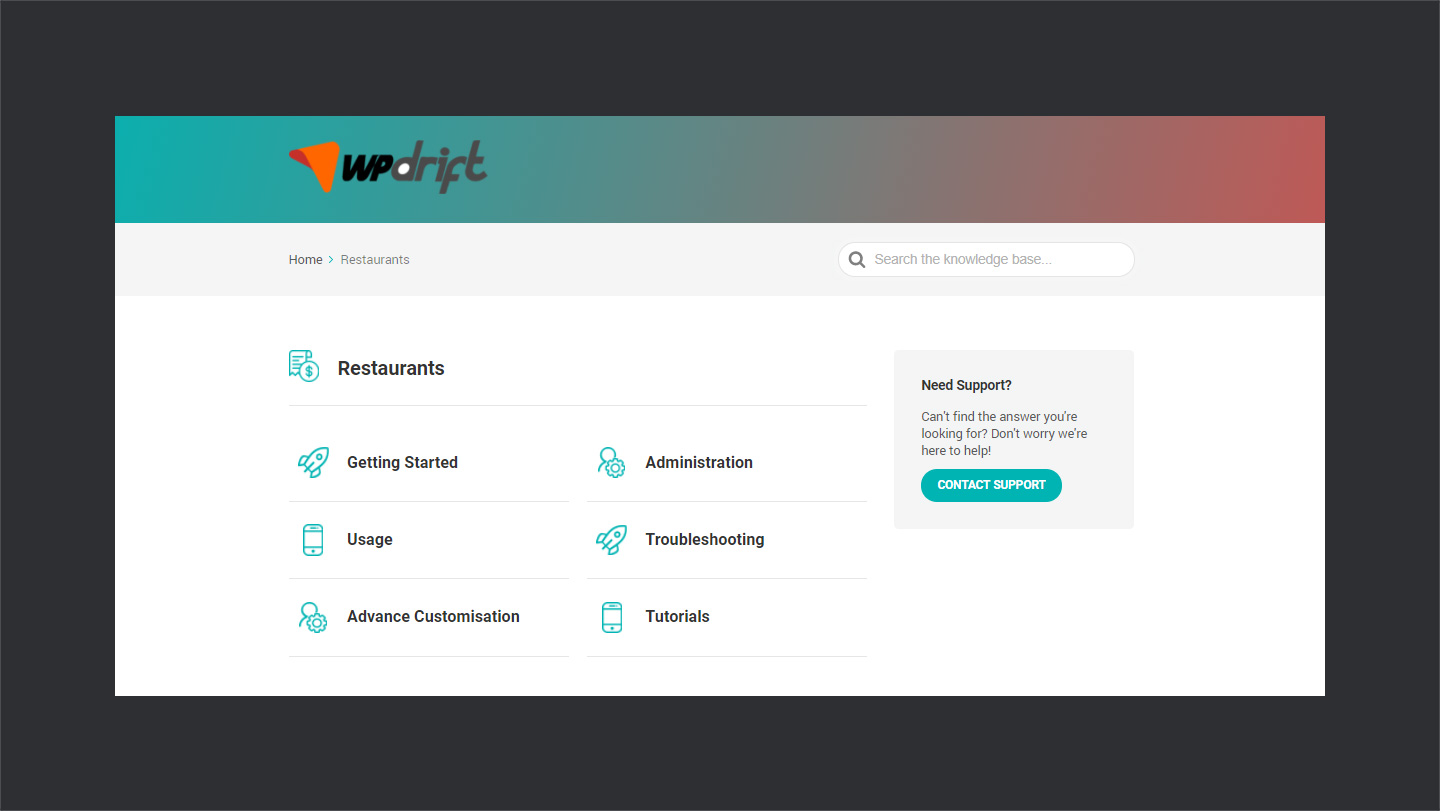 🙌 Final Thoughts
WP Restaurants Listings is definitely a great plugin to add basic restaurants listings functionality into your WordPress site. Also, it contains no bloatware, the code is properly commented, and it's shortcode based. Which means it can be easily used with any theme.
Considering the fact that it can be used with any theme and contains appropriate filters, hooks, and functions, it can be easily extended. From a developers' perspective, you can build add-ons, themes, or maybe another product on top of it. In short, this plugin has got the potential to grow.
Have you ever used any plugin with similar functionalities or planning to you use one? Also, what are your thoughts on WP Restaurants Listings? Let me know your views in the comments below!
Peace. ✌