Probably, it would have been the same summers of May last year when Matt Mullenweg and his team at Automattic were preparing to shake the pillars of the WordPress community. The news of WooThemes being acquired by Automattic spread like a fire, and it came as a shock for some but a surprise for many.
Anywho, WooMattic Turns One Today!
Some Mind Boggling Stats
You will be surprised to know that during this one complete year the plugin successfully crossed the 14.4 million downloads with 30% share of the global eCommerce. I am sure the journey would have been an incredible one for all the Woo Ninjas out there especially those who've made this plugin grow from 0 to the 10M figure. If my recollection of lost isn't misleading me then WooCommerce had about 6.7 Million downloads before its acquisition.
[ecko_fullpage_image]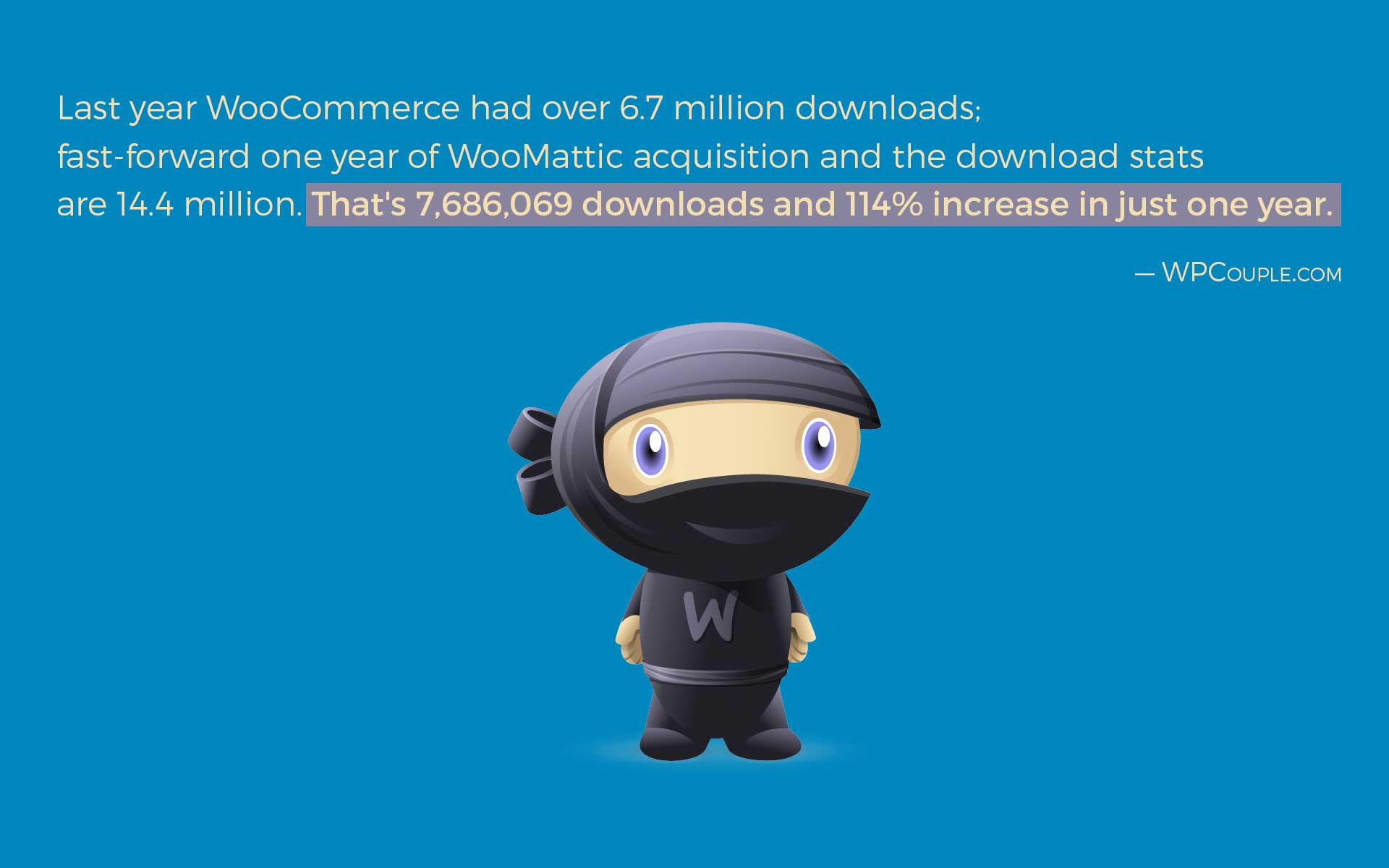 [/ecko_fullpage_image]
Last year WooCommerce had over 6.7 million downloads; fast-forward one year of WooMattic acquisition and the download stats are 14.4 million. That's 7,686,069 downloads and 114% increase in just one year.
A Glimpse At The Past
Acquisitions are nothing new when it comes to Automattic; they've done it before since 2007 from Gravatar till 2014 when they acquired the WordPress security plugin BruteProtect. Likewise, all the previous acquisitions didn't meet such an uproar which was witnessed last year in May 2015. So what paved the way for Matt to acquire Woo at a price that some reports say to be six times anything the company has acquired done till date?
Similarly, the fact that Matt has repeatedly spoken high about the scope of eCommerce businesses globally cannot be ignored. Many speculations had gone into the reasons why this massive takeover occurred, but this is not something which I'll discuss.
However, the general opinion you mostly find on this topic is that Automattic preferred this way as opposed to building its in-house eCommerce platform. Since we all know how tough that could be. And talent acquisition that was a huge plus factor.
A Big Leap of Faith
Regarding the repute and power, both Woo and Automattic were considered to be the leaders of the pack and their combination; boy what do I say about that. It was a big leap of faith for both companies since thoughts like "is it worth the risk" would've been pretty difficult to deal with. Amalgamating 55 new employees from 16 countries with a total of 370 Automatticians was a significant challenge to accept.
An article in which, Mark Forrester (Co-Founder of WooThemes) wrote three months after Woo's acquisition narrates that team integration was the biggest issue they faced initially but enjoyed this transition and called it a privilege working with Automattic.
WooMattic Turns One!
Can you imagine, it's May already and WooMattic is now one-year-old. Throughout these 12 months, I've keenly observed how well these two companies, gelled together negating all the rumors which once prevailed. I think both companies had a great year together, and the power of Automattic has for sure taken the core plugin to a next level. Woo as a brand has scaled up which clearly reflect the supreme managerial role Automattic has played.
Automattic's takeover also gave birth to a new debate which predicted about the future of WordPress and WooCommerce. People came up with different viewpoints but so far everything seems great. I can't judge that how many predictions turned out well. But I'm sure that after reading this post you'll be in a much better position to evaluate WooMattic by yourself.
Therefore, I am writing from the perspective of a WordPress community member; about what changes I saw at Woo which can be accredited to the WooMattic acquisition.
Corporate and Community Support
One single concern which populated the most about this acquisition was the company size. Automattic was already a team of 370 people when WooThemes joined it. This is quite a big number, and Matt has done an excellent job in regards to managing all of them. Big companies do confront problems with their "Support" system, and WooThemes was already struggling through it for quite some time. I mean leading a family of users in millions is not a piece of cake is it? So, this is where I felt Automattic played its part and helped Woo improve its support system.
Right after being acquired, an all-new support system for WooThemes was announced which aimed to make every single interaction with the Woo Ninjas productive. A tab for submitting "Tickets" was introduced in your WooThemes account just like you would do in WordPress.com.
But this revamped support system didn't end their struggle as users experienced long ticket response times which Michael Krapf (Woo's support lead) also expressed in one of his blog posts.
To cater this issue, Woo took some constructive steps like hiring and training new support ninjas, improving products documentation and partnering with companies like Sidekick, which provides guided tour and training right inside your online store. All these efforts were not possible without a strong backing from Automattic.
Content Marketing Strategy
Since its acquisition, I've observed a significant shift in Woo's content marketing strategy. All those who speculated that can "Automattic make selling online just as easy as publishing content" must have observed the change. If you scroll through the blog posts of WooThemes, you'll find a great level of diversity in the featured content.
WooCommerce pairs well with WordPress and makes web users and potential shoppers brace the plugin as a top-notch eCommerce solution for their websites. WordPress has proved itself to be best CMS for publishing content, and that's why it seems that the Woo authors have started to make the most out of it via content marketing.
Now apart from the general tips and announcements, you'll find some niche specific and user focused articles like how to run coffee subscription business, booking-based website, and a food store. As someone who believes in content marketing, I'd say it's a healthy sign of growth at WooMattic.
Also, it seems that Woo has started to rely more on WP Tavern for all the walkthrough news of the community just like any other project would do that is run by Automattic. This could be the possible reason for not publishing their monthly round-up which used to run under the name "The Month in WordPress:——". Its last edition was published for the month of May 2015 which explains a lot.
Back to Back Versions
Few days back, Patrick Rauland, one of the WooMatticians, penned down his 10-month experience at Automattic. The prime focus of his article was to talk about "how fast everything is (at Automattic)" that Automattic is faster than WooThemes ever was. Which is incredible. I for one found that article to be full of insights and enjoyed reading about what's possible even with 400+ employees at Automattic. I guess now it would be easy for everyone to understand how WooThemes managed to release two major versions for WooCommerce in a single year.
Back in August 2015, WooCommerce launched its version 2.4 under the name of Helpful Hedgehog. Its main highlight was the onboarding wizard to make things simple for users on what to do next (and we loved it ?). Despite this version catered quite a lot of users' needs but just in two weeks time, their developers realized the missing backward compatibility for third-party theme developers.
So, they geared themselves for the next release and launched version 2.5 i.e. the Dashing Dolphin in January 2016. Fast enough, though! This version focuses mainly on the speed of your online store. A session handler was introduced which tells WooCommerce what's in your cart. Apart from this, a new feature was added that added support for WPCLI which is obviously an amazing feature to have.
Win-Win Strategy
WooThemes' takeover came as a shock for those who were associated with its products in one way or the other. But later it proved quite fruitful because the growth of WooCommerce with Automattic benefited the current users as well as facilitated the large retailers. The support which came from Automattic was in itself a winning moment for all the subscribers, partners, and third-party developers who create products for WooCommerce. Some of them even experienced an increased number of sales and business growth.
Likewise, Automattic's strict policy of no side projects for its workers also came as a blessing for some. One such example was of WooCommerce's lead developer Mike Jolley, who sold his side-business WP Job Manager plugin to Automattic as a result of the takeover. Brian Krogsgard at PostStatus did a fascinating Q&A with Mike about the acquisition of WP Job Manager by Automattic.
A Much Consolidated Organizational Structure
The intervention of Automattic brought some positive changes inside WooThemes' organizational structure. It seems that now the Ninjas have set the ball rolling towards achieving new milestones. The launch of WooExperts is a reflection of how Automattic is scaling up WooThemes as it should.
Like users get badges on their WordPress profiles, in the same way, this verified developer program assigns badges to the WooExperts based on their skill and experience. The project also bade farewell to their previous Affiliated Woo Workers Page, which featured every developer or agency regardless of their experience.
To ensure and meet the quality standards of Automattic this program was revamped and they came up with a three tier membership structure. Moreover, they smartly worked on the marketing strategy and came up with the concept of WooCommerce Showcase, displaying some amazing work which developers and agencies have done with WooCommerce. I like to think that these changes have helped attract more people to adopt WooCommerce as their ultimate eCommerce solution.
Why the acquisition became a big hit?
This was not an ordinary purchase. Several factors backed it to become a superhit. In my opinion, there could be numerous reasons for it. But a worth noting point is that Matt Mullenweg maintained the sanctity of WooThemes and its products. Apparently, apart from barring its workers from side projects we didn't find any hindrance which would have affected their workflow.
However, improvements were made to take the company to a different level. The newly incubated team were welcomed very warmly and integrated quite well. They enjoyed all the resources which were accessed by regular Automatticians. WooThemes even celebrated their seven successful years. It seems that they had every right to celebrate their success being an independent unit as well.
What Does the Future Hold?
It's a moment of joy for all the WooMatticians considering how they've done so well together. This was just the first year, and we have witnessed awesome folks doing amazing work. It's not about winning or losing because the ultimate winner of this takeover was WordPress for sure. I think this acquisition has made WordPress platform more strong than ever. It's just the beginning. I can tell you the future is bright for WooMattic.
By making use of the current WooCommerce customer base, Automattic can come up with improved selling options for its users. With Automattic leading from the front, would make it easier for WooCommerce to compete with the existing giants like Magento and Shopify and who knows it may even launch a SaaS solution of their own.
Automattic can even make its entry into the commercial theme market and rise as a competitor to Envato. Moreover, the venture proved to be a successful one regarding the number of Ninjas who continued to stick with their jobs inside the new setup. Only a handful people left the lot which is a convincing fact about Automattic's working environment.
What's on Your Mind?
So what's next? Can we expect a few more acquisitions from Automattic? I think we can. What about you? Was this a good year for both WordPress and Woo? Did you think something went wrong? Do you have a suggestion for Matt Mullenweg? Comment below or Tweet about it.
Update
Apparently, Matt Mullenweg read the article and found it to be great ?
@mrahmadawais @MaedahBatool @TheWPCouple Great article!

— Matt Mullenweg (@photomatt) May 19, 2016
Don't forget to reach out at Twitter @MrAhmadAwais and @MaedahBatool