One of the best things about WordPress is plugins. They allow you to customize your websites to your liking. These plugins are super useful because they save a lot of your time and resources for the creation of something new on your website.
But if you don't stay on top of your updates, you can risk the security of your website. Sometimes it also happens the site crashes and costs you hours of rework due to a faulty plugin update. Thus making sure that your site is updated and at the same time not crashes due to a plugin update can be challenging. 
WP Engine realized that and developed just the thing we need. Their Smart Plugin Manager allows you to do all the things discussed above. And the good part is that you do not even need to do anything manually. Their Smart Plugin Manager takes care of everything for you.
Today, we are going to discuss this Smart Plugin Manager and take a dive into how this plugin works, how you can use it, etc. So without any further ado, let's jump in!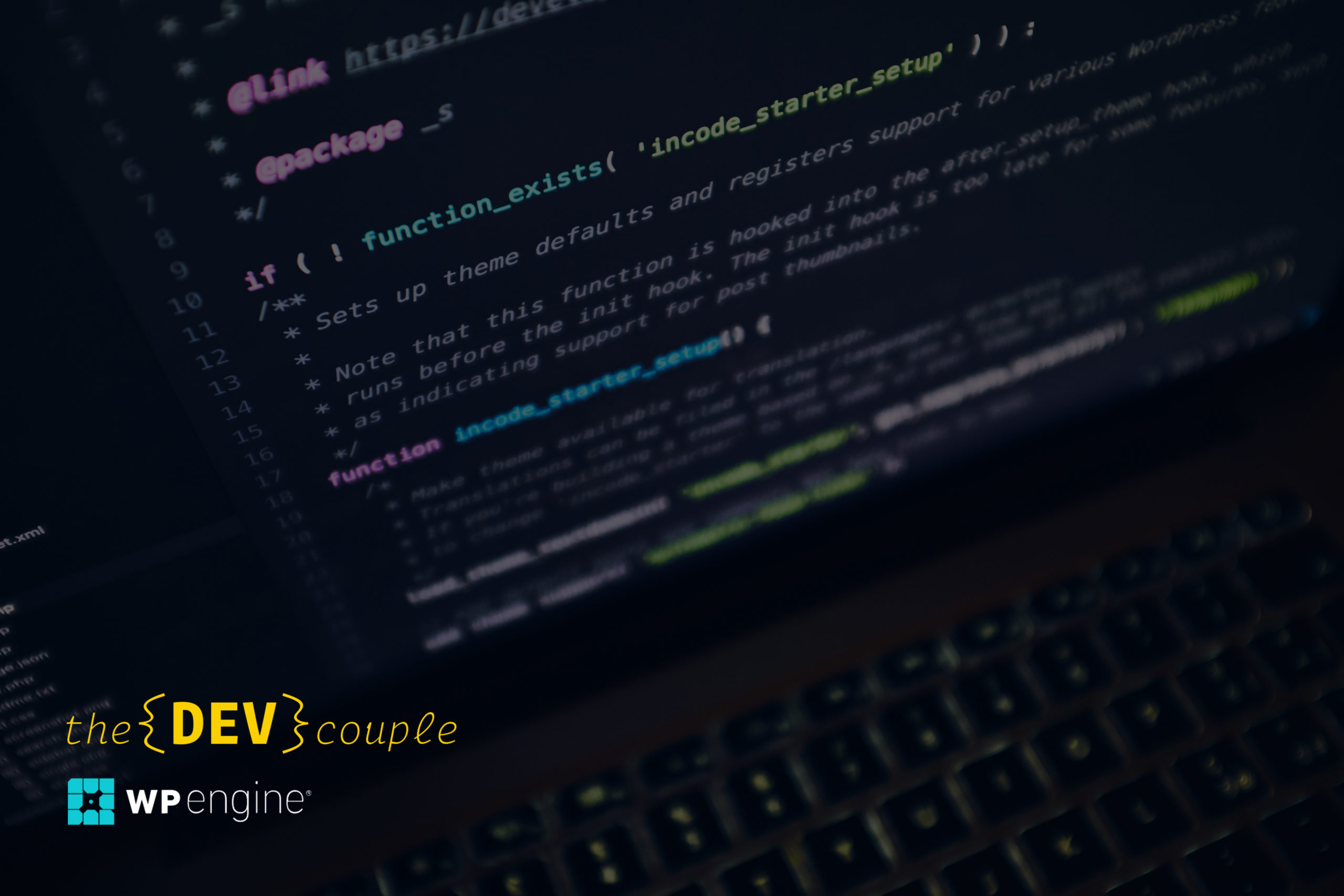 ⚡️ WP Engine – Taking Care Of All Your Hosting Needs
WP Engine, one of the leading hosting companies in the Managed WordPress hosting ecosystem, was founded by Jason Cohan a decade ago. Since then, WP Engine has grown into a huge success and has employed more than 500+ employees. It offers a great number of services but most important of them all is its hosting.
WP Engine offers a blazing-fast hosting performance, 24/7 support, an Agency Partnership Program that provides WordPress infrastructure to more than 5000 agencies. These are just some of the many services they have. And they are WordPress experts, so they keep on introducing new WordPress related services. 
They have now introduced a plugin that can take care of all of your WordPress plugins. It is none other than WP Engine Smart Plugin Manager.
🚀 WP Engine Smart Plugin Manager
WP Engine ensures that it is the frontrunner in the WordPress ecosystem. The sites that are running WordPress can sometimes break down due to a plugin or when a plugin updates. This is a huge drawback of WordPress and if we don't have a backup, we can lose our complete website. 
So, WP Engine realized that and developed the Smart Plugin Manager that can take care of this for you. This plugin works like a charm by not letting your site break due to a plugin. There is a lot more to it. Let's first shed some light on what happens under the hood of this Smart Plugin Manager.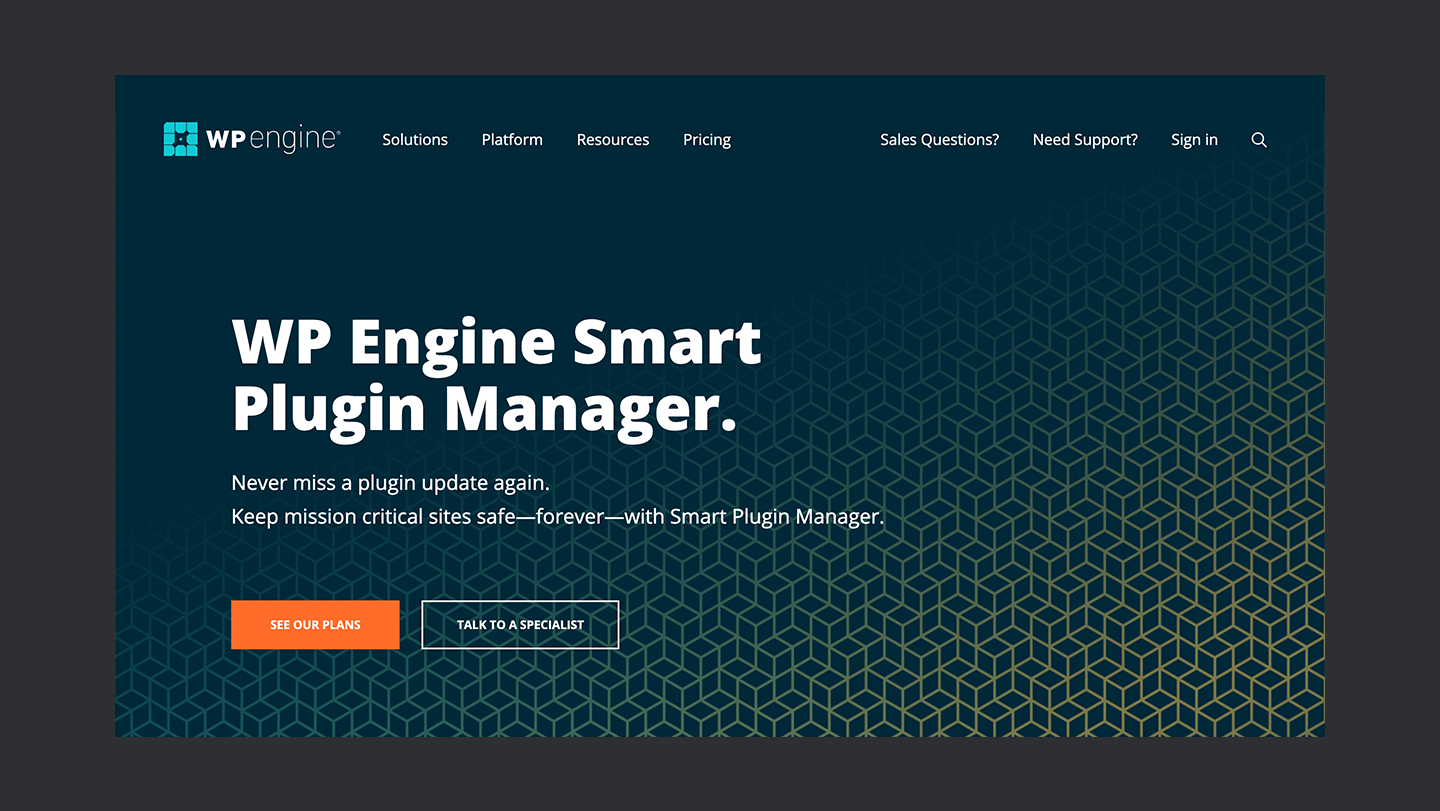 ⚙️ Under The Hood Working
We think that Smart Plugin Manager only updates our plugin but there is a lot that happens behind the curtains. The plugin runs on your website at a specific time daily. It checks for updates. 
If there are plugin updates available, Smart Plugin Manager does not go ahead and updates the plugin. Instead, it first creates a backup of your website. This is extremely helpful because if your website crashes after the update, it can always go back to its working state.
Once the backup is done, the Smart Plugin Manager takes a snapshot of your website. Then it updates the plugin. The next thing it does is it takes another snapshot of your website.
The second snapshot is for the comparison. The Smart Plugin Manager does a visual verification between the two snapshots. If everything seems alright then it goes ahead and lets you know that the plugin is updated. But if your website crashes, it rolls back to the latest backup and still reports you that this plugin can crash your website if updated manually.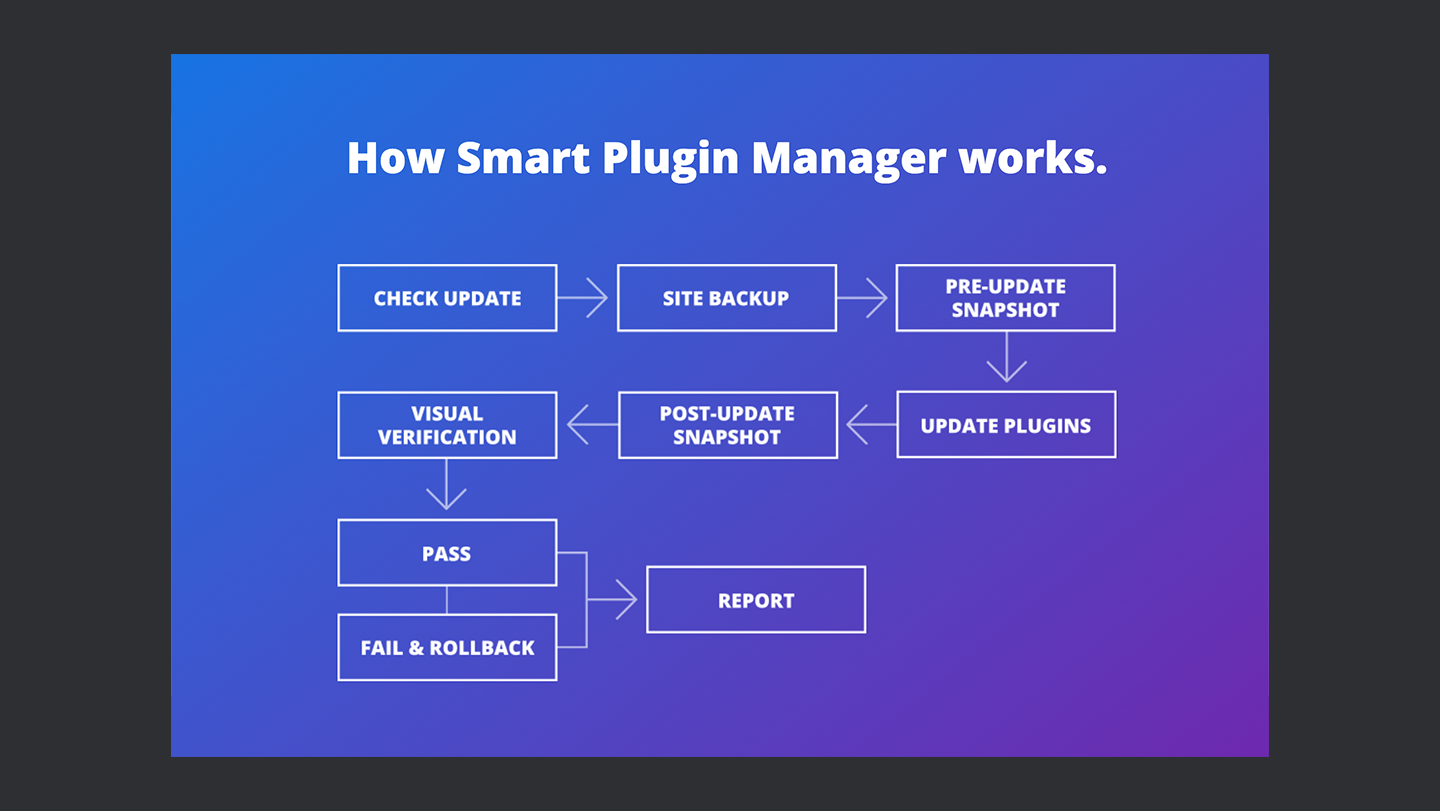 Now let's take a look at how you can enable the Smart Plugin Manager for your website and use it.
👨🏻‍💻 Enabling Smart Plugin Manager 
You need to have a website on WP Engine if you want to use the Smart Plugin Manager. Follow the steps below for enabling this WP Engine plugin on your website and you are gold.
→ Step #1
The first thing you need to do is log in to your WP Engine account. Once you have signed in, you will see a dashboard. Click on the Tools in the left sidebar.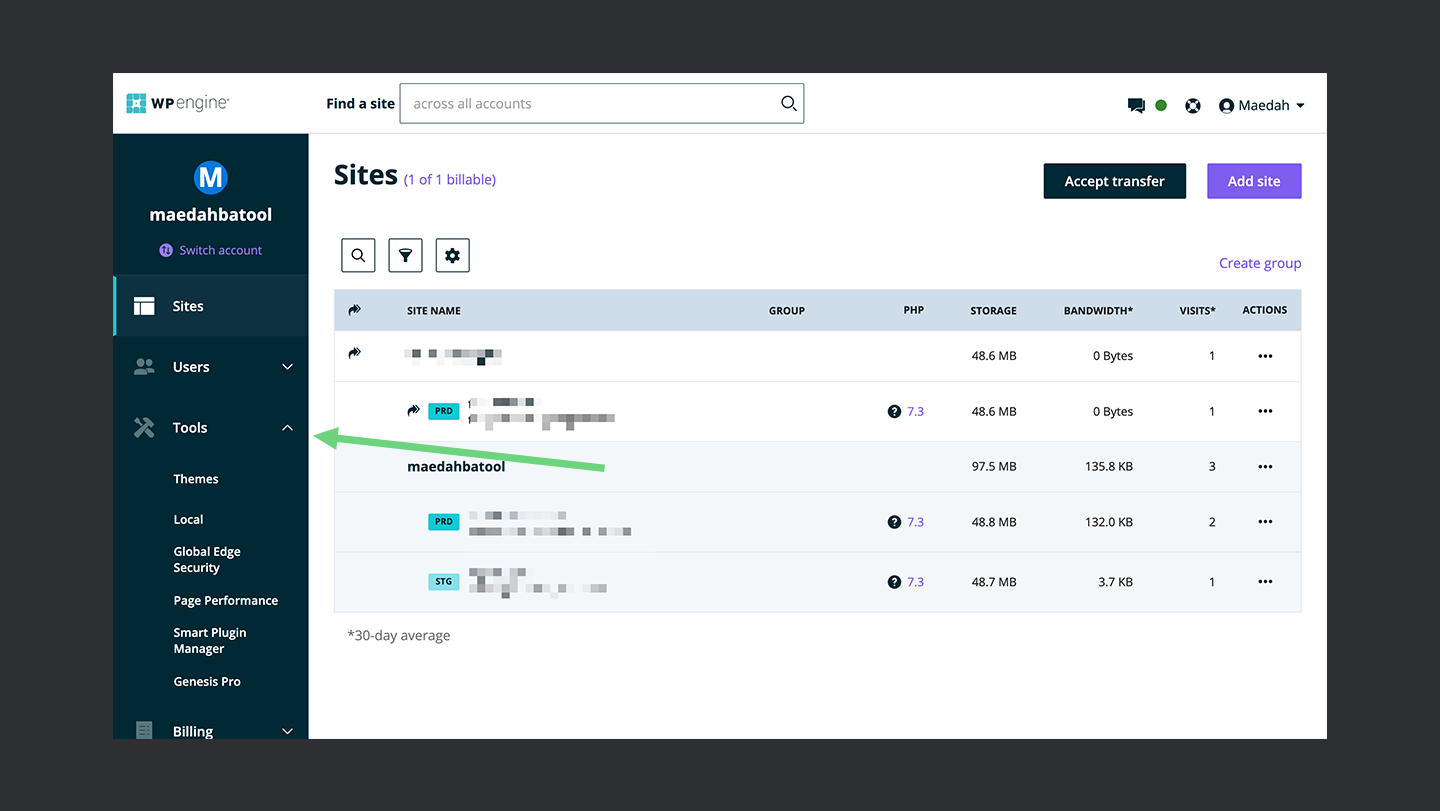 → Step #2
Now click on the Smart Plugin Manager. This will open a new screen for you. If you have already purchased the license, click on Select environments.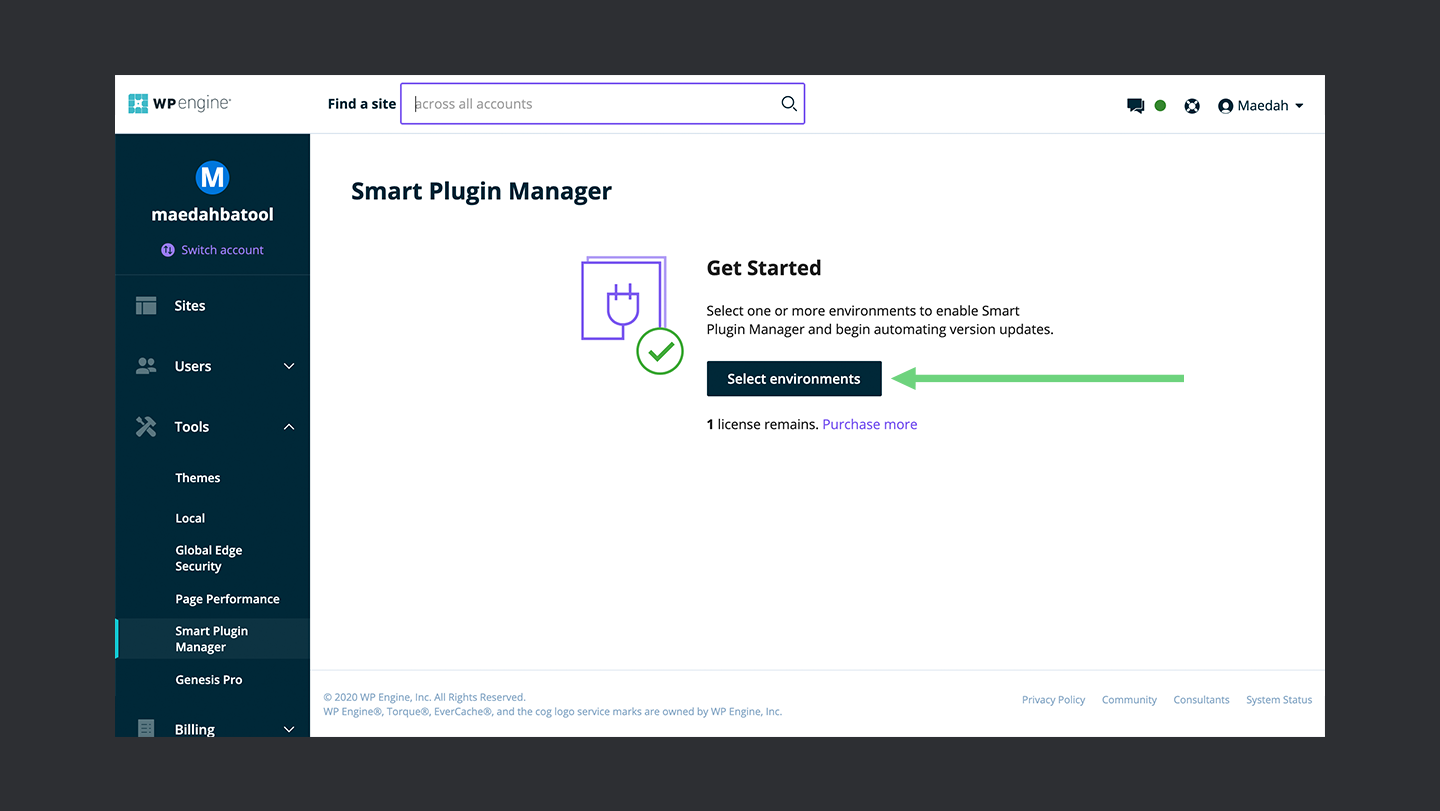 → Step #3
When you click on the Select environment, a popup will be opened. Select the website you want the Smart Plugin Manager to turn on.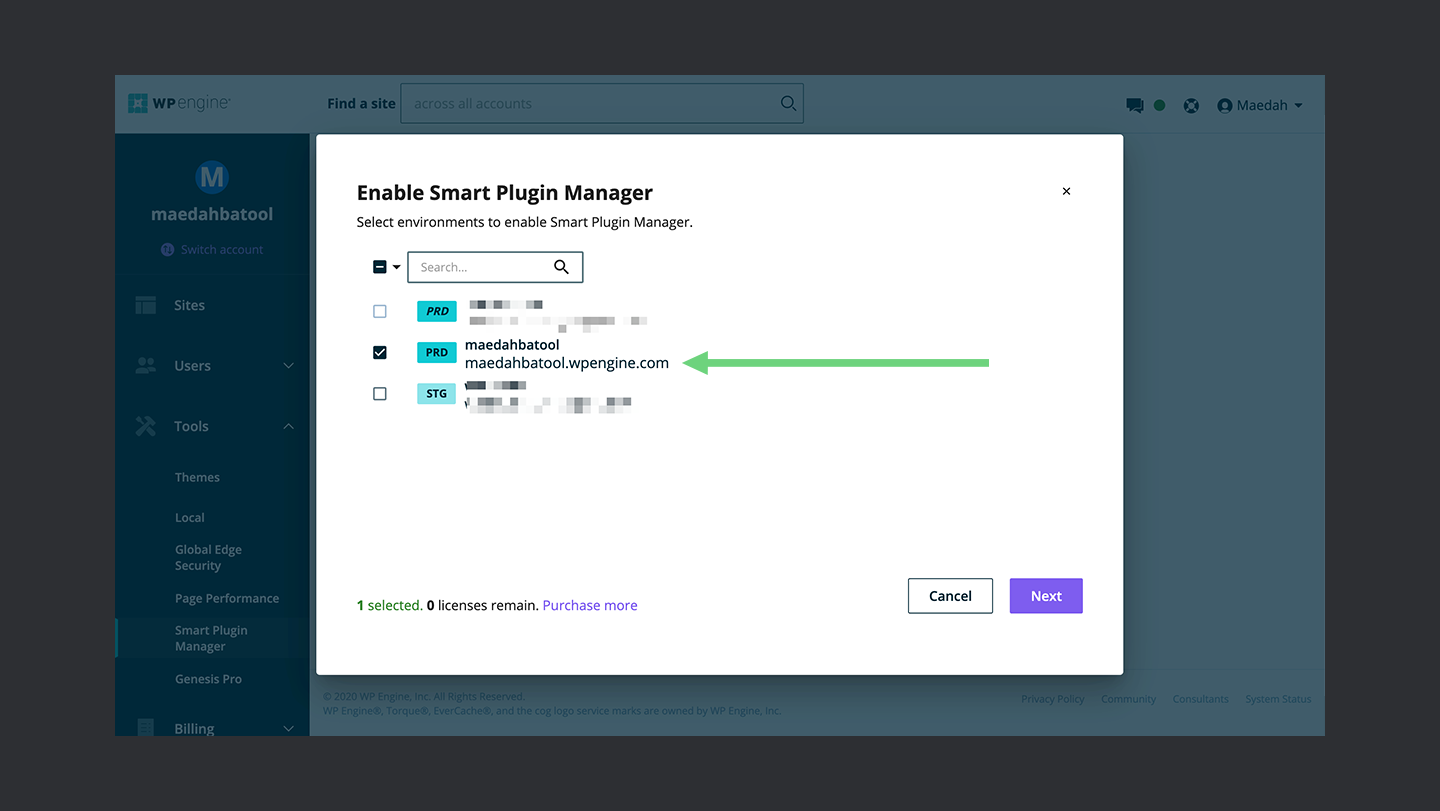 → Step #4
Now click on Confirm on the next screen. This screen will show you the Update schedule, Notification Emails, Auto roll-back, and Maintenance options.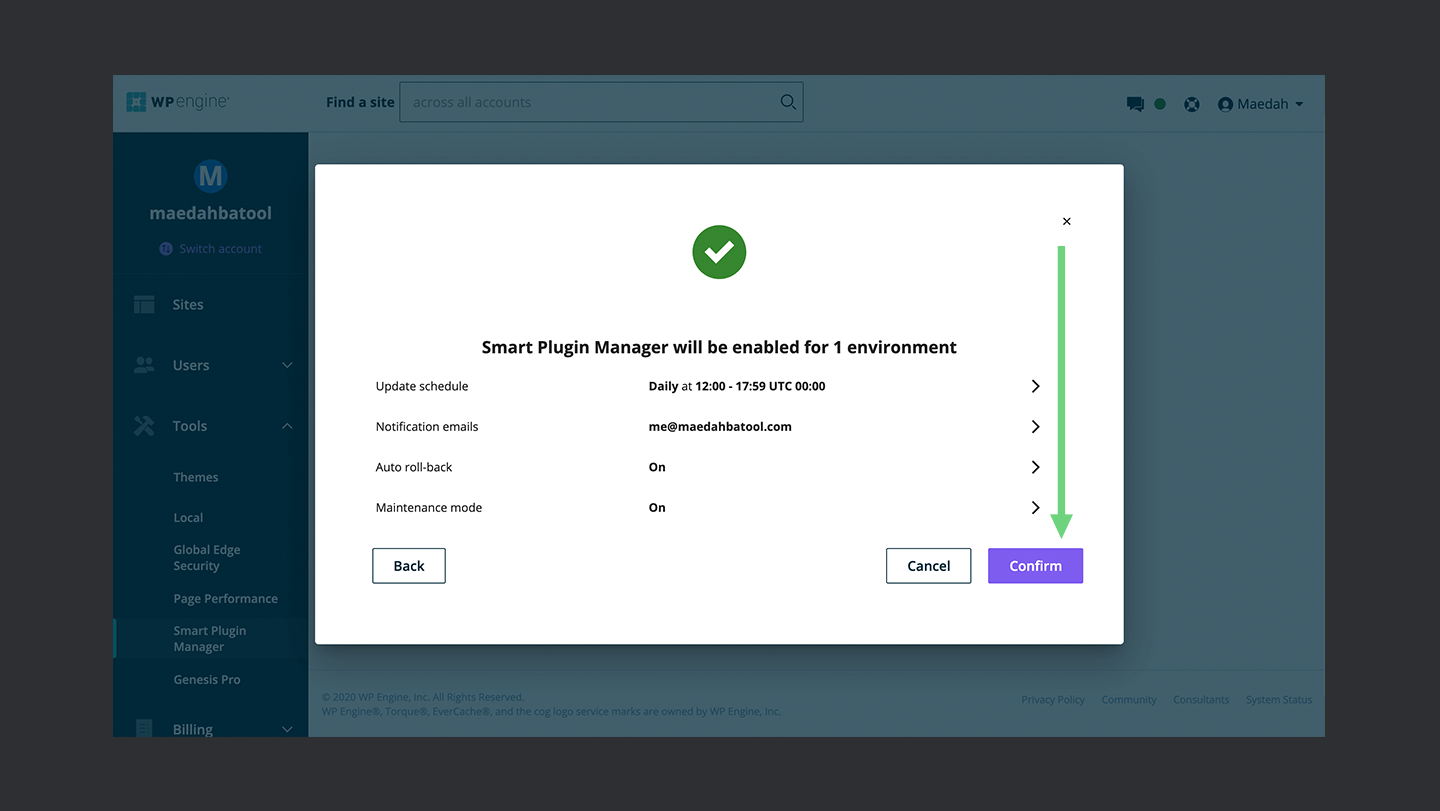 That's it. Now the Smart Plugin Manager is running on your website. WP Engine will then show you on what Environment the plugin is running. It will also show you the type of environment it is and the name of the website.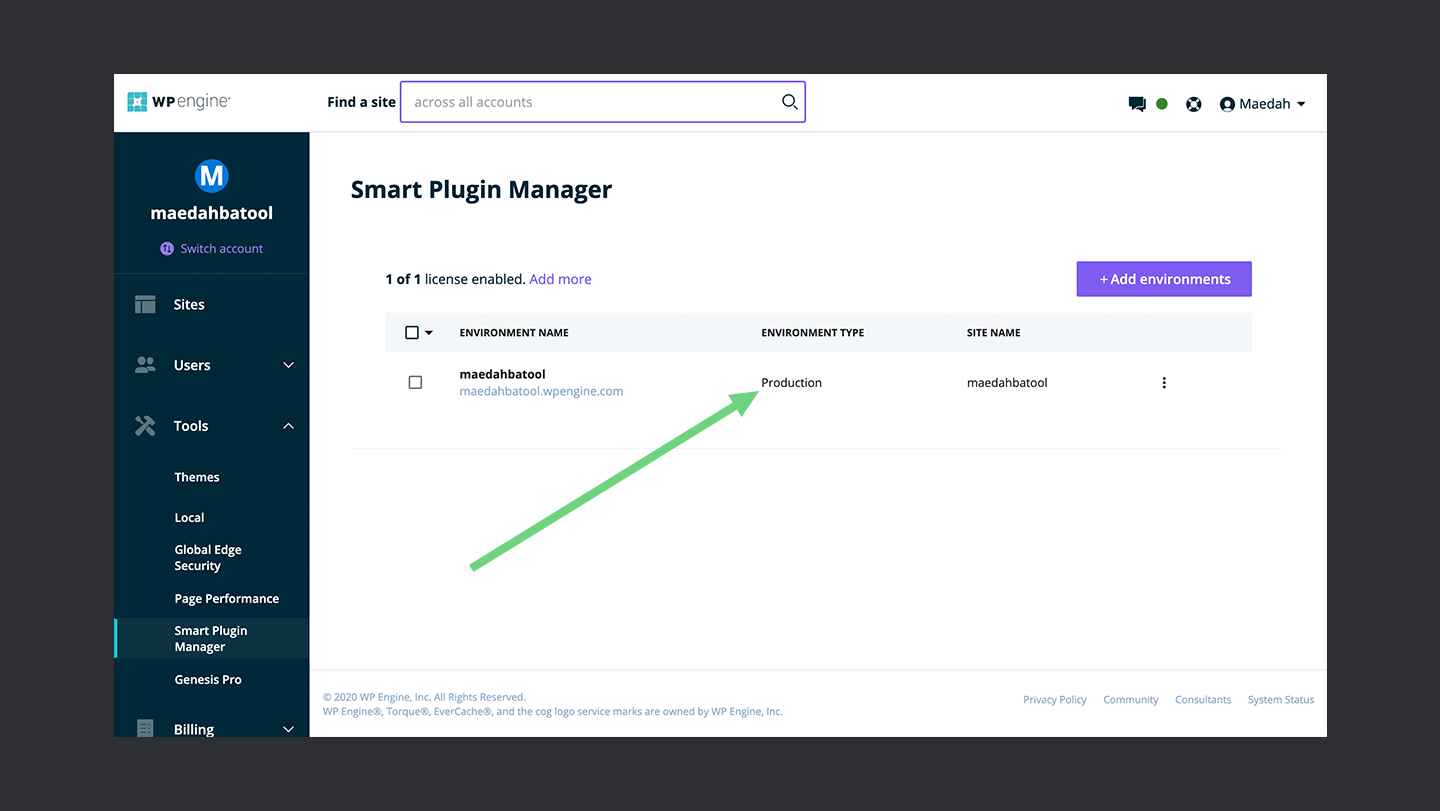 🎯 Smart Plugin Manager Settings
Like other WordPress plugins, it would only be fair that you also get some options to customize the Smart Plugin Manager to your need. WP Engine knows that and gives you all the options you need to use this plugin according to your likings. These options are there to make your experience even more rewarding. 💯
You need to follow a couple of steps to open those options and there are even two ways of going to the same place, i.e., WP Engine Smart Plugin Manager Settings. I am going to show you the first way because the second way also eventually leads to it.
→ Step #1
Open your WP Engine dashboard first by logging in to your WP Engine account. Once you have signed in, you will see a dashboard. Click on the tools from the left sidebar. And then click on the Smart Plugin Manager.
→ Step #2
You will see the environment where your Smart Plugin Manager is currently active. Click on the three vertical dots on the right and then click on Edit settings.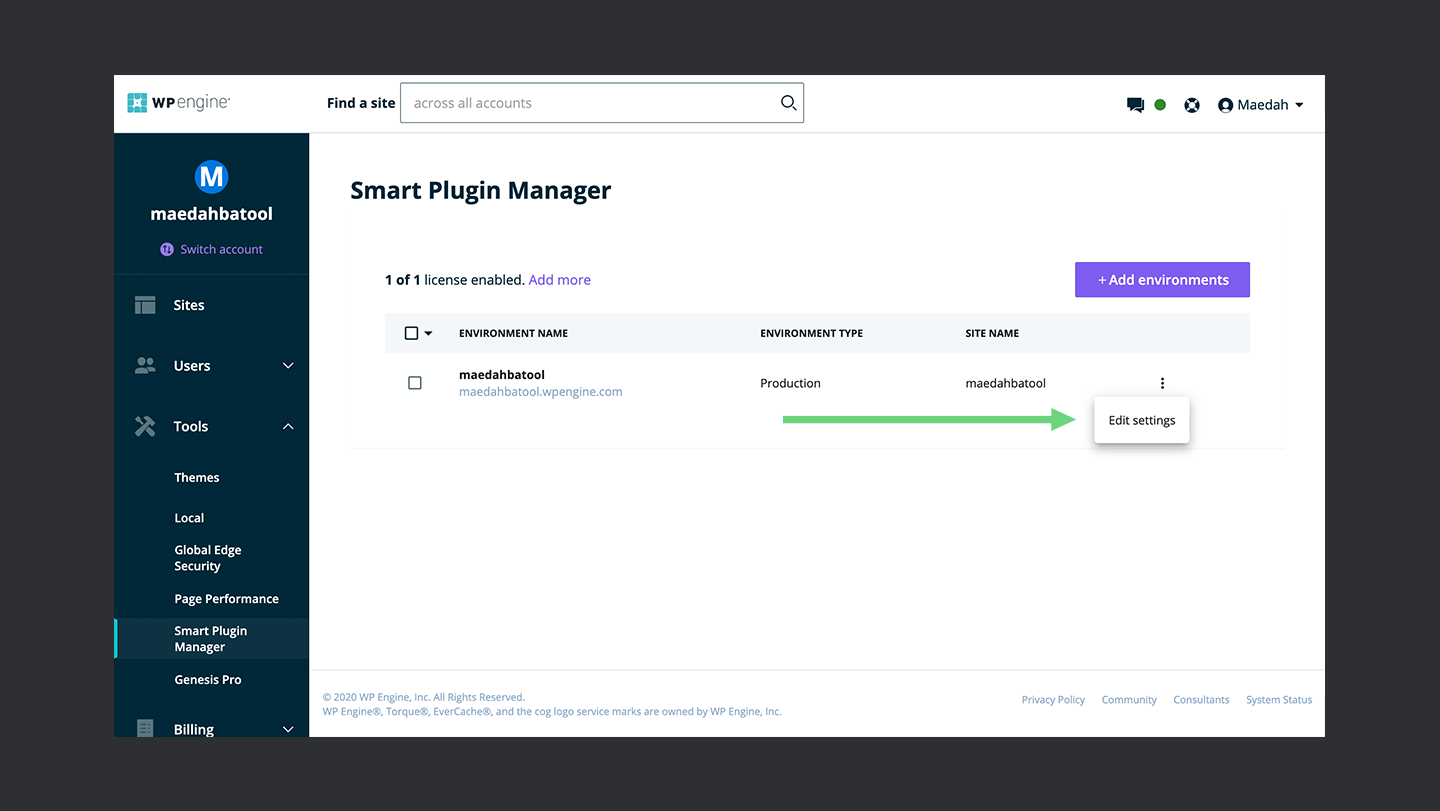 → Step #3
Clicking on Edit settings will open a popup for you. Change the settings you like and then click on Save. That's it!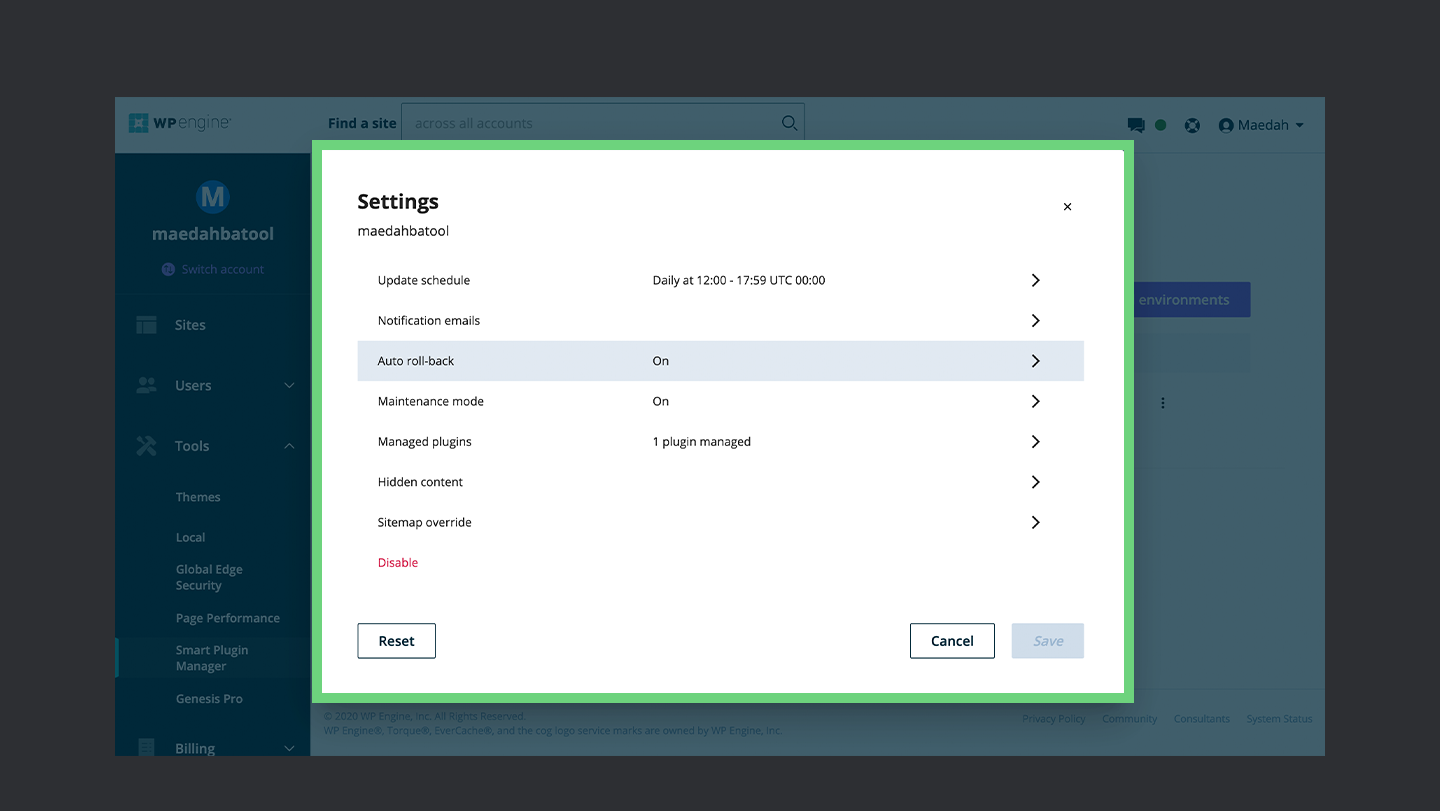 🚀 Options
Now let's discuss each of the Smart Plugin Manager settings in detail.
⏱ Update Schedule
There can be a scenario when you do not want your plugins to update daily. You want them to update only on weekends so your clients do not face any kind of lag during weekdays. Also, you can also wish to check for updates in a specific timezone. 
Since Smart Plugin Manager gives you the ability to securely update your plugins, you can also customize it to your schedule. You can set it to check for updates and update the plugins only on the weekends. You can also set the timezone. Thus giving you more power over your updates.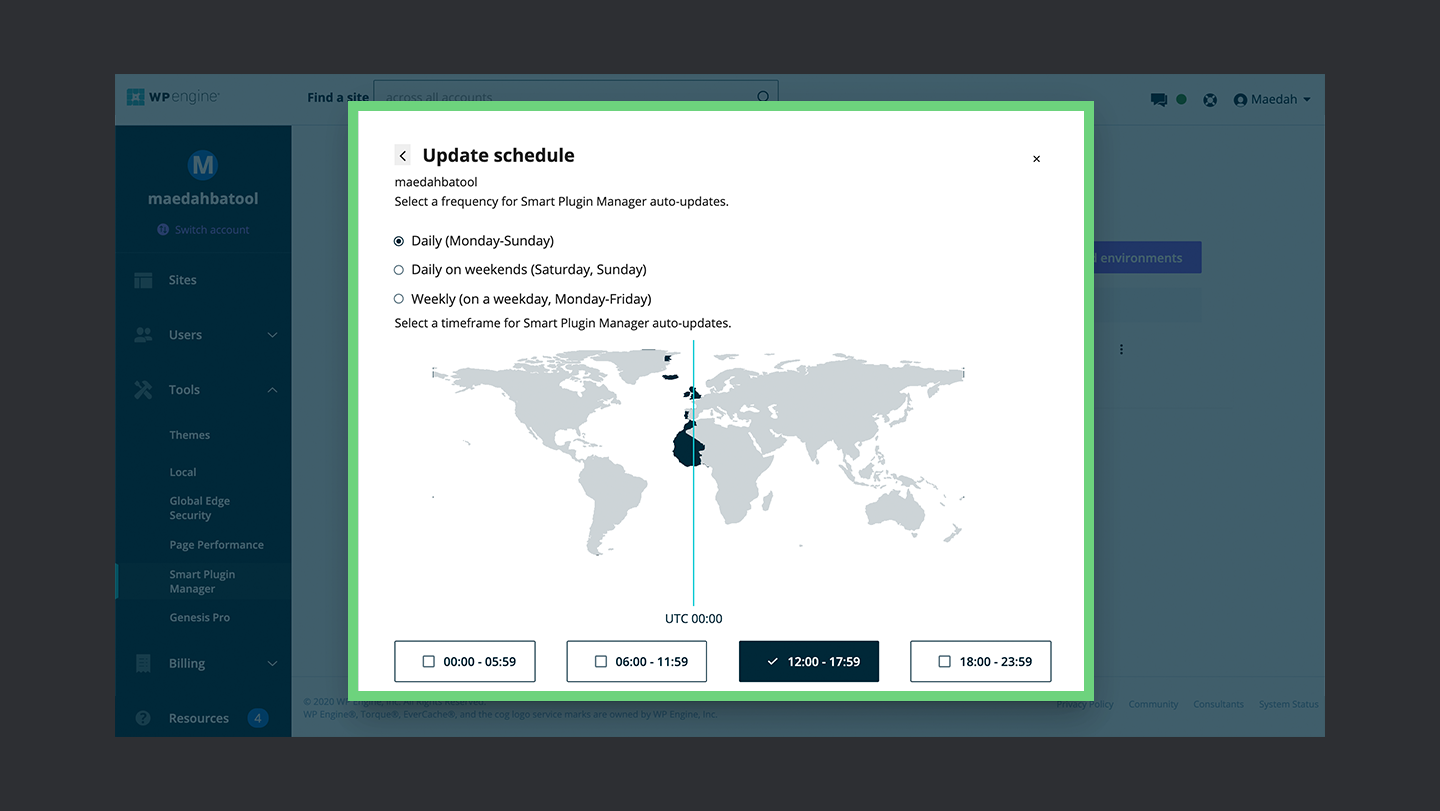 ✉️ Notification Email
You can also add more emails to your Smart Plugin Manager for notification purposes. All of your added emails will get notifications when there is a successful update of a faulty one. This can come really handy if you have multiple emails and you want to get notified in all of them.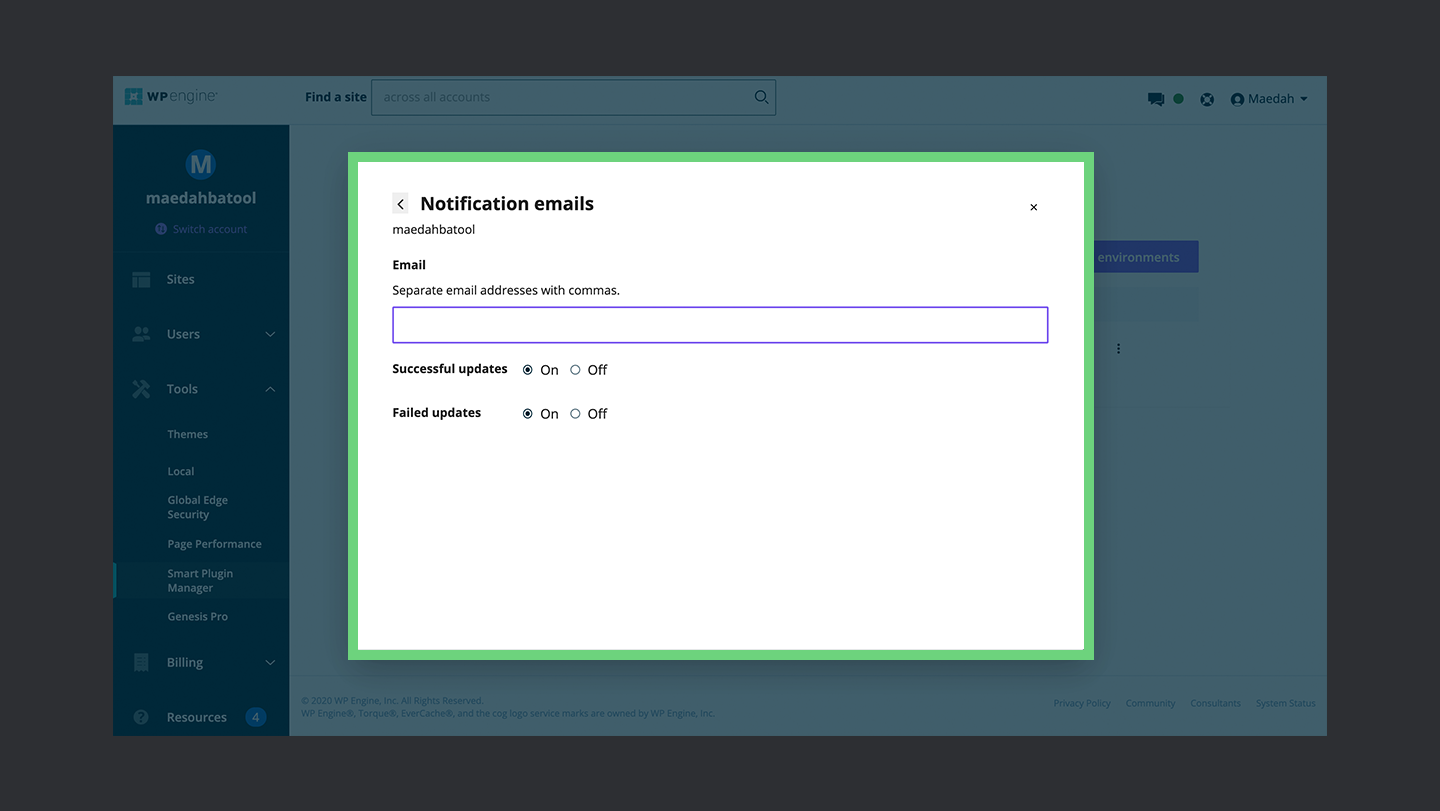 ♻️ Auto Rollback
This allows you to roll back to the previous plugin version if there is a faulty update that has made the site crash. For default, it is turned on. You can also turn it off but you should never do that to stay extra safe.
🛠 Maintenance Mode
To stay safe, Smart Plugin Manager will temporarily block your website's traffic while updating the plugins. Your visitors will see an Undergoing Maintenance page. You can always turn it off if you do not want this to happen.
⚡️ Managed Plugins
This is where all of your plugins are listed that the Smart Plugin Manager is managing for you. If you do not want a specific plugin to be handled by the Smart plugin Manager then you can just uncheck it from here and it will do the trick. 🥂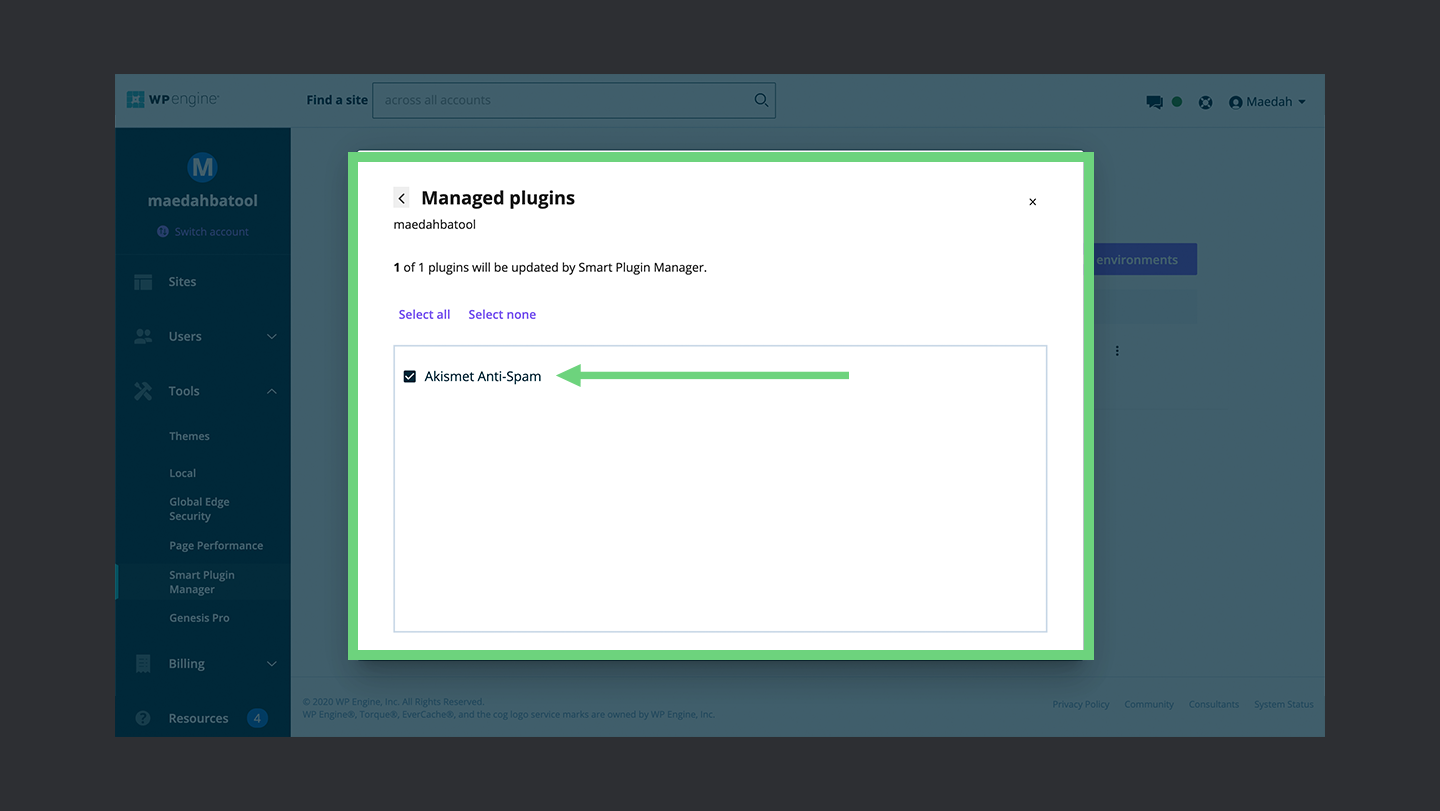 🎩 Hidden Content
The Smart Plugin Manager may consider an update to have failed if your website looks different after the update. So Hide Content option allows you to hide banners, ads, or any other content that visually changes by listing their CSS selectors. 
🗺 Sitemap Override
The Smart Plugin Manager tests 20 pages of your website when it updates the plugin. If you wish to change the pages you want to the Smart Plugin Managers to check then you can provide a custom sitemap to it. And with your sitemap, it will only check those of your website pages.
🙌 Wrapping Up
WP Engine has really outdone itself this time. They always stay ahead with the market need and develop the product that they know is the need of the hour. Their hosting is state of the art, their Agency Partnership Program is helping more than 5000 businesses and now the Smart Plugin Manager is there to take care of our plugins and our site.
This plugin is super useful for users like me who have many websites hosted on WP Engine. It has enabled me to not care about my site's security since it is already providing me with high end hosting and now with the Smart Plugin Manager my plugins can update without me actually updating them one by one.
Have you used the WP Engine Smart Plugin Manager or any similar plugin? Which service did you use and how was your experience? Let us know your thoughts in the comments section below. 
Peace! 🤞