There was a time when the internet was considered to be one of the mediums to brand your product or company. But things are different today, and it has become a core pillar of any marketing strategy. No matter who you are, whether you work independently or in some agency, a creative and sound portfolio is a must. If you are not showcasing your work to the world and expecting people to notice it, then this idea is utterly absurd.
---
Best Portfolio WordPress Themes of 2016
A compelling portfolio should reflect your product entirely, and you need to take care of lots of components. You must ensure that images and the description you're displaying are well-aligned and should not overlap with each other. Likewise, the design of the website should be catchy so that more and more people get inclined to it and hire your services or purchase the product.
All these points to a standard requirement i.e. finding a most appropriate theme which gels with your portfolio. But it is not an easy task especially if you're browsing it from the internet and not coding it yourself. Because the internet is loaded with all such themes so I'll help you refine your search by listing best portfolio WordPress themes of 2016.
So all the artists, graphic designers, illustrators, photographers, creative agencies, developers, etc. get ready to view an incredible list of WordPress portfolio themes.
Ronneby
[ecko_fullpage_image]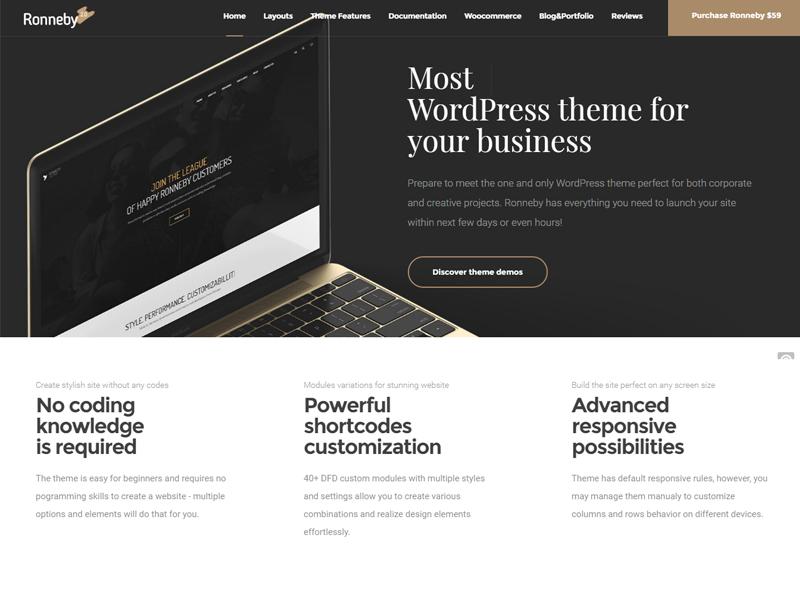 [/ecko_fullpage_image]
An appealing portfolio can win you new business and clients, so a feature-rich website helps you show your work in a presentable manner. With customizable branding options and an array of stylish layouts, Ronneby WordPress theme may fit the bill. It is a retina ready and a responsive theme which is compatible with all the WP versions after 3.5. Stats reveal that the theme possesses a profound sense of usability, intuitiveness, and resourcefulness. That's why more than 9000 people have shown their trust in Ronneby.
The theme is build using Visual Composer with loads of plugins and modules included in it. Their customer support is unbelievable and the theme is well documented. Being customizable, Ronneby can be configured easily in a few clicks and you can manage sections like top panels, sidebars, and main content elements very well. It contains some awe-inspiring parallax effects which are owed to vector graphics. Its 40+ pre-built demos are of great use to all creative professionals. It also includes additional blog and WooCommerce capabilities which enhance the feature-set of Ronneby.
---
Oshine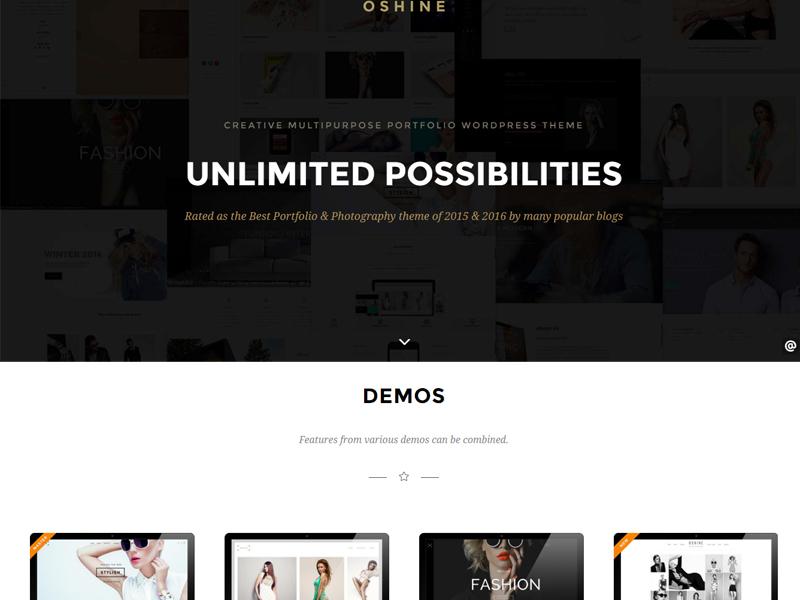 [/ecko_fullpage_image]
With more than 8000 sales, Oshine is one of the best selling WordPress portfolio themes. It comes with a rich feature set and has a clean and responsive design. Its 23 different demos make it easier for you to build instantly a website which fits your niche. Oshine offers all the features which are attributed to an efficient portfolio theme e.g. an active page builder, different page layouts, multiple shortcodes, unlimited color variations, etc. Several free and premium plugins are a part of this theme package which saves quite a lot of your money. Plugins like, WooCommerce, WPML, BuddyPress, etc. all are offered to its buyers. Oshine has everything to create a beautiful and modern portfolio, photography or other creative websites.
Talking about the technical insights then Oshine helps you create both sticky and transparent headers. You can build metro styled grids for your portfolio. Its amazing lightbox functionality is quite impressive. Its horizontal carousel slider and front and centered slider have attracted several who come from creative or design based backgrounds. All in all, Oshine is a valuable option for people like photographers, web designers, agencies, fashion designers, etc.
---
PILE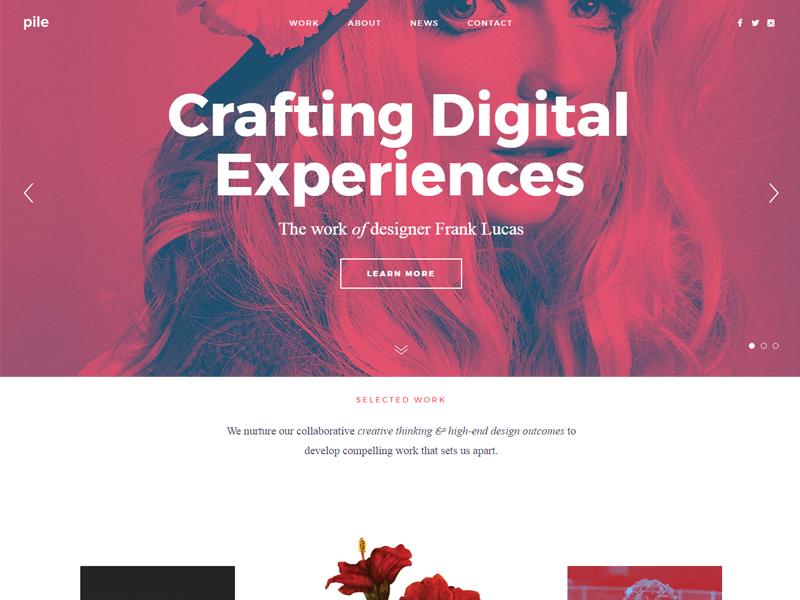 [/ecko_fullpage_image]
When I say a portfolio theme with a lot of bases, then PILE is certainly one of those themes which make your portfolio stand out among several others. It is a modern and a flexible theme with a sleek design that fulfills the needs of professionals belonging to different walks of life. Its slider elements and a robust Project Builder makes PILE ideal for photographers, developers, illustrators, etc.
A well-integrated drag and drop interface allows you to customize its elements, modules, layouts, options, etc. The developers behind PILE's development aim for one thing i.e. Designed to Impress, and that's why its smooth parallax scrolling for background images and transitions between modes are appealing to eyes. PILE's layout revolves around full-screen sections, customizable headers, and offers an ample white space. This improves the overall readability of text and can be easily separated from the images.
---
ePix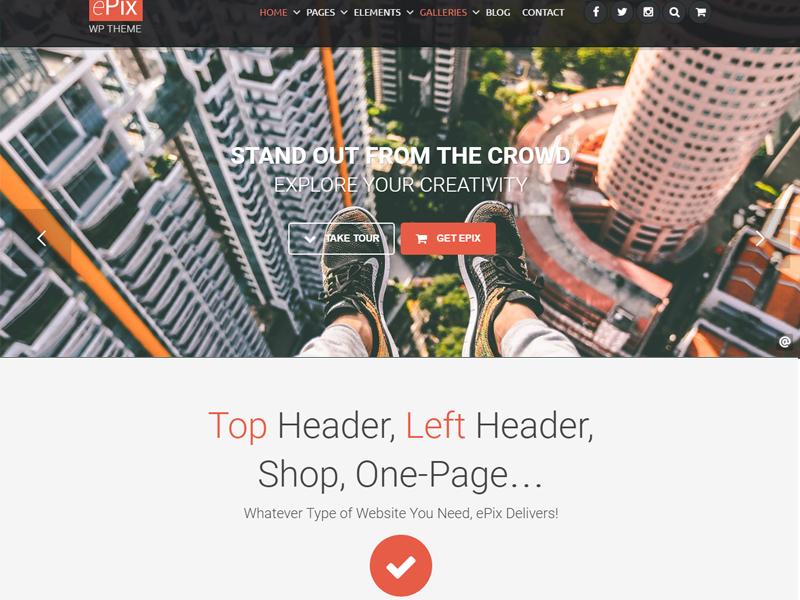 [/ecko_fullpage_image]
If you are a photographer or some wedding planner and looking for a WordPress theme to showcase your work, then ePix is one of the most viable options. I mean if you're already getting a niche specific theme then why to run after a multi-purpose portfolio theme. Buying ePix automatically gives you an edge over your competitors because it is built in the most professional way keeping in mind all the accepted standards with a complex and dynamic approach.
It is quite a user-friendly theme, and you can complete its setup in a few minutes without writing a single line of code. The theme package is fully loaded with multiple features like custom built ePix galleries, Ajax lazy load, a powerful page builder and highly customizable menus and sliders. Some 3rd party plugins like WPML and WooCommerce are also integrated which can help you sell your products. You also get to enjoy a minimal and clean design due to its Collapsible Menu. ePix is reputed to be one of the best-selling portfolio themes at ThemeForest with over 3000 customers.
---
Uncode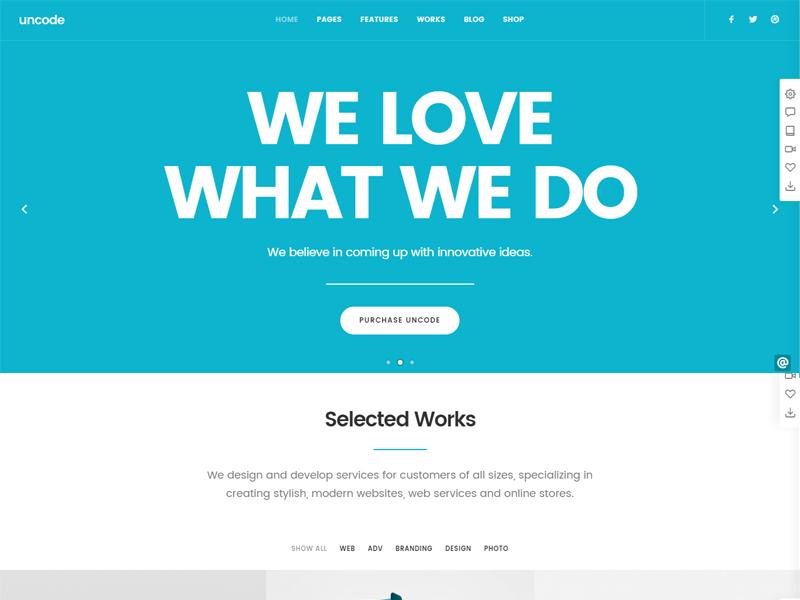 [/ecko_fullpage_image]
An impressive portfolio holds vital significance in conveying your real potential to your clients and a classic design helps you become the center of attraction. One such portfolio theme that focuses on showcasing your work with a stylish twist is Uncode. It is a modern yet visually sophisticated responsive WordPress theme. Without any knowledge about code, you can customize Uncode in a seamless and perfect way. The theme is fully able to handle the online profiles of all the creative professionals.
It is uniquely built upon HTML5 framework, a versatile CSS3 scripting technology, and a modular Bootstrap design which ensures cross browser compatibility and runs your site correctly in all the browsers. Its more than 30 one-click demos and variable layout styles explain why it is one of the favorite themes of its kind. Its efficient options system gives you full control to modify and configure the website accordingly. Plugins like iLightBox plugin handle the functionality of displaying media in a lightbox while the LayerSlider, Revolution Slider, and Visual Composer plugins handle the page layouts of the displayed work. Overall, the theme is successful which is clearly depicted by its selling stats.
---
Kalium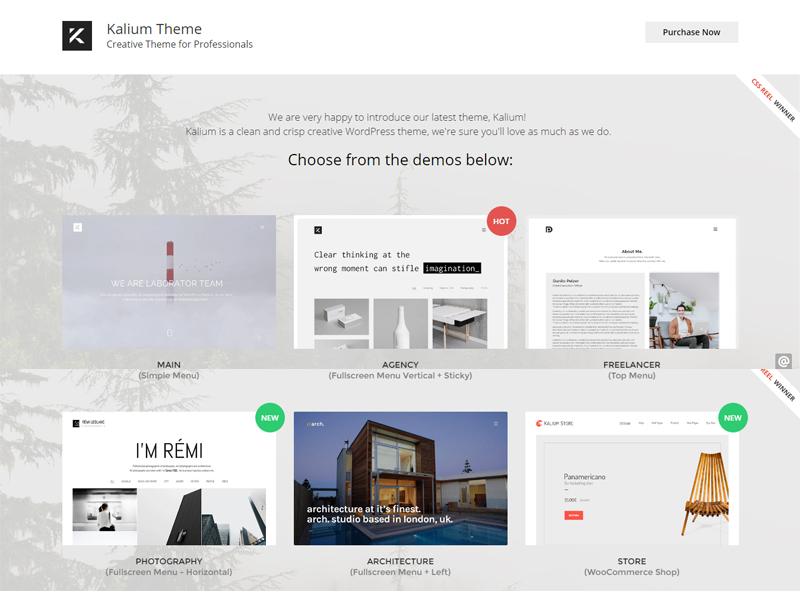 [/ecko_fullpage_image]
Kalium is a responsive portfolio theme by Laborator. It has a stylish, clean design that can serve as a suitable showcase for your work and blog posts. The theme let you create a stunning user experience with its extensive options panel and layouts. Its single click install demos ease most of your work, and you do not need to code your website from the scratch.
It includes a Visual Composer, Revolution Slider, and a Layer Slider which helps you build various components of your website. It also offers several customizable options like custom fonts, footer styles, color variations, and social media integration and icons. Being multilingual Kalium can benefit users from any nook of the world. Its CSS3 animations look stunning and provide an amazing browsing experience. It is also WooCommerce compatible which let you create project listings and setup an online store. Kalium is quite popular among people and has a customer base of over 7000 people.
---
Notio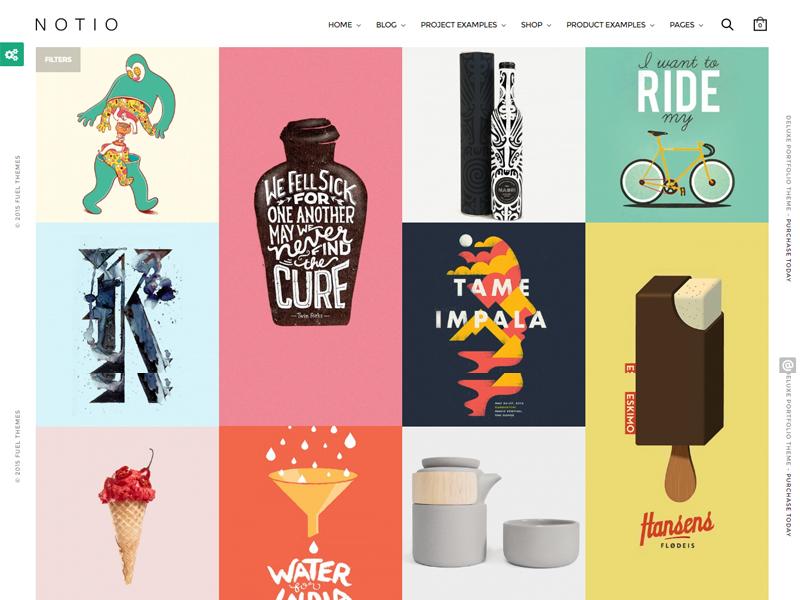 [/ecko_fullpage_image]
Notio is a professional & eCommerce portfolio WordPress theme for all the creative minds out there. It means the theme can perform equally well as an e-store. It has a modern design and is fully responsive. It includes a Visual Composer which helps you build anything even if you are not a coding expert. The WPML plugin adds the functionality of translation into any language.
Notio's developers have built ten different portfolio layouts and eight well-detailed portfolio pages which cater different users' needs. It is retina ready and supports adaptive images. Features like unlimited colors, 600 Google fonts, customizable headers, variations in menus, etc. are all part of this theme.
---
KON/CEPT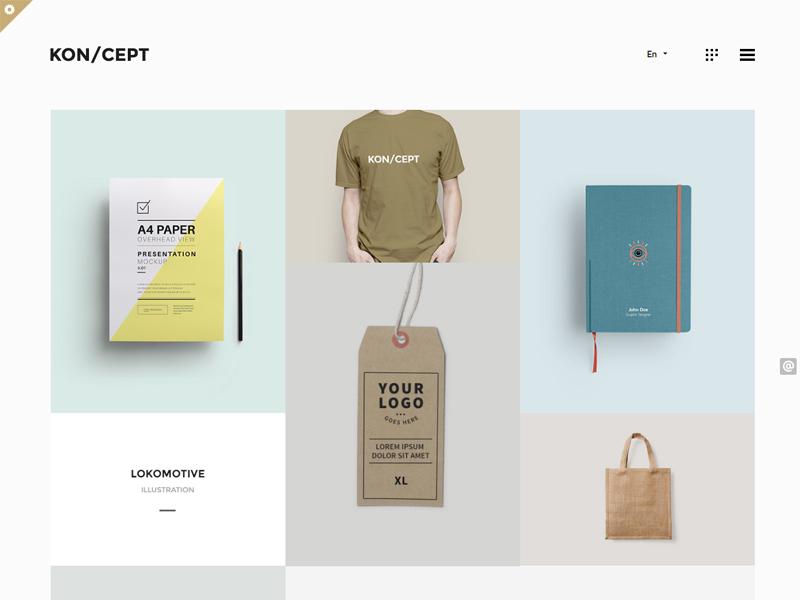 [/ecko_fullpage_image]
If you want a cutting edge portfolio with an equally modern design, then KON/CEPT is an incredible choice for photographers, architects, designers, app developers, etc. The theme is developed by experienced professionals who have combined a sophisticated approach with minimalist slickness which makes KON/CEPT stand as a traditional portfolio theme. The induction of a Masonry Grid offers a modular design which suits best to showcase your portfolio. Its WooCommerce support helps you sell your products as well.
The main highlights of this theme are its flexible-columned layout, high definition images, creative hovering options, inspiring animation elements, etc. It also includes some advanced portfolio options which help you create portfolios with separate categories and custom settings. A choice is offered among four different navigation menus, and all of these are highly customizable. The theme also incorporates interactive blog options which allow users to communicate with their audience. The theme is well documented and SEO friendly as well which helps in improving your search engine ranking.
---
Tower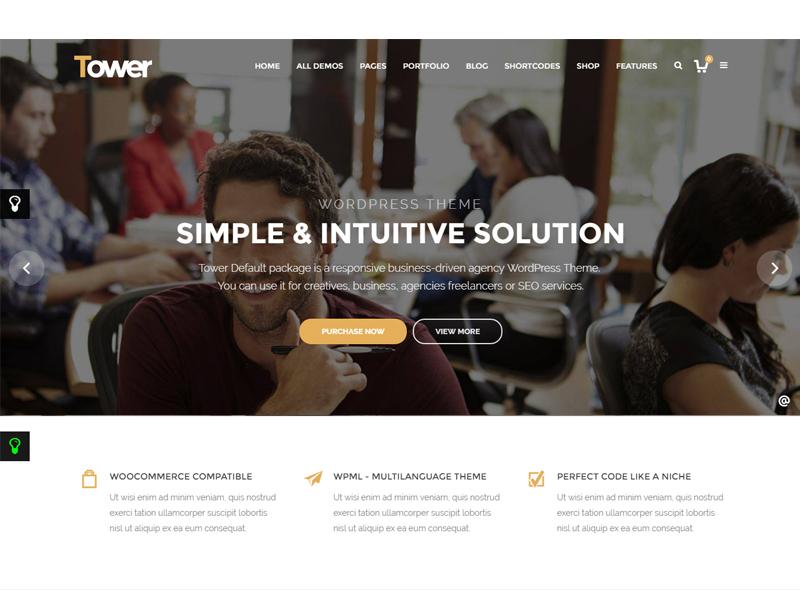 [/ecko_fullpage_image]
All those who're looking for a reliable and professional WordPress theme which attract more views then Tower is an ideal choice. The theme guarantees to improve the overall quality of your site because of its extensive features. It is a popular WordPress multi-purpose business theme and can be modified easily to display your work. The best thing about this theme is its Online Template Builder, which allow users to customize the page templates accordingly.
It also includes 18 one-click demos which contain pre-made content. To handle all the customers' queries the theme includes an exclusive Support Forum other than the official theme documentation. The theme has a modern design and is quite lightweight. Its unique header styles along with Revolution and LayerSlider plugin let you build any layout of your choice. Tower is SEO Friendly and supports cross browser compatibility.
---
Borderland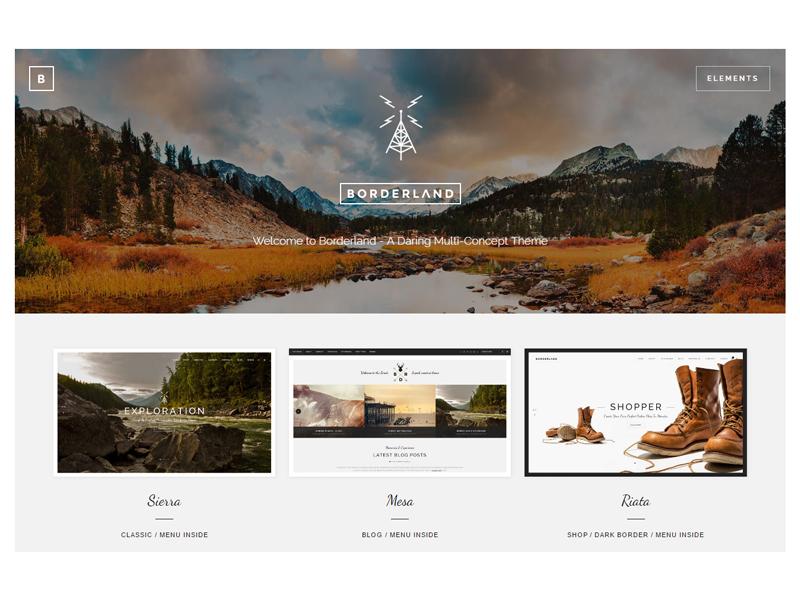 [/ecko_fullpage_image]
Borderland is an exemplary portfolio theme with a professional design and an innovative layout. It offers a large collection of features which improves almost every aspect of your portfolio, making it easier to impress potential clients. It comes with a powerful admin interface that gives you complete control. It also includes a child theme which means you can play with its code to add your custom functionalities.
Borderland has the Contact Form 7 and WPML plugin included in its theme package which makes it possible for your visitors to interact with you in all languages. Its multiple header and footer sections along with customizable widgets help you to personalize the website according to your needs. It comes with 12 amazing demos and more than 40 useful shortcodes, has several icons and premium WordPress plugins like Visual Composer, LayerSlider, etc. Once again this theme can be turned into an online store; thanks to WooCommerce which is also a part of Borderland.
---
Conclusion
So this completes my list of some popular and best selling WordPress portfolio themes. All these templates offer great functionality. If you're looking for a portfolio theme to showcase your work, then these themes are the best of the lot. You should definitely give them a chance. These themes save a lot of your time and provide a hassle-free solution. Go through this list and share your views about it. You can also tell us about your favorite theme in this niche.
As usual, don't hesitate to leave any questions or comments below, and I'll aim to respond to each of them. You can even reach me out through my Twitter account.