Community
Chris Lema Speaks About His Partnership With MediaTemple
The last few couple of weeks proved quite fantastic for us at WPCouple and brought some great news. Be it Matt Mullenweg tweeting about WPCouple or hosting the largest ever giveaway in the history of WordPress ;WPCouple has managed to find a suitable fit in the WordPress community in very less time. We've promised to discuss everything that couples well with WordPress and today we have some inside scoop from our very own Chris Lema.
A few days ago Chris tweeted about his partnership with MediaTemple.
I'm consulting with @mediatemple to help them with their enterprise WordPress solution! Watch for more news!

— Chris Lema (@chrislema) June 21, 2016
We are so excited to announce our partnership with @chrislema! Great things coming soon! pic.twitter.com/XdCD0JVuek

— (mt) Media Temple (@mediatemple) June 21, 2016
[ecko_fullpage_image]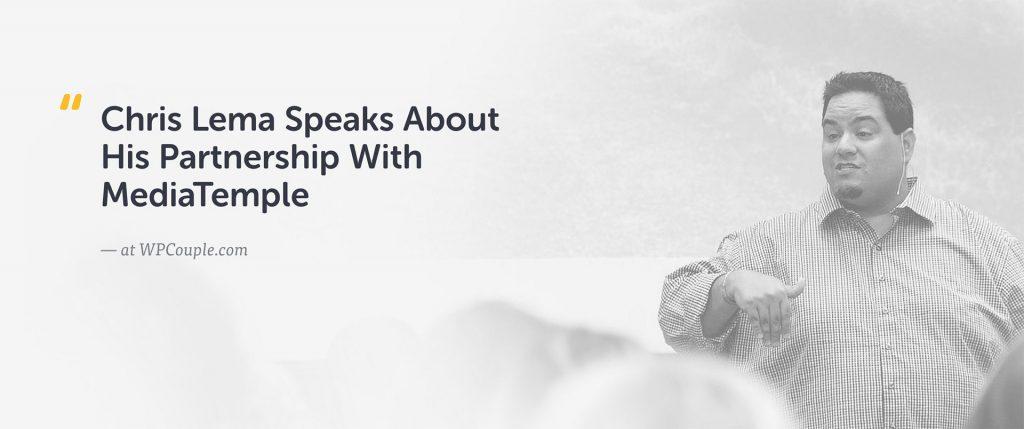 [/ecko_fullpage_image]
Chris Lema
Chris Lema (Ex-CTO Crowd Favorite) is now going to consult with MediaTemple, so as he himself like to say:
People want answers but they want answers from someone they can trust.
So without getting into any speculations further, we pinged Chris asking whether he'd like to talk about this new partnership with us at WPCouple; to which he agreed generously. So, here we are. Having that said, let's jump into the interview.
How did you decide to change your career path from services (CrowdFavorite) to hosting (MediaTemple)?
I've been a product guy for more than twenty years. The work I did at Crowd Favorite was to help a friend, their CEO – Karim Marucchi. Once my work was done, it was a good time to start exploring what kind of product work I'd do next. I'm still exploring several options.
What does your partnership with MediaTemple means for the WordPress community?
The work I'm doing with MediaTemple is mostly focusing on evaluating their Enterprise solution – given my long-time history and experience with large organizations. The first part of my consulting was to look at their account management from that enterprise perspective.
Does this mean, you are working with MediaTemple full-time?
No. I'm a consultant, not an employee. I'm consulting on a part-time basis.
How did you and MediaTemple get along?
We get along great. I met their President shortly after he took over his role and had known some of their staff for a year or two.
What is your growth strategy for MediaTemple?
I'm not focused on their growth strategy, and their marketing team can likely answer that better.
How can hosting companies contribute to the promotion of SaaS platforms for WP?
That's a great question. It's not in the scope of my work with MediaTemple at this point, but I've made no mystery of the fact that I think every host should be asking this question.
WordPress is turning more and more into an application framework, what role do you think MediaTemple (or hosting companies in general) should play in this nice?
Like I said about SaaS, I think the best WordPress managed companies should be looking at what it takes to help developers build better solutions than simply plugins. I think SaaS is the right approach and I think it means using WordPress as a framework to support it.
Can you foresee a community-based event in the hosting niche? (similar to WordCamps but about hosting)?
I think HostingCon does that, but it's not community-based. I don't think smaller events will necessarily make sense for hosts.
You have worked and partnered with enterprise level WordPress companies. In the future, do you see yourself partnering up with a WordPress startup? If so, how and why? If not, why not?
Over the last two months and over the next two or three months, I'll be evaluating several options – from companies of all sizes – to see what my next steps might look like.
Thank you, Chris, for your time and all the efforts that you put in making complex things so simple. We are thrilled to see all the wonders which MediaTemple awaits by your presence.
MediaTemple
We also got in touch with MediaTemple, to hear side of things. With the help of Alexandra Grey, we ended up asking questions from 
Pascale Marchand
 Senior Director of Communications at Media Temple.
How is MediaTemple positioning itself as a WordPress at Scale hosting provider?
While Media Temple's focus has historically been on top tier designers, popular blogs, online design communities, advertising agencies and artistic e-commerce meccas, we've always served enterprise-grade organizations and supported their digital business needs. That being said, we have recently been beefing up our team of in-house experts and, last summer, we hired a new Vice President of Enterprise Sales, Colin Dowling, who has been further building the team that works with large companies and big-sized creative agencies.

As we keep building market power behind our enterprise-focused managed services strategy, a couple of months ago,

we launched Enterprise WordPress

, a new enterprise-grade WordPress that combines the best of managed WordPress hosting, Amazon Web Services (AWS), 24/7 premium technical support and dedicated account management.

Enterprise WordPress

meets (and exceeds) enterprises' needs for support, scale, availability, security and speed. No other hosting company targeting the enterprise market segment offers high-end, dedicated support and account management. Additionally, Enterprise WordPress' unique WordPress architecture is the most reliable and performant.
I believe MT relaunched it's enterprise scale packages, what are you people up to?
Actually, Enterprise WordPress didn't exist before (see Q1) – so we didn't "relaunch" it.
How does MT stand to benefit from partnering up with Chris Lema?
What's next is what we always do to live up to our commitment to providing the best solutions and services to our customers: We will keep listening to them and gathering feedback from the community to anticipate and adapt to market needs. Leveraging Chris Lema's deep enterprise experience and commanding understanding of the WordPress community will also help us further establish Enterprise WordPress as a standard in enterprise-grade managed WordPress hosting.
Your Turn
What do you think? We'd love to hear your views about it. Post in the comments below. You can always reach out at Twitter
@

TheWPCouple
.