WordPress is a powerful content management system that gives you the ability to set up your blog under 5 mins. Because of this, it has grown into such a massive success and powering 34% of the Internet. One other reason for its popularity is that you do not need to have web development skills to maintain your blog on WordPress.
WordPress works by offering different themes to people. These people make use of these amazing themes to build a blog, an e-commerce website, or even a personal portfolio. These themes are such a vital part of WordPress that without them, there may not be a WordPress.
So in the domain of WordPress themes, there are many companies out there that are making premium as well as free themes for the people. Because of such companies, there are a huge number of WordPress themes available then there were 10 years ago.
When I was looking for a theme for one of my projects, I looked at many companies. Almost all of them had something that I did not like until I stumbled upon MyThemeShop. They provide amazing themes with clear documentation for developers like me. They have amazing support and on top of that, they have a huge line up where you can choose your theme.
One of those themes is Schema Lite that I really like. We have already written an extensive review on the Schema theme which is a premium theme offered by MyThemeShop.
Today we are going to discuss this Schema Lite theme. We are going to test its performance and also explore the different features it offers. So, without any further ado, let's get started!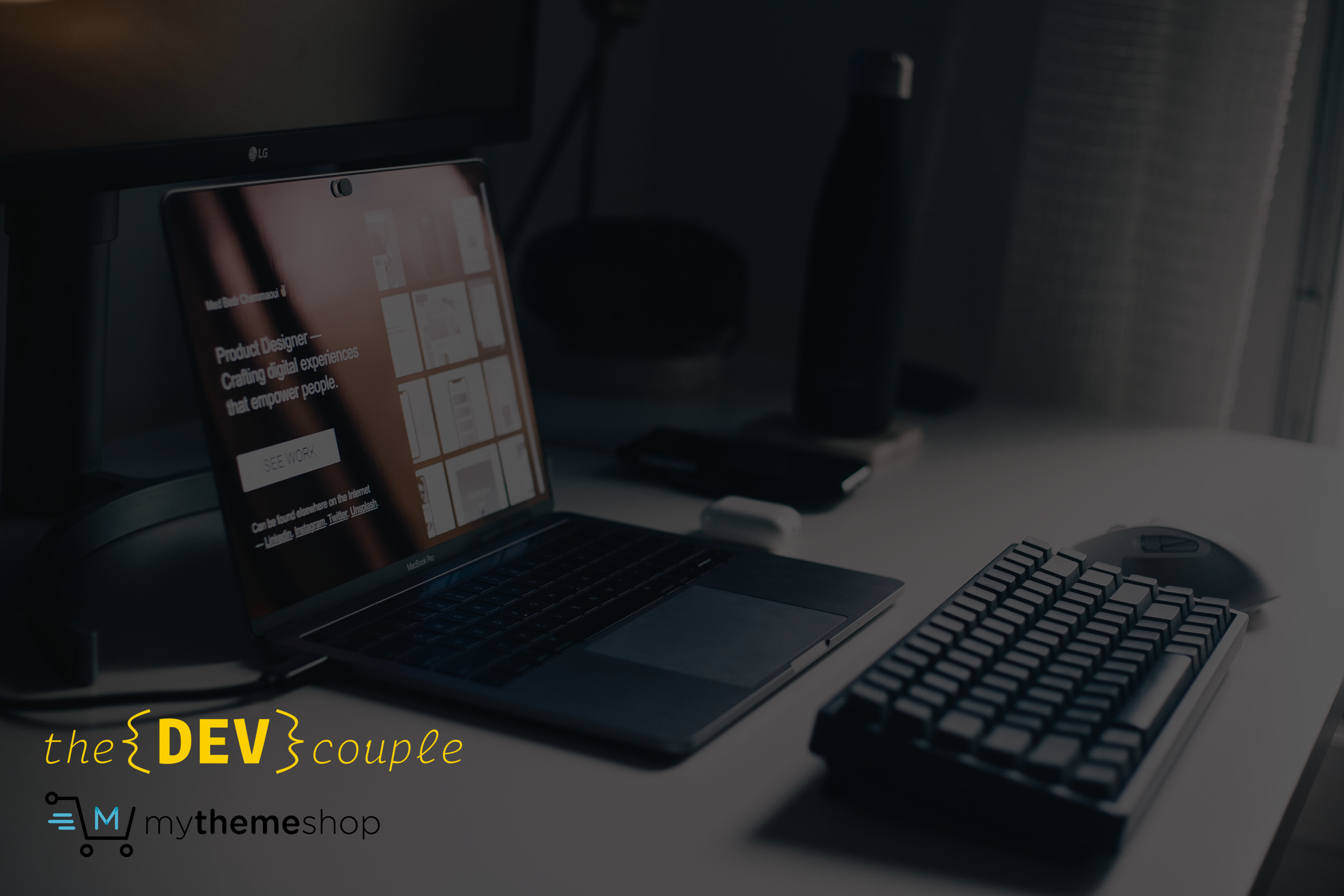 🛍 MyThemeShop
It would only be just to the company that I give an overview of them first before jumping on their theme. MyThemeShop was founded by Bhanu Ahluwalia. It is a premium and free WordPress themes company. They offer some plugins too. Their theme Schema is one of their most popular themes that as they say is the fastest and SEO optimized WordPress theme.
MyThemeShop offers 156 themes and plugins. They have a massive clientele of almost 670k+ happy users. They have a great support staff that has answered over 57k+ questions till the date of writing this review. 
Now they have released a smaller version of their premium theme, Schema called Schema Lite. 
🚀 Schema Lite Theme
Schema Lite is a responsive WordPress theme that comes loaded with minimal design and unlimited color options. It is a free multipurpose WordPress theme that you can use to build dynamic and beautiful websites. The theme has a fully integrated Schema Markup that is extremely beneficial for your site's ranking. Other than this, Schema Lite is lightning fast and has amazing SEO features. 
Schema Lite is AdSense optimized and has the potential to skyrocket your revenues in no time. The theme is currently on v1.2.2 and has more than 8000+ active downloads. It has a 4-star rating and it is one of the best free WordPress themes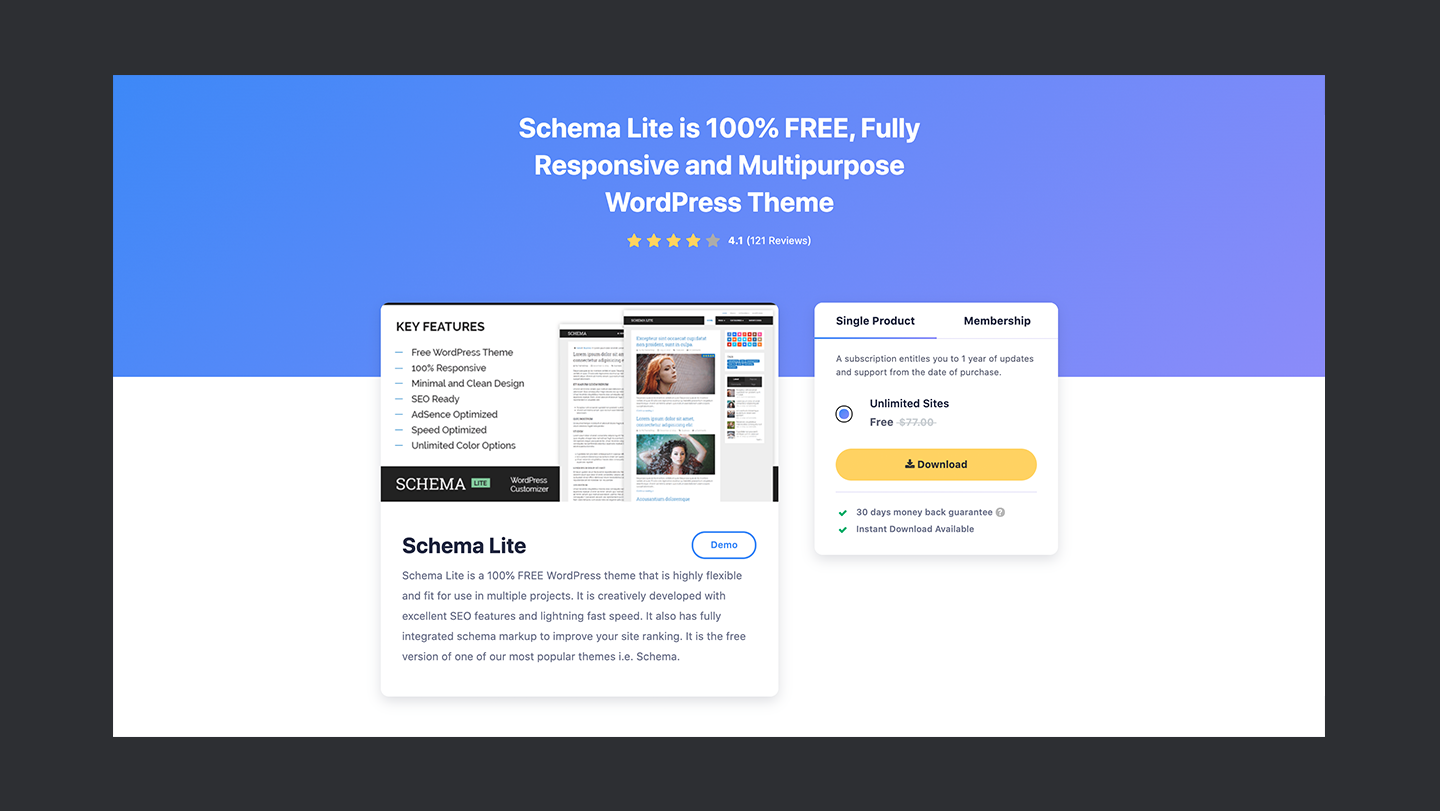 Now let's take a look at how you can install this theme in WordPress.
👨🏻‍💻 Installation & Activation
You can follow the steps below to install and activate Schema Lite in your WordPress.
→ Step #1
The first thing you need to do is log into your WordPress dashboard. Once you are inside, go to Appearance>Themes. Now click on the Add New button at the top.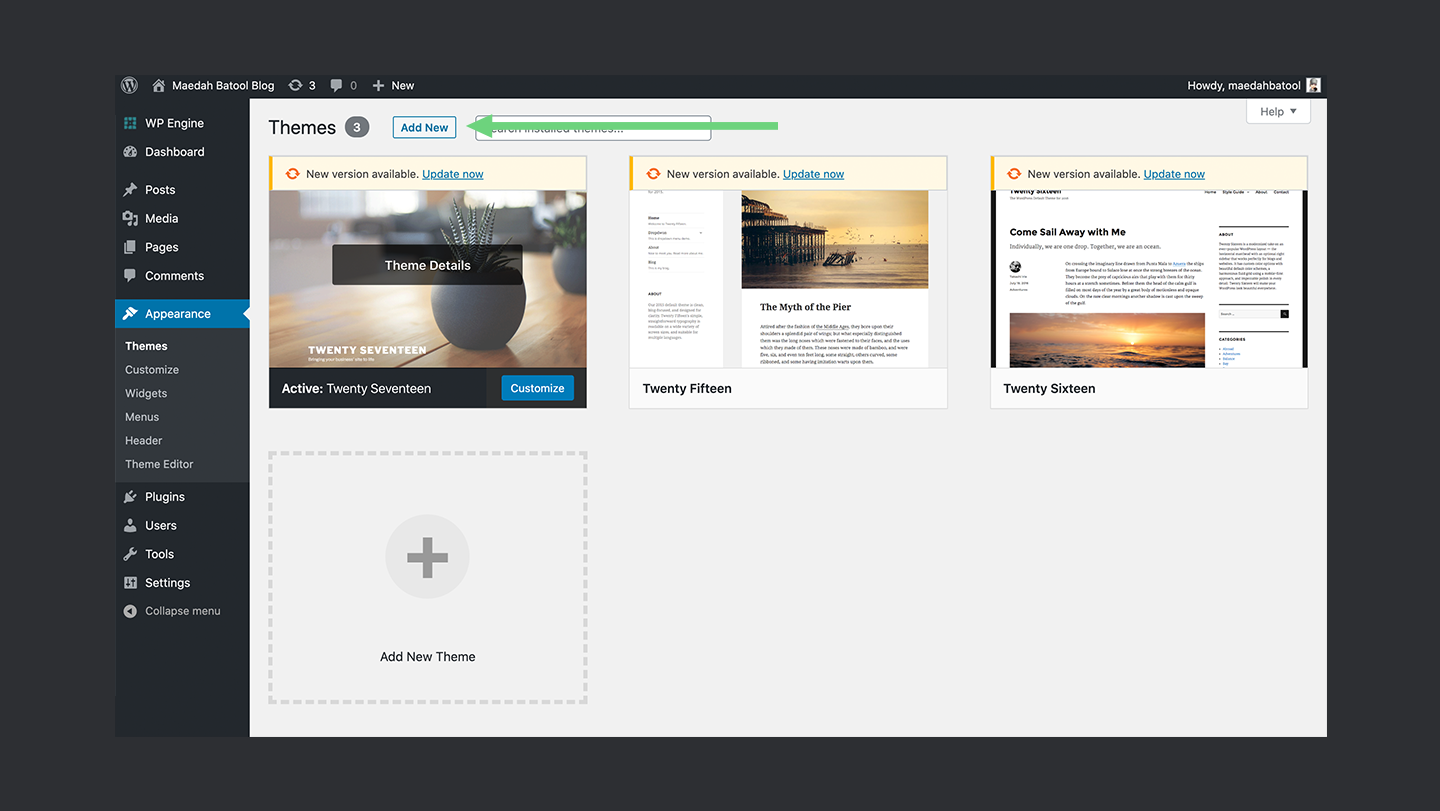 → Step #2
Once you are through this, you will see a webpage where you can search for different themes available on WordPress.org. The next step is fairly simple. Just search for the Schema Lite in the search box and press the Enter key.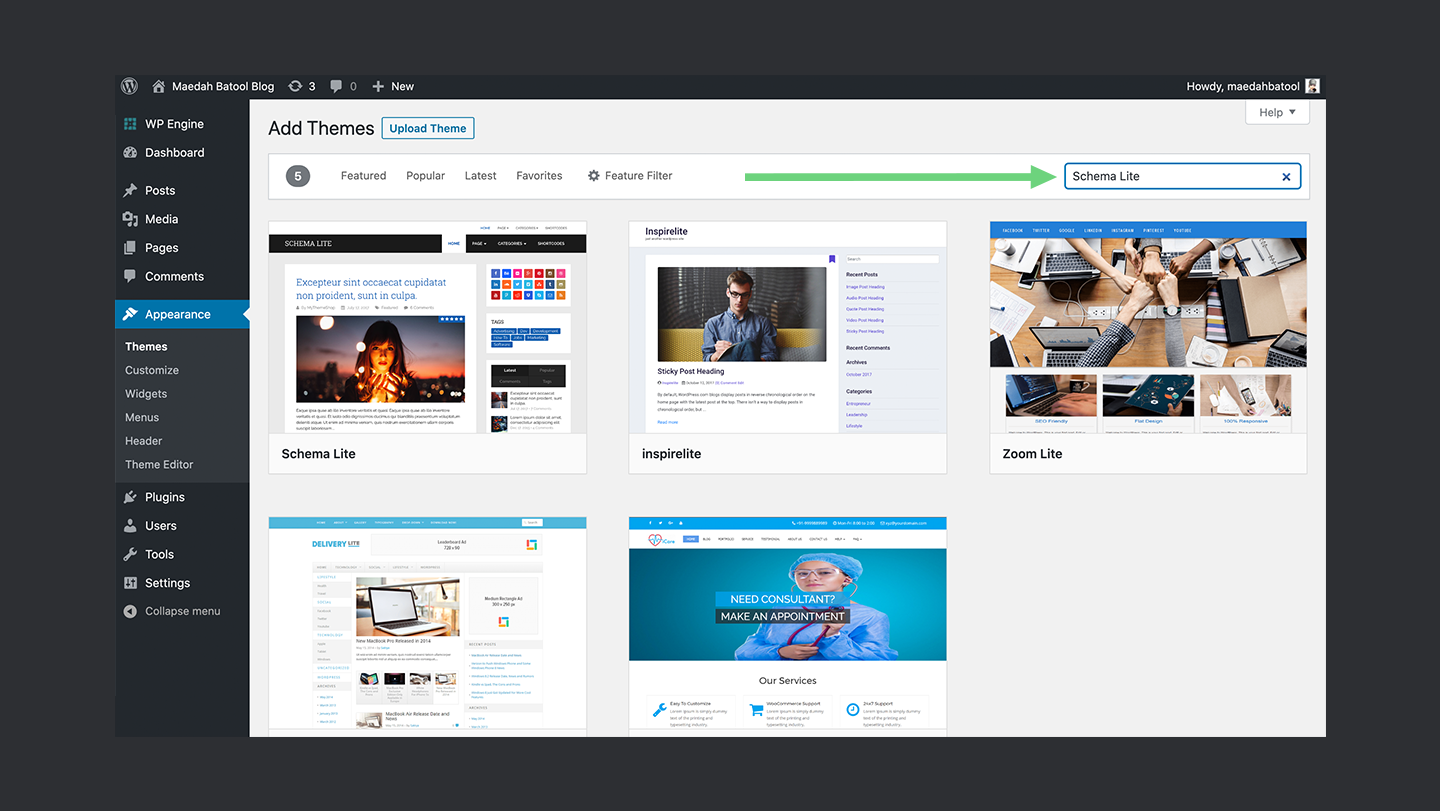 → Step #3
If you have followed the above steps correctly, you will see now that there is the Schema Lite theme. Just hover over it and then click on the Install button.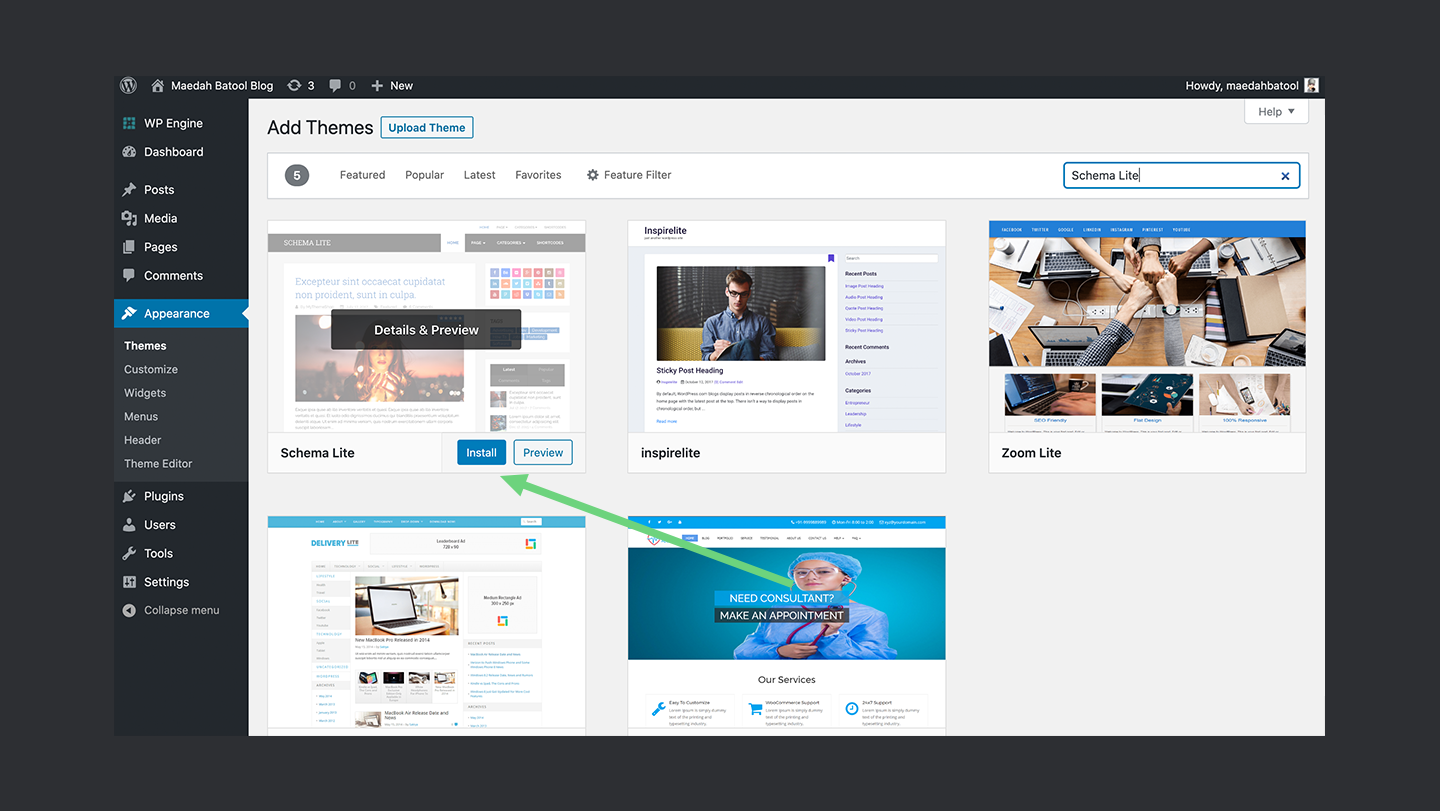 → Step #4
After the theme is downloaded, you need to install it. For that, click on the Activate button now. It will activate the theme for you.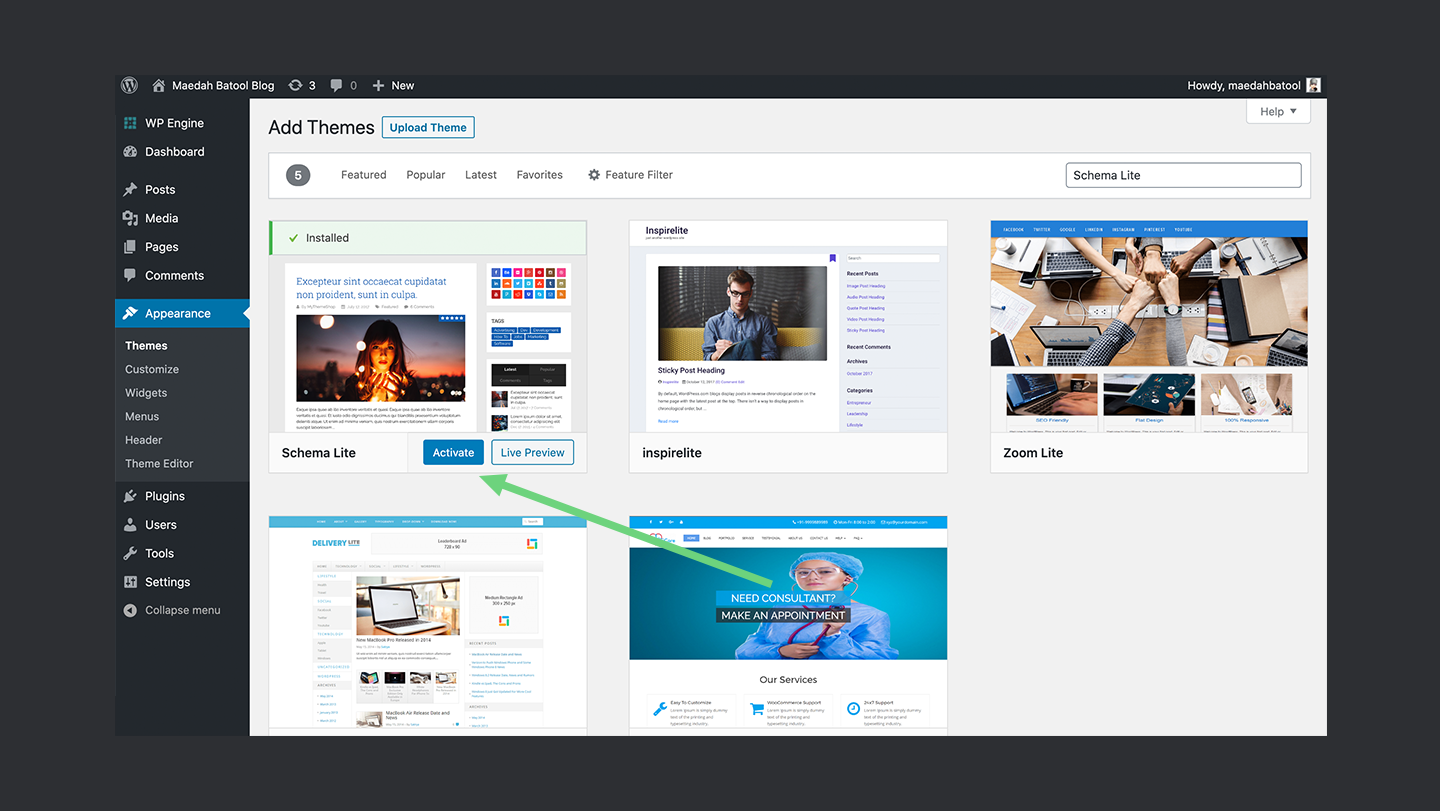 It will look something like this.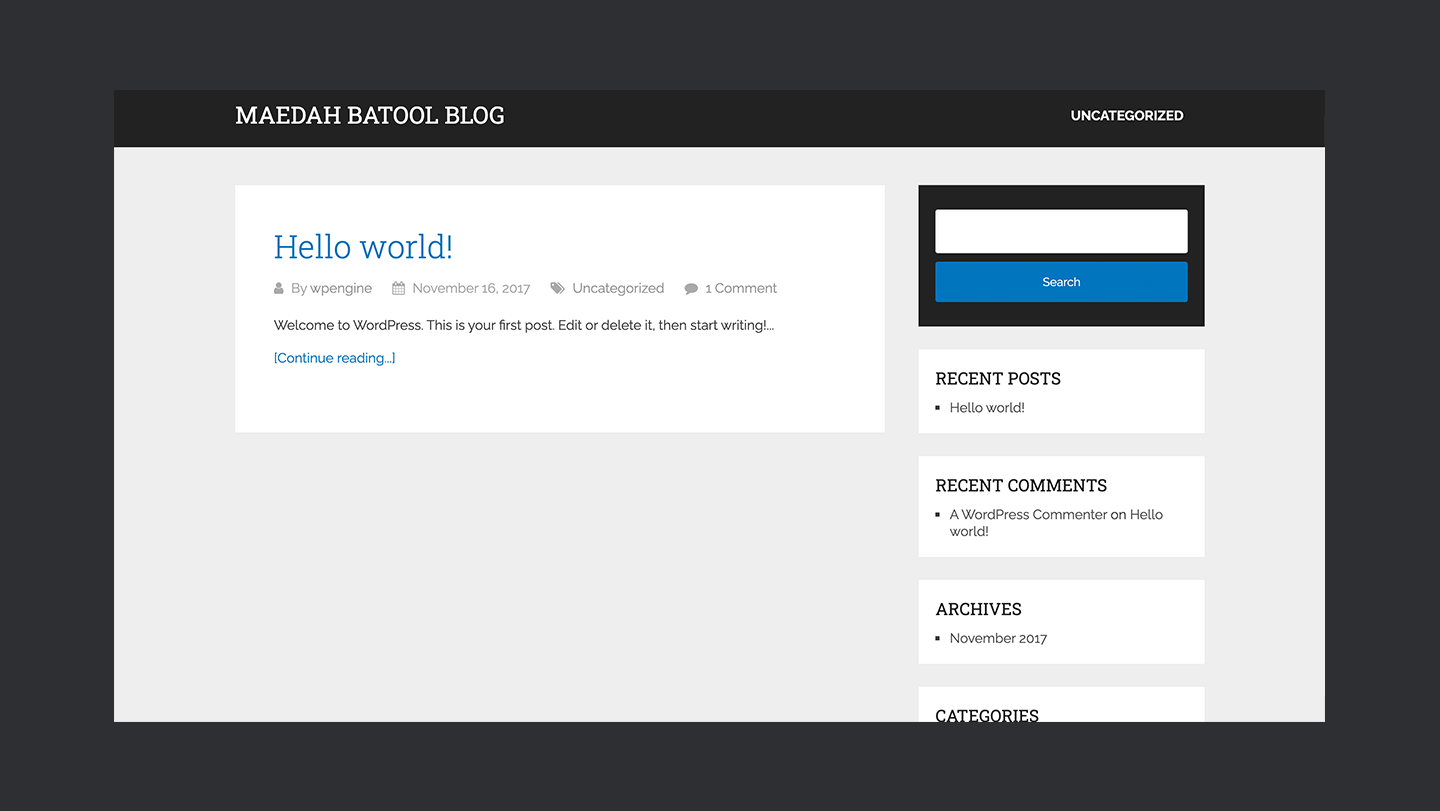 🎯 Features
There are a lot of amazing features that come with MyThemeShop premium theme – Schema. Since Scheme Lite is a smaller version of the same theme, it is also embedded with incredible features. These are the features that make this theme one of the best free WordPress themes. So now let's shed some light on some of these features.
⚡️ Lightning Fast
The first and foremost feature that I would like to talk about is its lightning-fast speed. The theme is incredibly optimized. The code is beautifully written with the best coding practices. And the folks at MyThemeShop knew that like Schema, this theme should also provide the best performance. 
💲 Free WordPress Theme
This goes without saying that it is really amazing that developers spend a lot of their productive hours in building something amazing and then make it free. The theme costs you $0 and it provides many features of the premium level theme like better SEO optimization, incredible performance, fully optimized, etc. 
🎩 AdSense Optimized 
Optimization is the process of modifying your site and its ads to improve the quality, traffic on your site, and performance of AdSense ads. Based on your goals, optimization can involve ad implementation improvements or changes to your site.
If your site has AdSense optimized for that, you can help grow your Adsense revenue, improve the usability of your site, get more traffic, or achieve any of your other goals.
🌐 SEO Ready
Like Schema, Schema Lite is an out of the box SEO ready theme that can go up for ranking on search engines like Google, Bing, etc. It has all the required elements in place for SEO optimization. 
This is an extremely useful feature because SEO ready websites can get higher page ranks and better search engine positioning. It increases your online exposure and gets you more sales from more qualified traffic. There are a lot more benefits. And on top of that, you don't even have to pay for all these services.
⚙️ WP Review Pro Compatible
Schema Lite is fully compatible with WP Review Pro. WP Review Pro is a high-end premium WordPress plugin developed by MyThemeShop that helps you do the reviews the right way. Since Schema Lite is just another product of MyThemeShop, they made sure that it is also compatible with their plugin.
🛠 Off-Canvas Mobile Menu
The theme comes with the off-canvas mobile menu option. This option allows your website page to slide out of view, revealing the menu and blocking the page from interactions. It looks great on mobile devices and provides a complete menu without any kind of design hindrance whatsoever.
🎲 Unlimited Color Options
If you are using Schema Lite then you have the option to change your color scheme to your liking. For this, you need to go into theme customization and then select Colors. After this, you can select any color of your choice.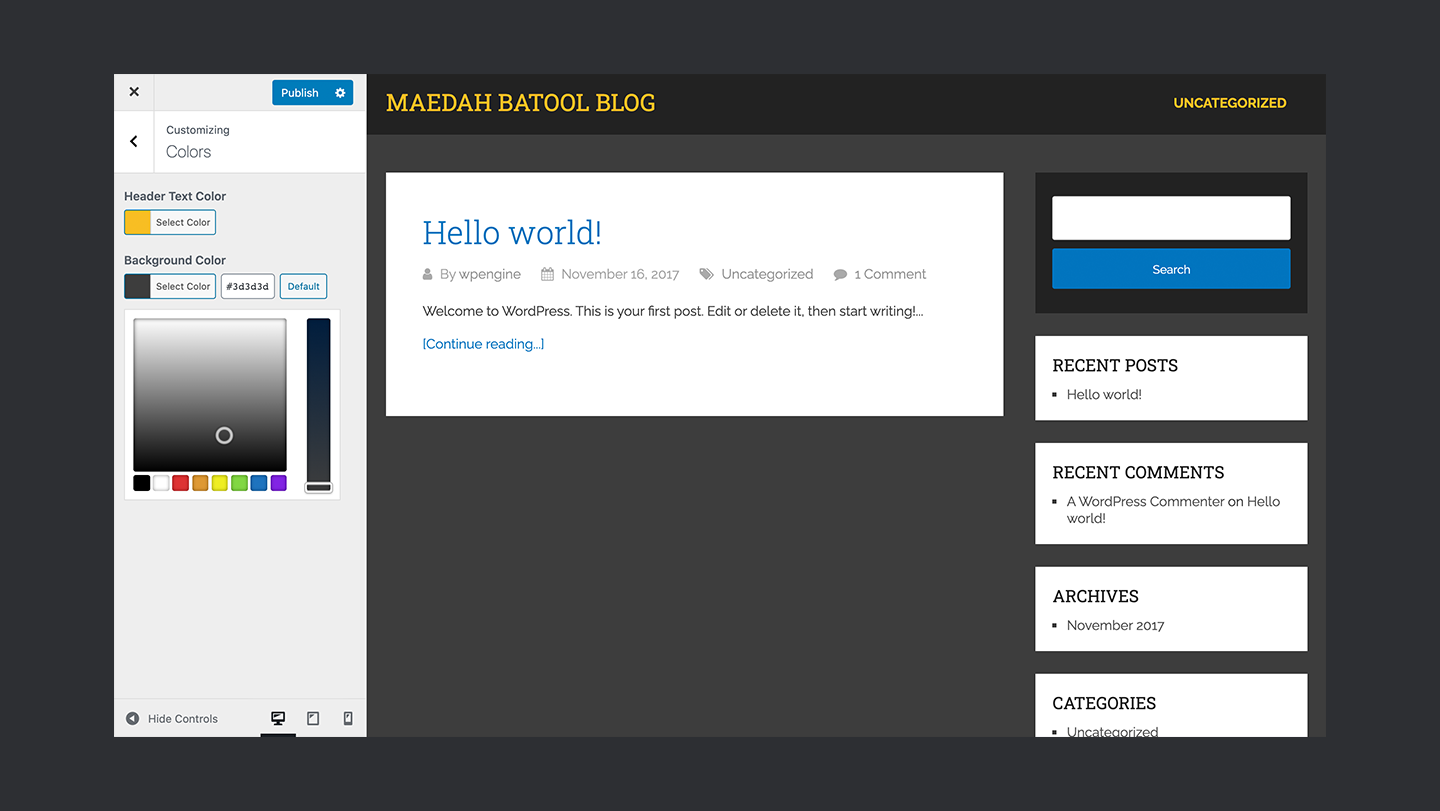 💥 Font Awesome Icons 
Font Awesome icons are beautiful and are being used by millions of people. The theme has pre-installed font awesome icons that you can use later in your blogs or any other place in your website. You can also use them by embedding a URL with them like social icons.
🚀 Structure Data And Performance Test
A WordPress theme is useful when it has great performance and is properly structured. If your theme is not up to the mark and is slow then your clients will not likely spend much time on your website. They probably even leave if your website is not loading. This makes the performance of your WordPress website integral for it to be successful.
MyThemeShop is a big name when we talk about WordPress themes. They have hundreds of amazing themes and all of them are optimized. All of them provide you extraordinary performance. And they are extremely fast. 
Scheme Lite is a free WordPress theme and some people might assume that because it is free, it is not up to the benchmark. So to check this, I first did a small structured data test on my website that has Schema Lite enabled.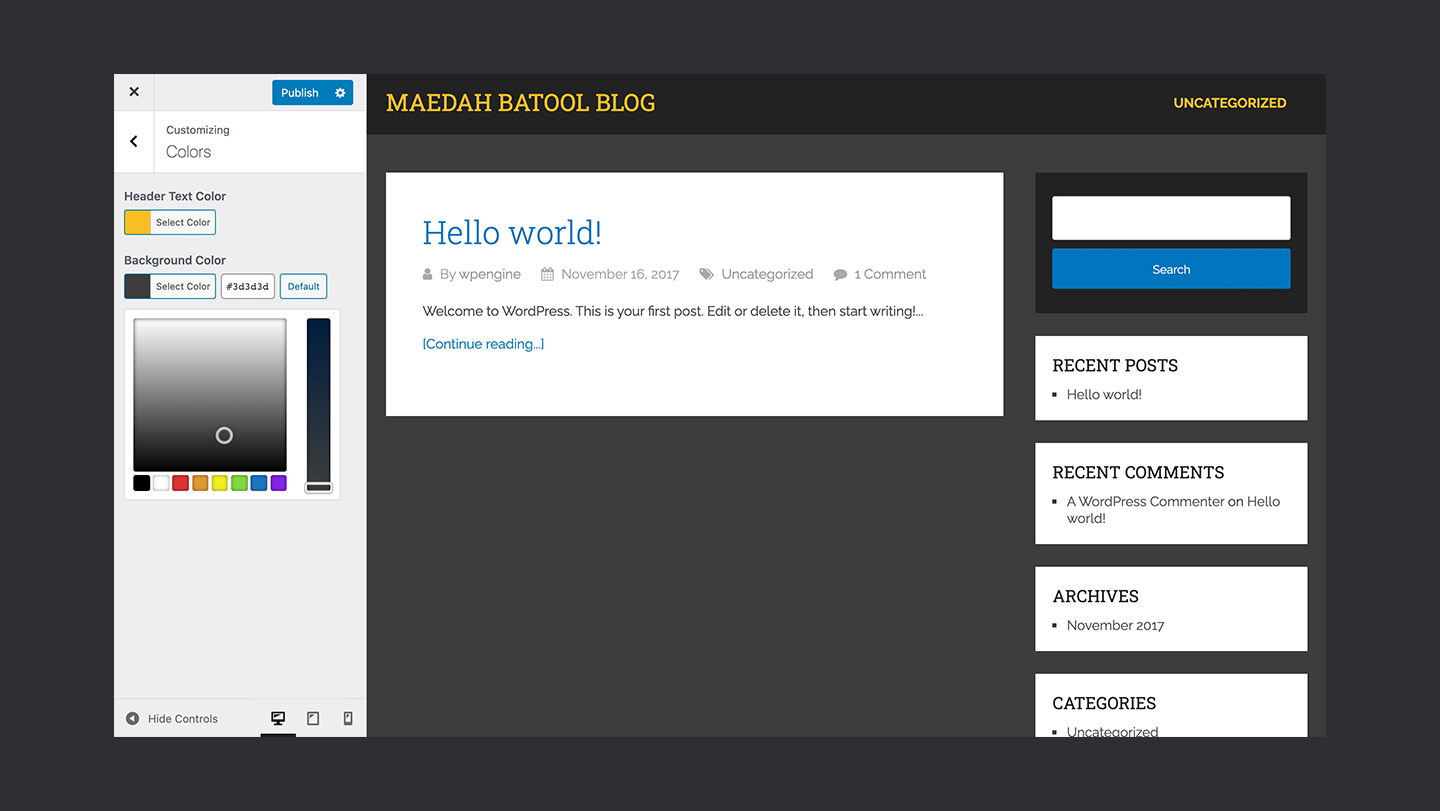 The above screenshot shows how it is going to perform with everything up on the site. All structure items are being recognized and we are not getting any warnings whatsoever.
Now let's see how Schema Lite will perform on Google Page Speed Insight that is a tool to check your website performance.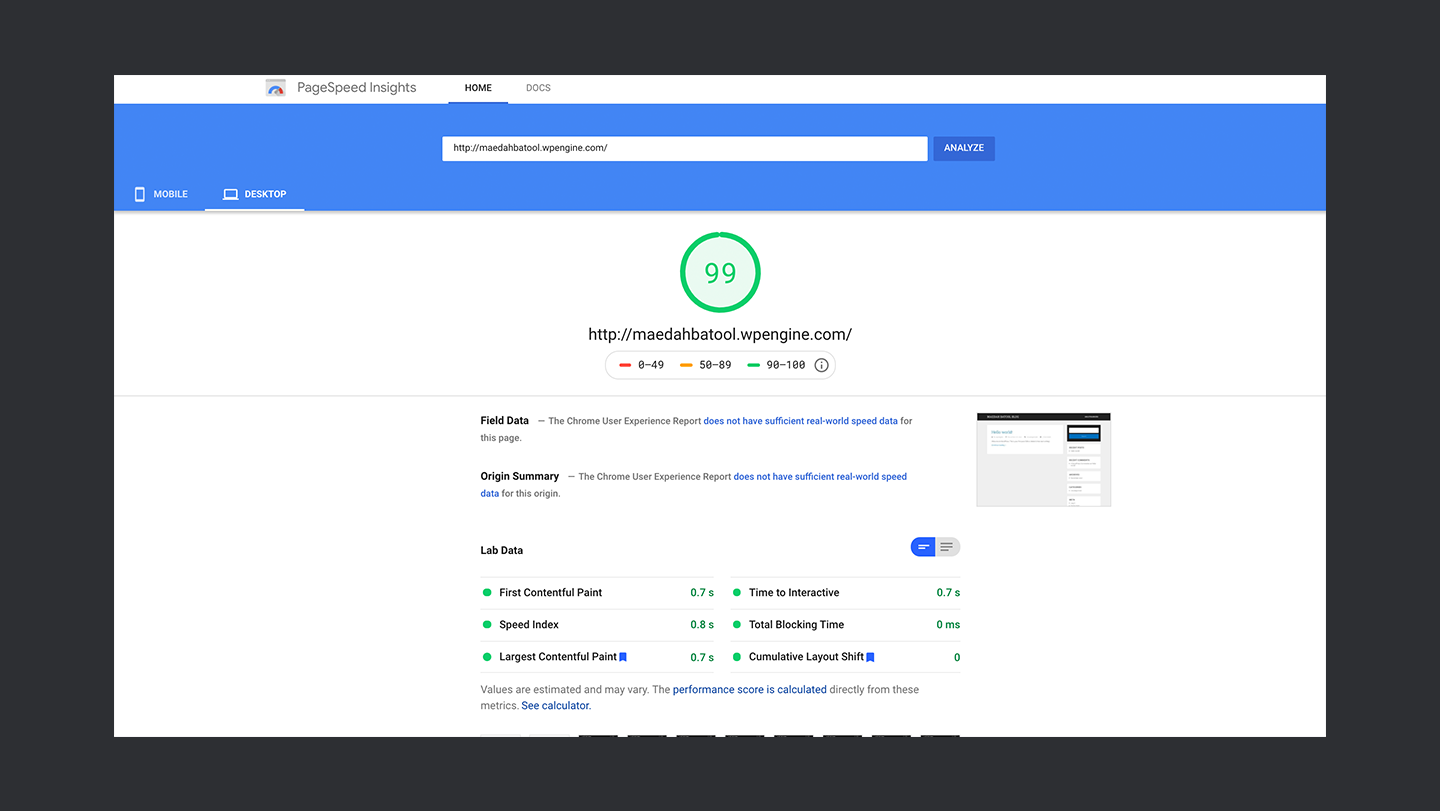 You can see that Google Page Speed Insight is giving a 99% score for our website. This is incredible considering we are using a free theme.
🙌 Wrapping Up
MyThemeShop is one of the big names for WordPress themes. They provide amazing products and their themes are beautiful, simple, and extraordinary. And now with Schema Lite, they have really shown that they care about their customers.
Schema Lite is a beautiful, high-end WordPress theme that you can use if you do not require all the features of Schema. It has great SEO optimization. It has a minimal and clean design. It is WP Mega Menu compatible, WP Review Pro compatible, 100% responsive and provides a lot more than I can list. If you are interested in getting a free WordPress theme that is heavily optimized regarding everything then you should definitely try Schema Lite.
Have you used the Schema Lite or any other similar theme? Which theme did you use and how was your experience? Let us know your thoughts in the comments section below. 
Peace! 🤞
NOTE: Our team at TheDevCouple has published a series of articles about MyThemeShop. They offer incredible products and services. Check out these reviews: